Happy Labor Day Weekend everyone. We're thrilled to have the wonderful Erin Quinn back with us today!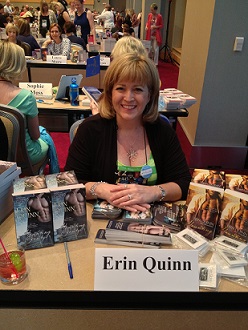 Erin Quinn is an award winning author who writes romance for the thinking reader. Her books have been called "riveting," "brilliantly plotted" and "beautifully written" and have won, placed or showed in the Booksellers Best, WILLA Award for Historical fiction, the Orange Rose, Readers Crown, Golden Quill, Best Books, and Award of Excellence. Go to
www.erinquinnbooks.com
for more information or follow Erin on
Facebook
,
GoodReads
&
Twitter
.
She lives in Arizona with her husband, two daughters and three dogs (all of whom have made debuts in her stories—the dogs, that is, not the husband and kids.)
Erin is the creator of the
MISTS OF IRELAND
series as well as numerous
stand-alone novels
. Today we are helping Erin promote her new book, The Five Deaths of Roxanne Love, which was just released on 8/27/13!
For those of you not yet familiar with Erin's work, we HIGHLY suggest that you check out her entire
backlist
, but for today, let's get you all caught up with Roxanne and her sexy reaper…
The Five Deaths of Roxanne Love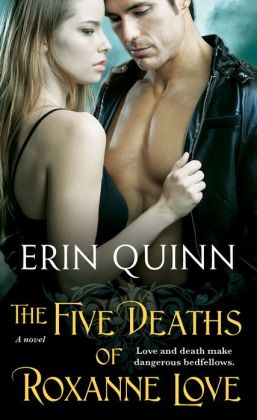 Love and death make dangerous bed partners.
All Roxanne Love has ever wanted is to be normal—marriage, kids, the life of June Cleaver. She tries to fit in but can't conceal her ability to defy death--not from the world, not from the darkest creatures of the Beyond and not from the Reaper determined to destroy her. Now Roxanne is on the run, her only ally a compelling, dangerous detective with secrets of his own. Against her will, she's drawn to his quiet strength and heated touch. But can she trust him with the truth?
....until she felt death's kiss.
Incognito as guilt-ridden cop, Santo Castillo, the Reaper's plan is simple: get close to Roxanne, uncover the secret of her immortality and cut it at the source. Yet with this borrowed body come emotions the Reaper hadn't expected. Now nothing is clear but his conflicted desire to protect the woman he came to kill. As destiny forces them to face an enemy hell-bent on using Roxanne to wipe out all of mankind, she and Santo must choose between love....and salvation.
Sounds awesome, yes!!? It really was fantastic! You definitely need to check it out along with the rest of Erin's library of literary excellence. For the rest of today though, how about we see what Erin had to say when we let her take over the sites for the day…
THE FIVE DEATHS OF ROXANNE LOVE
August 27, from Pocket Books
RT Book Reviews Top Pick!
"Fascinating...powerful...beautifully wrought."
Publishers Weekly:
"Intense and Satisfying"
Literal Addiction:
"One of the best books I've read all year. Thrilling, captivating, full of suspense, heart, drama & action... Just a fabulous read!!"
You'll probably think I'm weird if I tell you that I felt a little sorry for the reaper in
THE FIVE DEATHS OF ROXANNE LOVE. And you'd be right to think it.
But the fact of the matter is, I put that reaper through hell (no pun intended) and the poor guy truly didn't know what hit him. He thought he had it all figured out:
Step into the skin of Santo Castillo—a suicidal cop who was about to pull the trigger anyway—hunt down Roxanne Love on the eve of her fourth death and put a quick and final end the woman who has defied his attempts to reap her three times before.
It's a clear, simple and straightforward plan.
Yet Santo finds himself in a whole world of hurt from the start. Taking a human form doesn't just mean he has a meat suit to walk around in. It means he has a whole lot of baggage to carry in the strong, manly arms he suddenly has. In short: Emotions. Feelings. Sensory overload that dogs every step. Now he sees the woman who has haunted his thoughts with human eyes. And he likes what he sees. The reaper who now answers to the name Santo, is fascinated by what he feels and seduced by what he wants. Roxanne becomes more than his next victim. She becomes the center of his universe.
Unfortunately, Santo isn't the only being from the Beyond who has eyes for Roxanne Love. Danger awaits them at every turn. But rather than give Roxanne up to the death he'd come to deliver, Santo, discovers that the woman he came to kill is the one person he would die to save.
Here's a little taste of THE FIVE DEATHS OF ROXANNE LOVE:
Santo stood and carried his dish to the sink, but Louisa waved him away. "You two have much to talk about. I see. And this . . ." She indicated the mess. "This will take me no time to clean."
He stared at the older woman for a moment, and Roxanne felt the depth of his emotions. The tangled quandary he seemed to be mired in all too often. He looked lost, as if he had no idea how to respond to this woman he obviously cared for.
At last, he gave her a gentle hug. "I don't deserve you," he said.
"Ah, there you go again, thinking it is you who makes such decisions. Take your lady to bed, Santo. She looks tired."
Santo didn't need to be told twice. With a look of promise, he took a step toward Roxanne and her body immediately responded to the silent invitation she read in his eyes. She didn't know what future—if any— waited for the two of them. Odds were good that she'd end up with her heart broken. But she didn't care. Stupid or not, she was into him. She'd stay on the ride as long as it lasted.
A sound coming from outside the kitchen window stopped Santo before he reached her. Roxanne heard it, too, but wasn't sure what it was. His sudden stillness was her only warning that it was something to fear.
Santo crossed the kitchen and turned off the lights. Warily, he pulled the lacy curtain from the edge of the window and peered out. Moving as quietly as she could, Roxanne joined him there.
A fat moon gloated in the sky, diminishing everything below with harsh light. Bushes and trees seemed overlaid on a canvas of pitch. The night had no depth, and the eerie absence somehow magnified the absolute silence. Roxanne scanned the shivering quiet, feeling the chill that coiled around the trees and bushes, hushing the chittering leaves and restless limbs. Behind her, Santo held himself rigid, his tension feeding her own.
A sudden gust crackled the barren branches and agitated the leaves. A flutter caught the corner of her eye, then something darker than the night parted the shadows as it soared toward the window.
An enormous bird—a raven?—alighted on the sill, black wings spread wide and beak open in a greedy smile. Easily the size of an eagle, it gripped its perch with clawed feet and stared at them with watchful, ebony eyes.
Behind her Santo sucked a breath between his teeth. He pulled Roxanne away and faced the room with worried eyes. Santo, who'd fought snarling, rabid hellhounds without flinching.
The bird rapped its beak against the glass, waited, head cocked, and did it again.
Knock, knock.
The sound, almost polite for all its insistence, lit a wick of superstition she hadn't realized she possessed.
Another sound—bizarre and yet familiar in a way she didn't understand—flapped in the cryptlike silence. Roxanne found herself shaking her head as she tried to place it. Santo turned his eyes upward as the scratch of clawed feet skittered across the tile roof. Then his gaze shifted and met Roxanne's.
"This is going to be bad," he said softly.
Erin is offering up winner's choice of
backlist
title eBook to a winner on each site (BMR and LITERAL ADDICTION).
Leave a comment for Erin below.
Be sure to leave your email address so I can contact you if you win.
Good luck, and as always… HAPPY READING!