Book Monster Reviews and Literal Addiction are very happy to welcome author
E.S Moore
back to our sites today!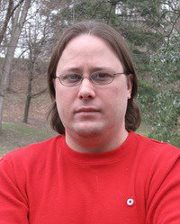 E.S (a.k.a Eric) wanted to be a writer from childhood. His first book, "To Walk the Night", the first in the KAT REDDING series, was released by Kensington in January 2012. The second book "Tainted Night, Tainted Blood", was released 7/3/12, and the most recent installment, "Blessed by a Demon's Mark" was just released on 12/31/12.
E.S is also a reader and a video gamer. He currently lives in Ohio with his wife, son, and an army of cats.
For those of you not yet familiar with the KAT REDDING series, we thought we'd give you the synopses and quick buy links for the books to get you up to speed…

"To Walk the Night"
Kat Redding is the very thing she hunts: a vampire, thirsting for blood, capable of killing any creature unlucky enough to get in her path. The difference is, Kat kills her own kind in order to protect human Purebloods. She's good at what she does. Good enough to earn the nickname Lady Death—and the enmity of every bloodthirsty being around. But now a vampire Count is intent on merging his Hou
se with a werewolf cult to create a force of terrifying power.
Kat can't allow that to happen. Even if it means taking on a den of weres and a vampire more ruthless than any she's encountered before. She has the weapons, the skill, and a few allies. But that may not be enough to eliminate the Count before her own dark nature rises to the surface—and costs her whatever is left of her humanity…
"Tainted Night, Tainted Blood"
Kat Redding is a vampire with a job to do—wiping out the vamps and werewolves who prey on Pureblood humans. Someone has to do it…as long as that someone is her. But suddenly Kat, also known as Lady Death, has competition, and it's causing problems. Vampire houses and werewolf clans alike are blaming her for a spate of gruesome murders, and Kat needs to figure out who's really responsible before she becomes the next target…
On the hunt, she forms an uneasy alliance with both the Luna Cult and a powerful rogue werewolf. But the truths Kat's uncovering—about her enemies and her few remaining confidantes—are far from comforting. And when the chance comes to leave her life of vengeance behind, Kat must decide whether her real motive lies in protecting the innocent, or sating her own fierce hungers…
"Blessed by a Demon's Mark
"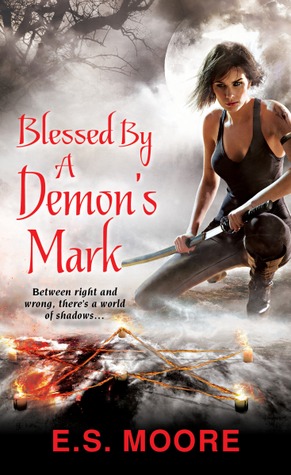 In a job like this, there's no retirement plan


Kat Redding's life is dangerous enough when she's hunting the rogue vampires who prey on Pureblood humans. But now that Kat is thinking of getting out of the killing business, she's faced with a slew of new problems. Like the demon Beligral, who offers help at an escalating cost, and the werewolf cult with whom she's entwined professionally and personally. And then there's Countess Baset—the terrifying vampire who wants Kat to become her personal assassin.


It's no wonder that Kat has been seeking refuge in the mysterious town known as Delai, a place where she can shed her Lady Death persona and live a life that's as close to normal as she's ever known. But even in this haven, something feels askew. Delai is a little too serene. And the more she discovers, the more Kat realizes that the only choice left to her is not whether to do battle, but which side she'll risk her life to defend…
They sound fabulous right!? Make sure to add them to your TBR. For now though, how about we see what Eric had to say when we let him take over the sites for the day…
Hi. My name is Eric and I'm an addict.
Thankfully, my addictions aren't entirely bad. I don't drink or smoke or do drugs or any of those sorts of things. In fact, I'm pretty boring when you get right down to it.
But I do have my addictions. Since I'm an author—three books of the Kat Redding series, as well as a standalone horror e-book called Little David Lost are available now—I am addicted to reading. That's pretty much a given. I mean, what kind of writer would I be if I didn't have a problem with buying too many books and reading them when I should be doing something else, like working or sleeping?
I would say that being addicted to books is a good thing. And sure, you can get addicted to things and overdo it to the point where you get nothing else done. Believe me, I've been there. Over time, I've managed to organize my days so I can finish everything I need to do, as well as everything I want to do. It just means sleep becomes low priority, but hey...whatever makes me happy, right?
So what are my other two addictions?
The first is pretty common for anyone, no matter their profession. Music is such an influential part of my life, it would be impossible for me to separate it from my work. I don't actually listen to music while I write, but often, songs will be going through my head as I write certain scenes. And when I'm plotting or brainstorming, music is almost always playing (I'm listening to My Life with the Thrill Kill Kult while writing this!) If I plan on doing something sad, I've got quite a lot of music for that. The same goes for action, horror, and even romance.
I'll be the first to admit, however, that my music isn't for everyone. Sure, I listen to some things that get radio play—Guns N' Roses, the Clash, Alice Cooper—but there is quite a lot that have more of a niche audience—the Misfits, Emperor, King Diamond—and others that almost no one has heard of—Two Witches, Inkubus Sukkubus, Peccatum. But no matter how popular the music is, it all speaks to me. It helps me focus, allows me to travel down specific avenues that get me going where I need to go, be it for a scene or an entire novel. Music will always be a part of who I am and will influence my work for as long as I am writing.
And then there's the addiction that some people view as bad. Whether the media is attacking it or people look at it like something only losers do, I don't view it as a bad thing. In fact, I find that this addiction can be highly influential, fun, and can get those creative juices churning.
There; I admit it. I'm a gamer. I spent far too many hours sitting around, playing with imaginary people. It started with Dungeons and Dragons and moved on to Magic: the Gathering, and is still going strong with online games like EverQuest 2. Without these games, I probably wouldn't be as imaginative as I am now. These games helped me to learn structure, how to play from the point of view of someone else, someone completely fictional, and how to build something from a bunch of seemingly different parts.
Seem unlikely? Well, it's not. I wouldn't recommend writing a novel about your D&D campaign, but you can take something out of it. You can play the character, see what it is like to live a story through someone else's eyes. When you write, you are pretty much doing the same thing. If you really get into the game, there is so much you can take from it, so much enjoyment, and I will say it...you can learn something from it.
Even the card game, Magic: the Gathering, has helped mold me. I really enjoyed building decks, seeing how I could take cards and put them together to form something that ran smoothly. They didn't always work, yet I took satisfaction in the attempt. It was very much like writing a story. Characters and locations and scenes are fine, but you have to put them together so they work cohesively, so that they flow. The goal is to make something that is fun and enjoyable, just like you would with the decks.
These addictions have helped mold me into who I am today. Take away the books, the music, or the games, and you are left with a shell that isn't a whole person. I manage my addictions, make sure they don't take over my life completely, but I would never discard them entirely. No one would like the result.
Eric is offering up a signed copy of "Blessed by a Demon's Mark" and swag to a winner from Book Monster Reviews and another winner over at LITERAL ADDICTION.
Fill out the Rafflecopter widget for today's Event, follow the directions, take action, and mark as 'Done'.
For another chance to win, go to
LITERAL ADDICTION
and enter the contest over there as well.
a Rafflecopter giveaway