Book Monster Reviews and LITERAL ADDICTION are very happy to welcome
Gayle Donnelly
and
Robyn Mackenzie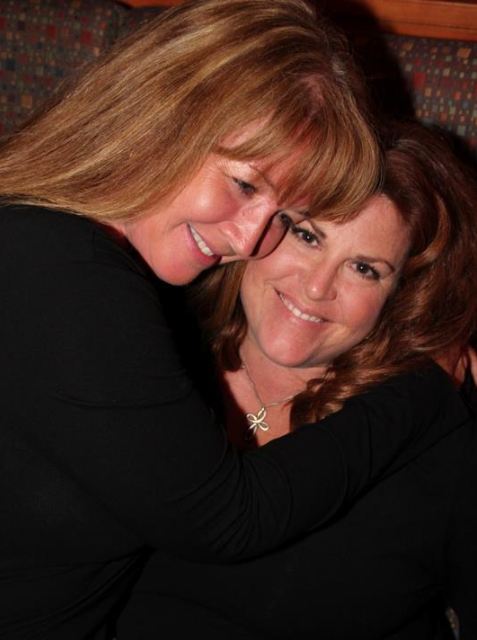 Gayle and Robyn both hail from the Midwest. Writing partners as well as friends (perhaps even sisters in another life), both are married and each has two wonderful children. The similarities don't stop there. Both earned degrees in English education, both have a profound weakness for Starbucks coffee, and both are completely captivated by the ethereal beauty found in the Pacific Northwest.
Their individual passions for writing and storytelling, led them to create the BLOOD FEUD series, which currently consists of "Infinite Betrayal" and "Infinite Surrender".
For those of you not yet familiar with Gayle and Robyn's work, we thought we'd give you the synopses, quick buy links and our reviews for the books to peak your interests a bit:
*Read Book Monster's Review
HERE
*Read LITERAL ADDICTION's Review
HERE
Mina Roarke had always been told she was special. In what way, she never fully understood until circumstances led her down a path of adrenaline-charged danger, blazing sexual heat and ultimate betrayal.
Mathias, a warrior for a secret shifter race known as The Coteri, has been ordered to protect Mina at all costs. Although his oath to protect her is paramount, can he rein in his animal instincts long enough to not claim the one person he's forbidden to have?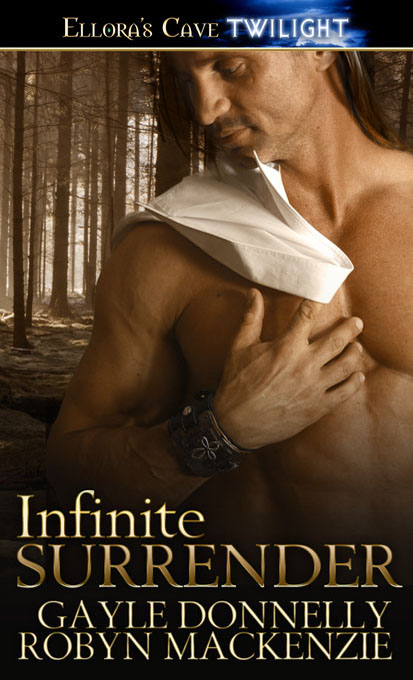 Shape-shifting Coteri warrior Talon is mad with jealousy at the thought of Chloe, the woman he loves, being with other men. After a sizzling encounter, Talon is stunned to realize she's only his-has only ever been his. But his family line is tainted and he knows he isn't good enough for the torturously tempting redhead.


Spurned by the best friend she betrayed and rejected by the man she wants so badly it hurts, Chloe leaves her home with the Coteri to investigate a series of brutal murders that could have sinister implications for them all.

When he learns there's a traitor in their ranks and Chloe could be in danger, Talon will move heaven and earth to make sure she's safe-and to make her his, body and soul.
We know, they sound amazing! Guess what? They are!! Make sure that you grab them from your favorite eRetailer.
For now though, let's see what Gayle and Robyn had to say when we let them take over the sites for the day…
Well, it's been a while but we are finally back and ready to blow the readers away with our second Blood Feud book; Infinite Surrender! We have been working with our new and fantastic publisher, Ellora's Cave and have re-released Infinite Betrayal ~ Book One of the Blood Feud and are almost finished with the third installment; Infinite Desire.
And now that we're back, what the hell do we talk about?? What do we want to say?? Honestly.....A LOT! And I think the best way to do it is to interview each other!! And at the end of our little fiasco, we will have some wonderful prizes to give away to our loyal readers as well as readers new to us!!
OK, now Robyn...don't be scared!! I'll be nice!
Gayle: Now that the second book is FINALLY here, what are you thinking?
Robyn: I'm so excited that Talon and Chloe's story is finally ready to share. It was a long time coming but it's a story I know we're both very proud of. Now I'm thinking it's time to

have a celebratory drink with my best buddy (that's you by the way) and then get back to work on our third installment, Infinite Desire.
Gayle: In our writing partnership, you and I "own" a character and write them from beginning to end. What do you want the readers to know about Talon?
Robyn: Talon is definitely an Alpha, in all things. He's intense, direct, fiercely loyal to his friends/loved ones and deadly to his enemies. Talon's confidence is only dimly shadowed by his family's past but that shadow has the power to cast doubt in his mind on what he deserves, particularly when it comes to Chloe. When he finally makes the decision to go after what he wants, consequences be damned, then watch out. This is one sexy Alpha who won't stop until he's achieved complete and infinite surrender.
Robyn: I always had a very clear vision of Chloe. She's strong, both mentally and physically, yet still feminine. She's independent but a romantic at heart. Chloe is desperate to prove her worth to those she cares about and hates being thought of as a weak female who always needs protection. She forms tight emotional bonds, easily connecting with people on an intimate level, even when she tries not to in an effort to protect her heart. Chloe isn't afraid to go after what she wants and she says what she means. If someone tries to hurt any of those who are important to her, stand back, because this is one little warrior you don't want to make angry. Her powerful emotions gain even more intensity with those she loves, particularly Talon. And Chloe quickly realizes she doesn't stand a chance of protecting her heart where this Coteri warrior is concerned.
Gayle: How passionate would you say you are about your characters?
Robyn: It's hard to describe. They're my creation and therefore, a part of me. I know them inside and out, in every detail from physically to emotionally. So I'm very passionate about my characters.
Gayle
: When and where to you write:
Robyn: Honestly where I write depends on my mood. I don't have a separate office, which is actually on my 2013 wish list, so I can be at the kitchen table, on the back patio, or on my living room couch. Now the when is easier. I do most of my writing in the evening or early morning hours. I'm pretty much a night owl so after the family settles into bed, that usually when I take advantage of the quiet and get some work done.
Gayle: What do you need to write?
Robyn: I'm very different from you in that I work best in the quiet. I'll listing to music during story blocking sessions or when I'm thinking about certain scenes but during the actual writing process, I prefer the silence.
Gayle: What books are you looking forward to in 2013?
Robyn: JR Ward's Lover At Last (squeal!!!) and JC Burton's Thrown By A Curve are just a couple that come to mind but my list is a long one. I'm a reading junkie!
Gayle: What is the single most important thing for you in reading a good book?
Robyn: Easy. The story. If the story isn't strong, I tend to lose interest pretty fast. A good story with interesting, multi-dimensional characters is the foundation of any good book I think.
OK.....now your turn.........
Robyn: Who is your favorite Alpha character? (Not in our books)
Gayle: Just off the top of my head, it would have to be Wrath from Dark Lover. He is my constant, true, fantasy. Big, mysterious, loyal, protective, and of course HOT! And the moment he says, "Sweet Jesus", I melt!
Gayle: Well, I would love to write every day but like you, I have a day job. What usually happens is I need to have the Muse whack me upside the head and once she does, get out of my way. I need earphones in my ears with my writing soundtrack blaring in my head. Usually I have the soundtrack to the book already done so I play it over and over when I write. If I get stuck on a scene, I just hit repeat and listen to one particular song over and over...like a fight or love scene. The music keeps me going. I will usually write at my kitchen table even though I do have a study completely set up for writing. I just can't get into that space yet. Once I get going, I let it spew out of my brain...not paying attention to grammar or word placement. I just need to get it out. Then I go back and clean it up. Once I have it where I want it, I send it to you and let you destroy it!! ;o)
Robyn: I don't destroy it!.
Gayle: Maybe destroy is too harsh of a word. How about you "make it better".
Robyn: Back to the questions...I have to ask this one because most of our readers (when we meet them) ask us this one.

Ahem...So when writing the love scenes...do you write from experience?????
Gayle: Jesus...How did I know you would ask me this one?! I was nice to you! OK...here's my answer – The books are works of fiction. If my husband could do all of that and I would respond in kind, we would never leave the bedroom. The scenes are fantasy...what all of us would want to happen. A big Alpha man, taking what he wants and making me feel like the sexiest woman alive. That's where I get the love scenes.
Robyn: Where are we going this year to promote the books?
Gayle: Well, if the money holds out, we will be first in San Antonio for the Sassy Seven Naughty Sleepover, then off to Cincinnati for Lori Foster's Reader Author Event, hopefully to Kansas City for RT and then back to Ohio for Ellora's Cave's Romanticon.
Robyn: What is the most important thing for you as a reader when selecting a book?
Gayle: First, the cover needs to grab me. Once that gets my attention, I flip it over and read the back cover. If it sounds like a gripping story, I'll try it. I also go with recommendations from several folks I know - Book Monster Reviews and LITERAL ADDICTION of course! :) I like a book in which the story is strong enough to stand on its own without the love scenes.
Robyn: You are starting our third book Infinite Desire. Can you tell the readers anything about it?
Gayle: Well, I don't want to say too much but the story surrounds Tremayne and his adventures in New Orleans. He's been assigned to assist Devereux in finding the source of the experiments and also find out if there are any hybrid babies out there. The readers will also see the characters from the first two books as well.
Robyn: When is it going to be done?
And now to wet your appetite with an excerpt from Infinite Surrender.......
Mid-beat, the music stopped. There wasn't a sound. Chloe slowly raised her head and her heart leapt into her throat. Every muscle tensed and the pulse in her neck pounded double-time. Great. She didn't need this. Not now.
Talon, leaning one shoulder against the doorway had his gaze locked on her. His piercing blue eyes held a fire that made Chloe want to clench her thighs together, although she refused to give him the satisfaction at the moment. His thick, shoulder- length mane of black hair was pulled back with a leather tie. Deeply tanned, heavily muscled arms crossed over his massive chest. Black jeans molded to every tight curve of his hips and powerful thighs. Black boots and a black Affliction T-shirt completed the picture of male, testosterone-filled perfection.
Chloe cursed her body's inward reaction toward a man who had made it abundantly clear that the mere thought of her disgusted him. She lowered her lids and dropped her forehead back onto the mat. She took a calming breath and counted to ten. Slowly she sat up, crossed her feet at the ankles and stood. She grabbed her towel and wiped her face and neck, took a long drink from her water bottle, and started walking toward the door.
It's all in the delivery,
she schooled herself. Without making full eye contact and in a voice that exuded more calm than she actually felt, Chloe said, "I'm done with my workout. The room's all yours."
She glided toward the door, never directly meeting his gaze. As she was about to move past him, Talon clasped her upper arm and pulled her back into the room, moving them to the center of one of the training mats. His grip was strong—not enough to hurt, but Chloe knew it would be a struggle to break free. Talon still hadn't said a word. He hadn't loosened his hold on her arm. He just continued to look into her eyes, as though burning a hole straight to her soul. His gaze lowered as his eyes dropped to her chest in her black sports bra, her bare midriff, her hips encased in black lycra training shorts, down her legs and slowly back up to her eyes again. Chloe felt as though he had physically touched her. Her skin heated where his eyes had roamed. She felt like she could melt into a puddle at his feet and the wetness between her thighs had nothing to do with the two-hour workout she'd just finished.

Damn him!
"What do you want, Talon?" Her voice sounded quiet and weary, even to her own ears.
"We didn't finish our conversation the other day," he stated in a low growl.
His voice was deep and sounded strained, almost angry. Chloe bristled at his tone. She felt her cheeks burn in anger but hoped he would attribute her flush to her recent workout. Her pride didn't want him to know the effect he had on her.
She shook her head at his utter arrogance.

Didn't finish our conversation? Like I need to relive the devastating words he practically hissed at me? Like I need to have it thrown in my face, just one more time, how pathetic all my dreams and fantasies about this man are, because he believes I'm stupid trash and a whore? Oh yeah, sign me up for that

again, please, because one time just wasn't enough…not!
Chloe took a steadying breath, praying she could keep in control. "I know this may come as a shock to you, Talon, but I'm not really the stupid little girl you continue to think of me as. You made sure you didn't use too many

big words when you told me just what you thought of me."
She threw her shoulders back in defiance and lifted her chin. "Thanks for that grammatical consideration, by the way, because I was able to understand everything you said with crystal clarity." Chloe counted off her fingers. "Let's see—stupid, whore, traitor. Yeah, I think that about covers it." She met his steely gaze head on. "Stunning to you though it may be, I understood you the first time, so there's really no need to go over it again just for me. Thanks for the offer, though."
Chloe's sarcasm was dripping and her anger rising. To her relief, though, she was able to keep the tone of her voice light. Her eyes never left Talon's, and she forced a smile when all she really wanted to do was scream with rage. She was actually quite proud of herself and she went for her parting remark, needing to get as far away from him as possible before her façade cracked.
"Now if you don't mind, I'd like to go shower and finish packing, so have a good workout. You can even use my CD if you'd like. It's still in the system. Just leave it here when you're done and I'll come back to pick it up in the morning before I leave. I'd say keep it but it's my favorite to train with. It's got a wicked bass beat and helps get the blood pumping. Later."
Chloe could have sworn she saw a fiery glint in Talon's eyes at her last remark but it disappeared as quickly as it had come. She turned to leave, only to have Talon snake his arm around her waist and pull her body flush against his.
Thank you Chelle and Carla for having us back!!
Robyn and Gayle would like to make sure that their loyal fans who are not familiar with their books, get a chance to read them. If you are a new reader for them, please comment and mark the 1st Rafflecopter widget as 'Done' for a chance to win both Infinite Betrayal and Infinite Surrender for your Kindle or NOOK. They will draw a name at random and have the books sent to your reader. They would love to ask the winner to let them know what you think of their stories!!
For those of you that have read Infinite Betrayal and/or Infinite Surrender, Gayle & Robyn would love for you to go to Amazon and "Like" and write a review! If you choose to do this, please come back and enter on the 2nd Rafflecopter widget with the link to the review. They will draw another random winner to win a Coach reader cover. Both Robyn and Gayle have these and they are fantastic!! They fit both NOOK and Kindle.
Contest will be open 1/12 – 1/16 so be sure to get your entries in on either site before midnight on 1/17.
a Rafflecopter giveaway
a Rafflecopter giveaway