Book Monster Reviews & LITERAL ADDICTION are incredibly happy to be promoting for the fantastic Kathy Love and Erin McCarthy again today, and introducing some new readers to their amazing collaboration, "The Fangover"!
Kathy Love has been labeled "a character-driven author, who prefers complex subjects that add an emotional, humorous edge" by Romantic Times. Originally from Maine, she now resides in Maryland with her husband, chatterbox three-year-old daughter, Emily, and Squiggy Piggy, a very sweet guinea pig. She writes the awesome
NEW ORLEANS VAMPIRES, YOUNG BROTHERS
and
STEPP SISTERS
series.
Erin McCarthy sold her first book to Kensington Brava through author Lori Foster's website contest in 2002, much to her continued amazement. Twenty-four books later, Erin is entertaining both Brava and Berkley readers with her sassy, sexy tales of contemporary and paranormal romance.
Her LAS VEGAS VAMPIRES
series debuted in August 2006, with "High Stakes" hitting #1 on the B&N trade romance list. Erin also writes paranormal young adult novels under the name Erin Lynn, and is the proud creator of the
FAST TRACK, NY GIRLFRIENDS, BOWLING FRIENDS
,
SEVEN DEADLY SINS
and
CUTTERSVILLE
series.
You can find the ladies online at the following places:
Erin and Kathy have been friends for over ten years and have taken many trips to New Orleans together - they've made friends on Bourbon Street, listened to lots of Journey, seen many a weird thing, and shared a lot of laughs. So, when they talked about collaborating on a book, it made sense to combine three things that they both love: New Orleans, vampires, and a sense of the absurd, which led to the creation of "The Fangover", which was just dropped on 11/6/12.
While they conceived the story idea and time line together (not to mention the awesome chapter headings), Erin rote Wyatt and Stella's story and Kathy wrote Cort and Katie's.
For those of you new to "The Fangover", here is the synopsis, a few places where you can pick it up online, and our review to whet your appetites: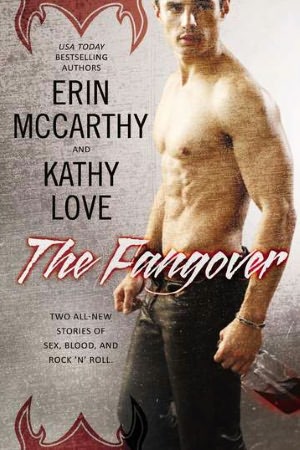 When rock-god vampire Johnny Malone commits suicide, the rest of The Impalers gather for an Irish wake and jam session to send their bandmate off in style. But alcohol-laced blood and grief make for one hell of a combination…
When her brother, Johnny, dies, Stella Malone's grief lands her in the buff arms of The Impalers' bass player. While her tryst with Wyatt had some serious bite, Stella isn't looking for a relationship, especially after a tipsy argument leads to her getting stuck in bat form at the wake. The rest of the hungover Impalers are in no shape to help her, meaning that Stella's one night stand is the only one who can help her figure out what really happened last night. Only Wyatt doesn't have a clue what happened last night, either, nor does he know that Stella is the bat currently dive-bombing his head. But he does have her purse and that has to be a start, right? Or not. On the other hand, there is a priest passed out in the bathtub and an alcoholic parrot squawking about a chapel of love... Which might explain the ring on Berto Cortez's finger. How did a night of rock 'n' roll debauchery result in him turning sexy washboard player Katie Lambert into a vampire and then marrying her? He wouldn't. He couldn't. But he can't quite remember, exactly. Which means these four friends turned amnesiac couples have only one choice: hit the famed Bourbon Street for some answers…
The follow-up, "Thanks for the Fangover", is supposed to be available on July 2, 2013 and we couldn't be more excited!
In celebration of the release of "The Fangover", Kathy and Erin are each giving away 2 copies of the book to winners from Book Monster Reviews and another 2 winners over at LITERAL ADDICTION (2 - U.S Resident winners on each site).
Fill out the Rafflecopter widget for today's Event, follow the directions, take action, and mark as 'Done'.
For another chance to win, go to LITERAL ADDICTION, make sure you're a blog follower, and enter over there as well.
Kathy will be available to chat Live with members, followers, fans and guests in our
Author Chatroom
from 4-5pm EST/3-4pm CDT/2-3pm GMT & PDT. Sadly Erin is otherwise engaged and had to cancel, but Kathy will definitely tell us more about the collaboration and her other amazing work!
a Rafflecopter giveaway