Book Monster Reviews and LITERAL ADDICTION are proud to welcome New York Times bestselling author,
Carly Phillips
to our
sites today!
New York Times bestselling author Carly Phillips tossed away her legal briefs and a career as an attorney to become a stay at home mom. Within the year, she turned her love of reading into an obsession with writing. Over 30 published novels later, Carly writes sexy contemporary small town romances, striking a balance between entertainment, humor and the emotion her readers have come to expect and enjoy.
Carly is a New York Times bestseller, USA Today Bestseller, Publisher's Weekly bestseller and as of 2012, a Romance Writer's of America RITA Nominee. In 2002, Carly's novel, The Bachelor, became Kelly Ripa's "Reading with Ripa" pick on Live with Regis and Kelly, making it the first romance ever chosen on a nationally televised book club.
Carly received her undergraduate degree from Brandeis University and is a graduate of Boston University School of Law (J.D.). To date, Carly has over thirty novels to her credit, all available wherever books are sold.
When not writing or playing online, Carly loves to read, occasionally to knit, and to spend time with her family. She lives in Purchase, New York with her husband, two daughters and her dogs, a soft coated wheaten terrier and a Havanese. Her dogs are prominently featured on her website and Facebook page.
Carly is the creator of many incredible series, including
Hot Zone
,
Chandler Brothers
,
Simply
,
Lucky Trilogy
,
Bachelor Blogs
,
Ty & Hunter
,
Costas Sisters
and
Serendipity
, as well as, a numerous amount of standalones, eBooks and anthologies.
Today we are helping Carly promote the newest and upcoming releases in her Serendipity series. In case you are not yet familiar with the series, we've posted some of the books and synopses below to get your interest peeked.
Serendipity Series, Book 1
New York Times bestselling author Carly Phillips presents the first in a delightful new series about a quaint upstate New York town
where love, fate and fortune are intertwined …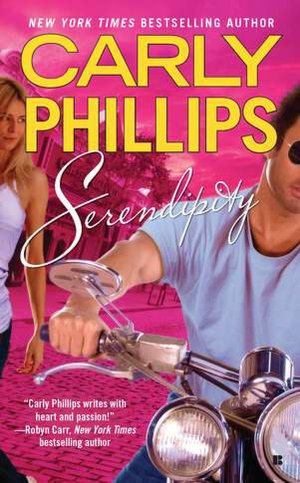 Faith Harrington was the classic girl of privilege–until her father was convicted of running a Ponzi scheme and then her marriage crashed and burned.
Now Faith is back in her hometown, hoping for a fresh start. But her father's betrayal has rocked Serendipity – and not everyone is ready to welcome her with open arms. Then she runs into her teenage crush — the dark, brooding Ethan Barron. Ethan, no stranger to scandal himself, never imagined he'd own the mansion on the hill, much less ever again come face to face with Faith–the princess he once kissed senseless. The chance meeting reignites the electric charge between them.
Still, when Ethan hires her to redecorate what was once her childhood home, Faith is sure that getting involved with the town's notorious bad boy will only lead to trouble. But her heart has other ideas. And so do the townspeople of Serendipity …
Serendipity Series, Book 2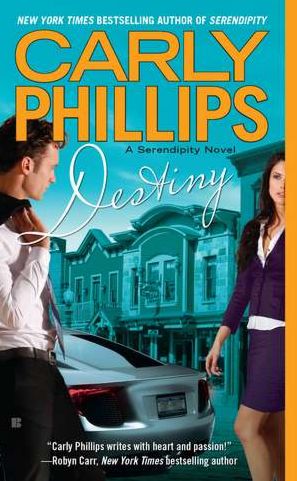 Nash Barron may be cynical about love, yet even he likes a good wedding. But the only good thing about his brother's wedding is Kelly Moss. Nash can't help but admire her confidence and beauty, but he's forced to keep his distance because getting involved with Kelly could destroy his relationship with his newly discovered half sister, Tess…
Kelly came to Serendipity to give Tess–her half sibling as well, thanks to an illicit affair–a second chance at life. She learned long ago not to rely on anyone but herself. Besides, she doesn't want to upset Tess's life by pushing for a fling with Nash. Except the more she gets to know him, the more vulnerable she becomes to the kindness beneath his gruff exterior, and the less she's able to stay away. But she has other reasons for keeping her distance. Like the secret from her past she knows Nash will never forgive…
Serendipity Series, Book 3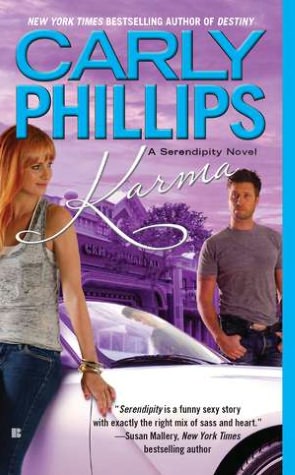 Police Officer Dare Barron has had a crush on Liza McKnight ever since he was a teenager. But despite his lifelong attraction, the closest he's ever come to interacting with her is watching Liza regularly bail out her brother at the station.
Dare's dark past with Liza's brother, Brian, has always kept him from pursuing her
. But suddenly Liza finds herself in need of protection and Dare appoints himself as the man for the job. And while the sizzling attraction between Dare and Liza draws them together, the past that Dare and Brian share threatens to keep the two apart forever.
This novella takes place between Serendipity and Destiny.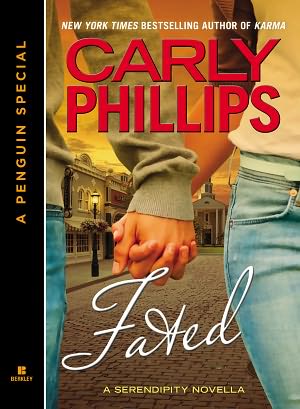 New York Times bestselling author Carly Phillips presents a never-before-published novella set in a quaint upstate New York town—where Serendipity's finest show exactly what they're made of…
Kate Andews is the original rebound girl. But she has had enough and has vowed to never be someone's second choice again. Unfortunately, her undeniably intense desire for Nick Mancini is testing her best laid plans because Kate has carried a torch for Nick since high school– but she's always been permanently in the friend zone.
Lately, Nick has definitely noticed Kate. Unfortunately he can't get her to take him seriously. He knows he's made some stupid moves in the past but he's determined to get Kate to act on their obvious and mutual attraction. However Kate's stubborn and she's been hurt before, which means Nick will have to pull out all the stops in order to convince her he's not the same boy she used to know, and she's not second best… she's everything.
Serendipity Series, Book 4
In the picturesque town of Serendipity, New York, three siblings have grown up in the shadow of their proud and respected police chief father. But what do love, fate, and fortune have in store for the next generation of Serendipity's finest?
Always feeling like the odd man out in his family, Michael Marsden wanted to make it on his own. So he escaped Serendipity to become an undercover cop in Manhattan, where the Marsden name wasn't known. But Michael's independence is compromised when he returns home to replace his sick father as chief of police. Back in the shadow of his family, he's as lost and restless as ever, until he's challenged by someone he never anticipated.
Cara Hartley is the Serendipity cop with whom Mike had a one night stand three months earlier. Neither expected anything more but fate has other things in store. When Mike returns as Cara's boss, the sexual tension between them is impossible to ignore – and the unexpected emotional connection continues to grow. But Cara's a small town girl while Mike has a wanderer's blood in his veins.
Both are convinced a future together is impossible. Until Mike's real father's secrets come back to haunt him and he realizes there are some things worth staying and fighting for. Including Cara.
They all sound great don't they! Now that you're all more familiar with the books, let's get to know more about this incredible author...
Book Monster Reviews/LITERAL ADDICTION:
Hi Carly! Welcome to Book Monster Reviews and LITERAL ADDICTION. We're very excited to have you here today!
Carly: Thank you so much for having me here today. It's a real treat to be here!
Book Monster Reviews/LITERAL ADDICTION:
We like to start out by finding out a bit more about our guest author, and then we'll dig into the books…
Q1):
Can you tell us 3 things about yourself that we couldn't find out
Carly: Oh wow. I'm such an open book about most things about myself … let's see. I'm shy, I embarrass easily, and I'm almost phobic about bees, bugs and insects, LOL!
Q2):
What are 3 things that never fail to make you smile and three things that never fail to piss you off?
Carly: My dogs, my kids, and my husband make me smile, oh and a really good book! Piss me off – people who are fake/phony/mean, I like routine, so anything that really screws up my day can put me in a bad, bad mood, and … (thinking) … I'm blank at the moment, LOL!
Q3)
: What are some of your hobbies or things that you enjoy doing when you're not working, writing or taking care of other business?
Carly: Reading, obviously. I'm an obsessive, voracious reader. I knit in spurts, then inevitably mess it up, and put it down until I can find someone to help me, I adore my dogs and can find ways to take pics and post them online to keep me busy.
Q4):
What's a typical day like in the life of "Carly Phillips"?
Carly: Up at 6, youngest leaves for high school at 7, I try to get on the treadmill for 30 minutes, then shower and sit down to write … errands after 11/11:30, a boring lunch at home, usually peanut butter and jelly on whole wheat, unless I go out with a friend for lunch, then home to try and write some more. My schedule has been really messed up lately because my dad passed away and I'm having trouble getting my mind back on work. But my daughter drives now, so I don't have to run around for school pickup, so dinner, and hanging out w/my husband …we watch TV, DVR's of shows we missed, then when he falls asleep I like to hang out with my daughter for a little before she goes to bed. I need to be asleep between 10 and 11 or I'm nasty the next day. All that's an ideal schedule for me but like I said, life can get in the way and all bets are off. I'm looking to find my routine and mojo again.
Q5):
What books have you read recently, or that you have on your TBR list?
Carly: I'm answering this from a weekend away, so I just devoured books! : I just finished Bella Andre's Come a Little Bit Closer, RK Lilley's two books in a series, In Flight and Mile High (HOT!), Kristen Ashley's With Everything I Am, and a sneak preview (lucky me) of Lauren Dane's upcoming new Petal book, Lost in You!
Q6):
Do you listen to music when you write? If so, what artists do you listen to and what genre helps to get your creative juices flowing?
Carly: Nope. I'm a TV watcher. I used to rely on the ABC Soap Operas. I watched All My Children, One Life to Live, and General Hospital since before I was 13 years old. Having lost AMC and OLTL, I now watch Days of our Lives and General Hospital, but with GH moving to 2 PM, I'm lost later in the afternoon. It's really thrown me to have my TV schedule that I've relied on forever taken away!
L
Q7):
Do you have any interesting writing quirks? Maybe something you absolutely must have with you to get the writing process started?
Carly: I love my recliner chair to write in. Best thing I ever bought – thank you Vicki Lewis Thompson for recommending that to me. I was afraid I'd sleep in it instead of writing, but it really works for me. That and my Mac Air laptop! I don't need anything else.
Q8):
What personal dreams have been realized as a result of your writing?
Carly: Oh my. Well. Obviously Kelly Ripa's pick of The Bachelor for her bookclub on Live with Regis and Kelly in 2002 was the highlight. Not only because of my career, but I told you I'd watched All My Children forever, so having her pick my book, meeting her … dream come true. Total fan girl moment. And then it gave my career the boost I dreamed of. Hitting the New York Times Bestseller List was huge – but I'm always striving higher, so I'm still hoping for more in my career and dreams. That's me. Dreamer
J
Q9):
Out of all the incredible novels you have written, is there one book that you consider a favorite, maybe one that holds some kind of sentimental value to you?
Carly: I loved writing THE HOT ZONE Series because I love athletes and that was something I'd wanted to do forever. SERENDIPITY also holds sentimental value just because I feel it stretched me more as a writer.
Book Monster Reviews/LITERAL ADDICTION:
O.K, now we'll ask some questions directly related to the SERENDIPITY series and other projects…
J
Q10):
Can you please tell us a little about your SERENDIPITY series? What was your inspiration behind this series?
Carly: Serendipity, as a series, came as a result of the sudden love of small town romance for contemporary romance readers. Interestingly for me, I'd always written small town romance – just look at my books – The Chandler Brothers series, the Lucky series … all small town family books. The difference with Serendipity was that it was marketed as a small town romance, not a hot Carly Phillips romance, though it is both. And the other difference for me, was an overriding family ARC, plot, and continuing saga over the three books. From there, I went on to explore more characters from Serendipity in short stories, and now the Serendipity's Finest Series, the cops of Serendipity, and one family in particular.
Serendipity starts with the story of Ethan Barron, the oldest of the three Barron brothers, the bad boy who abandoned his siblings and returns home to make amends. He meets up with the good girl, rich girl – to find their fortunes have reversed – he's the rich guy and she's lost everything. It's such a hot yet sweet love story. Ethan and Faith were yummy. And then we go from there with the two brothers he hurt, the half sister he didn't know about … etc.
Q11):
How many books do you have planned for the SERENDIPITY series? When will the next book be out?
Carly: No plans! Right now it goes like this:
Serendipity, Destiny, Karma – 3 book story ARC (can stand alone but read better in order). In between, Kismet can be read after Serendipity.
Up next – Fated – which also comes in time immediately after Serendipity – and that is out on Tues Dec. 4th, 2012.
Serendipity's Finest begins December 31, 2012 – with Perfect Fit, Perfect Fling (August 2013) and Perfect Together (February 2014). In between, there is an anthology called Hot Summer Nights – in which you'll find Perfect Stranger – out July 2014.
After that, it's up to reader reception of my upcoming books on what I write next, whether I stay in Serendipity or move on!
Q12):
What other projects do you have in the works for the remainder of 2012 and for 2013?
Carly: Oops ;) See above!
Q13):
Is there a specific message in your books that you're hoping your readers will grasp?
Carly: Love and Family is the most important thing of all – and from that I mean family in whatever form – whether it's blood relatives or the family my heroes/heroines make for themselves once they find love, the fight to true love is worth everything.
Q14):
What has been the biggest surprise in your career so far?
Carly: That I have a writing career! I went to law school and worked for a year as a lawyer, hated it, became a stay at home mom, then started to write as a distraction from colic and as an aside to my love of reading romance. Once I started writing I never wanted to do anything else but get published, so I'm thrilled, thrilled that I get to do what I love and readers receive my stories and enjoy them!
Q15)
: Is there anything specific you would like to say to your readers or any information that you'd like to share while we have you here today?
Carly: THANK YOU!!!!! I would not be where I am today, doing what I love, writing, meeting other romance writers and readers, interacting with all of you online, if not for you buying my books and making my dreams a reality. So thank you!
Book Monster Reviews/LITERAL ADDICTION:
Carly, thank you so much for taking time out of your busy schedule to be with us today! We'd love to have you back in 2013 to help you promote any of your new releases.
Carly: I'd love to come back. This has been fun, your questions really great!
To find out more about Carly and keep up with all those amazing books she has, you can find her at the following sites:
Carly is giving away a paperback of SERENDIPITY to one winner at Book Monster and another winner over at LITERAL ADDICTION.
Fill out the Rafflecopter form below to enter!
Don't forget to drop by the LITERAL ADDICTION website (
http://www.literaladdiction.com/
) and follow the directions and links to enter their contest for an extra chance to win!!!
a Rafflecopter giveaway