Book Monster Reviews and LITERAL ADDICTION are very happy to welcome the wonderful
Shannon K. Butcher
back to our sites today to celebrate the release of the new EDGE novel, "Edge of Sanity"!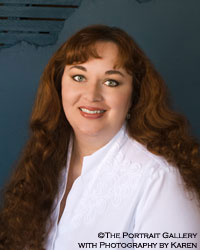 As a little girl, Shannon never wanted to write. When asked what she wanted to be, she'd say she wanted to be a daddy. After she learned the biological impossibility of that happening, she decided instead to become what her dad was: an Industrial Engineer. So, that's what she did. She faithfully stuck to it, and after she graduated, she went to work for a big telecom company earning a steady paycheck while her husband pursued his dream of becoming a published author.
For those of you who might not know, Shannon's husband is
Jim Butcher, fantasy and sci-fi author extraordinaire. Shannon learned to write in an effort to help him improve his own work, and as soon as she discovered that writing was more a learned skill than a natural talent, she knew she had to give it a try. The challenge of taking bits and pieces of a story and putting it together was more than she could resist. It was actually exactly the kind of puzzle that make her want to become an engineer. So, she thought she'd try her hand at what her husband did, and after picking up her first romance in 1998, she was hooked, and decided to write romance herself.

Shannon comes from an entire family of what she calls 'geeks'. Shannon and Jim live in Missouri with their teenage son and a dog who is only one four-foot stick away from being a dust mop.

Shannon
is the esteemed creator of the
EDGE, DELTA FORCE and SENTINAL WARS series. Her latest release, "Edge of Sanity", Book #3 of the EDGE series, was just released on 12/4/12 and we're here today to help Shannon promote and celebrate.
For those of you that are new to Shannon and her work, we highly suggest that you check out her
entire backlist, but for today, we'll give you the synopses for the books in the EDGE series to peak your

interests a bit…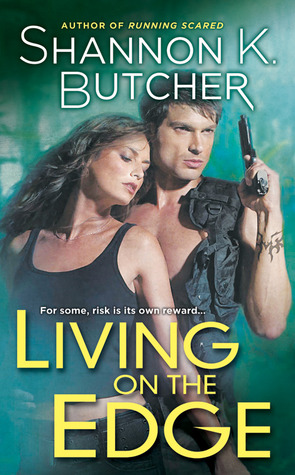 After a devastating injury, Lucas Ramsay knows he's finished as a soldier.But when the general who saved his life asks him for a favor, he says yes. All Lucas has to do is keep the general's daughter from getting on a plane to Colombia -- which is easier said than done...
Independent to the core, Sloane Gideon is a member of the Edge-a group of mercenaries for hire. But she's not on the clock for this mission. Her best friend is being held by a vicious drug lord, and Sloane must rescue her -- no matter how many handsome ex-soldiers her father sends to dissuade her.
With little choice, Lucas tracks Sloane to Colombia-where she reluctantly allows him to aid her in her search. But as they grow closer to the target, they grow closer to each other. And before the battle is over, both will have to decide just what they are willing to fight for...
Sound good? Guess what, they are!! Now that we've told you a bit about Shannon and gave you her latest releases' synopses, what do you say we get to know her and her books even better?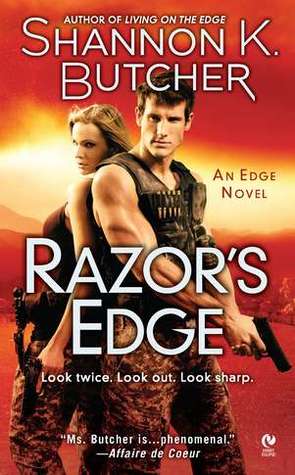 Roxanne "Razor" Haught is an expert in stealth security for corporate espionage cases. But now she's a target. Tanner O'Connell has no intentions of leaving Razor's side. Despite her objections to having a "babysitter", his orders as the newest member of the Edge are to watch her back. With a brainwashed assassin after his partner, Tanner cannot afford to let his desire for Razor interfere with his duty. His special ops skills may be all that stand between saving Razor-or losing her forever.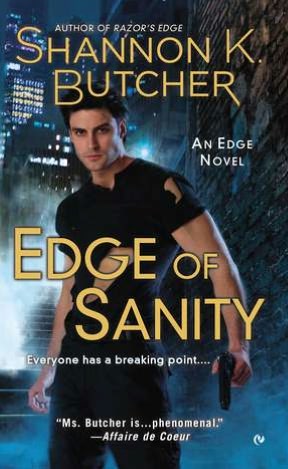 "I NEED TO KNOW IF ANYONE WAS KILLED LAST NIGHT."
In his years working for the private security firm The Edge, Clay Marshall has seen it all. But the recent blackouts he's been having are new. So is waking up with blood on his hands and clothes, with no memory of where the blood came from—or who he might have killed. He hates to admit it, but he needs help.

Dr. Leigh Vaughn has treated other Edge employees before, but from the moment she sees him for the first time, Clay strikes her as a special breed of man. She knows he's dangerous, and distrustful of doctors, but she finds herself drawn to him even as his own steely exterior gives way to his growing desire for her.

Neither knows, however, that Clay is being used as a pawn in a larger experiment, and that his blackouts are only the first step toward a terrifying goal. And both Leigh and Clay will put themselves in harm's way to stop an unseen enemy—and to save one another.
They sound fantastic right!? They are!
In celebration of the release of "Edge of Sanity", we let Shannon take over the sites for the day. Let's see what she had to say…
First I want to thank Literal Addiction and Book Monster reviews for letting me come out and play today. It's really great to be back again with everyone!
I'm usually somewhat of a hermit, cozying up with my keyboard and fuzzy white dog most days, but every once in a while, I have a great excuse to step away from work. Today is one of those days. I'm really thrilled to be chatting with you about books, writing, and my latest release, EDGE OF SANITY.
I always try to be careful not to give away any spoilers, but what I can tell you without ruining the fun for anyone is that this book is by far my favorite of the Edge series. It's one of those stories that has been in my head, dying to come out since this series was just a spark of an idea. I really hope you enjoy reading it as much as I did writing it.
J
I
t was the blood that woke him.
Clay Marshall's fingers were glued together, sticky and itching where the blood had dried. The heavy, metal­lic smell of it clogged his nose, choking him with the stench of violence.
He stared at his dirty hands, disoriented and numb from shock. Fatigue dragged at his bones. Pain pounded deep inside his skull, worse than any hangover.
The water stain on the ceiling was a familiar comfort, telling him he was in his own bed. Now, if he could only remember how he'd gotten here.
As the fog of sleep cleared, the meaning of the blood began to take hold. Concern gnawed at the edges of his numb haze, nibbling away at the false sense of calm. Re­ality squeezed around him, shoving out his breath like a giant boa constrictor.
Clay sat up, trying to control the fear before it became full-blown panic. His clothes were stiff and dark with drying blood, as if someone had splashed a bucket of it down his front. He searched for the source of the blood, seeking out the kind of physical pain this much blood loss would create.
He ripped off his shirt and jeans only to find the skin beneath whole. His sheets were stained, but there was no pool lying where he'd been. Those smears were only from contact with his clothes.
Clay rushed to the bathroom on shaky legs and peered into the full-length mirror on the back of the door. No cuts. No gashes. Only a collage of bruises of varying ages and a body that was so thin he barely rec­ognized it.
The blood wasn't his, and yet he could find no relief in that knowledge. It had to belong to someone.
The need to scrub it away arose, compelling him to stumble into the shower. Cold water hit him hard, driv­ing the air from his lungs before it slowly warmed. He lathered himself from head to toe, watching in disgust as the rusty suds spiraled down the drain.
Even though the hot water stung, he still felt detached from the world, as though he were covered by a thick layer of foam, preventing anything from really reaching him. His head was clouded with confusion— o much so that he was only just now realizing that he was confused.
He dried off and headed for his kitchen, where the coffee lived. After three cups and twenty minutes, Clay's brain finally began to function. And with that relative clarity of thought came fear.
There were stains on his floor in the shape of his boots, leading from the kitchen door all the way to his bedroom. He followed them to where the bloody pile of clothes lay on the rug.
There was even more blood on them than he'd imag­ined. So much, he knew someone had to be dead. The question was who? And whether Clay had been the one to kill them.
A sick sense of dread settled over him, making the coffee in his stomach churn.
He had no memories of last night; he couldn't remem­ber anything since lunch yesterday. The sun was stream­ing in through the windows, but as hard as he tried, there was simply a gaping black hole where the missing time should have been, as if he'd been asleep since then.
The blood proved otherwise.
Clay turned on the local news and barely breathed as the anchor moved from one story to the next. He wasn't sure what he expected to hear—reports of a building col­lapse or a giant pileup on I- 5, maybe—but he knew what he feared: murder.
His hand shook as he surfed from one station to the next, seeking some sign of what he'd done. When they started repeating the same stories, he wasn't sure whether he was more relieved or scared. Maybe he hadn't hurt anyone. Maybe he'd saved someone's life and gotten them medical attention. Then again, maybe they just hadn't found the body yet. Or bodies.
This wasn't the first time Clay had woken up with blood on his hands, but he had no way of figuring out how to make it be the last time. The only person he could trust was his best friend, Mira. She was like a sister to him, and he couldn't stand the idea of burdening her with his problems.
Still, if anyone could help him solve the mystery, she could.
Clay dug his cell phone out of his bloody jeans and wiped it clean before dialing Mira.
Her voice was so cheerful and bright, it hurt his head. "Good morning, Clay. You're up early."
"Heya, squirt. I need a favor."
"I need to know if anyone in the area was killed last night."
The line went silent for a minute. "Uh . . . what?"
He hated lying to her, but there was no other way. "I saw a ton of blood on the sidewalk outside a club. I was wondering if anyone was murdered. Can you find out?"
Shit. He hadn't been thinking clearly enough to con­sider even such a simple question. He was even worse off in the mental department than he'd thought. "I don't re­member. I was drunk."
"Clay," she said in that voice that told him she knew he was lying. "What's really going on?"
"Can you find out or not?"
She let out a heavy sigh. They'd been friends a long time—since they were kids—and he was not easy on his friends. Especially Mira.
"Hold on." Disappointment weighed on her voice.
Clay heard the clicking of keys in the background be­fore she came back on the line. "There was a drug- elated shooting that killed three. One fatal car accident. Three deaths from natural causes. That's all I could find."
"You want me to hack into the morgue? That's a little dark, even for you. What's going on?"
"Nothing. Really. Don't worry."
"How can I not worry? You sound awful. Did some­thing happen?"
The lie nearly choked him. "No. I'm sorry I bothered you."
"You're not a bother, Clay. You know I love you. Whatever you need, I'm there, okay?"
An unexpected spurt of emotion clogged his throat. She was the only person in the world he really cared about. He didn't know why she stuck with him when he was such a mess, but he was glad she did. "I love you, too, squirt."
"Then let me help you. The headaches, the black­outs—you need help."
The pile of bloody clothes popped into his mind, star­ing at him in accusation. Until he figured out what was going on, he wasn't safe to be around. "I'll be fine. But I'm not feeling so great, so I'm taking a sick day. Will you let Bella know?"
"Sure. Get some rest and call me if you need anything, okay?"
Mira hung up the phone feeling sick to her stomach. Clay was getting worse. The bruises, the split knuckles, the dislocated joints. And now he wanted her to check death records? Even if her IQ had been cut in half, she would have been able to figure out what that meant.
He thought he'd killed someone.
Clay kept pushing her away, making up reasons why they could no longer hang out together. The more she tried to help, the harder he pushed.
If he wouldn't let her help him, she had to find some­one who could. And there was only one man Mira knew who had even a chance at getting through Clay's thick skull.
What she was about to do would piss off her best friend, but that was just too bad. She owed him her life— even if he didn't remember— nd if she had to suffer through his anger, so be it.
Shannon is offering up a signed copy of "Razor's Edge" and a custom made glass bookmark to a winner on Book Monster Reviews and
a signed copy of "Living on the Edge" and a custom made necklace to a winner from LITERAL ADDICTION
.
Fill out the Rafflecopter widget for today's event, follow the directions, take action, and mark as 'Done'.
For your chance at a signed copy of "Living on the Edge" and a custom made necklace, be sure to head over at

LITERAL ADDICTION

, and enter the contest over there as well!
LIVE CHAT, DON'T FORGET:
Shannon
will be available to chat live with members, followers, fans and guests in LITERAL ADDICTION's
Author Chatroom
from 8-9pm EST/7-8pm CDT/5-6pm GMT & PDT.