Hey there everyone, welcome to your last Saturday in 2012.
Book Monster Reviews and
LITERAL ADDICTION
are very happy to have the wonderful
Rhyannon Byrd
back with us today.
Rhyannon, who lives in the beautiful county of Warwickshire in England with her wonderful husband (who spoils her rotten *wink*) and their loud, but loveable offspring, is an avid, longtime fan of romance and fell in love with the world of paranormal romance as a reader. When she first tried her hand at writing what she calls 'one of these dark, wickedly sensual tales', she was completely hooked, and we ended up with one of our favorite authors!
Rhyannon's latest release, "Dark Wolf Rising" which is the fourth book in the BLOODRUNNERS series, was just dropped on December 18, 2012 and we are going to help Rhyannon promote and celebrate today!
For those of you not yet familiar with Rhyannon's work, we highly recommend
everything that she's written and suggest that you would check it all out

HERE.

For today though, let's focus on the BLOODRUNNERS series and her new release, "Dark Wolf Rising". If you haven't read BLOODRUNNERS yet, here are the synopses and quick buy links for the available books to get you up to speed: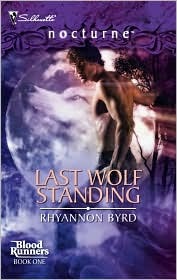 F
IVE SECONDS EARLIER, MASON DILLINGER WOULD HAVE SWORN IT COULD NEVER HAPPEN...


That a woman who was his perfect match even existed. And that he'd find her in a bustling cafe. Yet just the scent of sweet, mortal Torrance Watson ignited a driving, explosive need to claim her that he knew his pack would never sanction. Worse, the rogue werewolf he'd been hunting had sensed that attraction and made Torry his prey. Forced to safeguard her from this ruthless assassin, who already posed a threat to his pack, Mason now faced the ultimate challenge. Did he have the courage to cross the line by sealing the blood bond that would make Torry his alone -- a disloyalty few of his kind ever survived -- or would he live an eternity without love?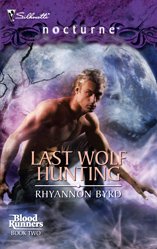 As if sending the next rogue back to hell was his life's mission. But after seeing Jillian Murphy for the first time in a decade, Jeremy knew he could no longer ignore his desire. By rights of nature, the Spirit Walker belonged to him. Yet fate and fear had worked against these two headstrong lovers in their youth--and cast the Bloodrunner from his home.Now Jeremy and Jillian must join forces to uncover the betrayal that threatens to destroy the pack's stability. And when they're done--well, Jeremy's not about to again deny himself the one thing he wants most in this world.... Jillian belongs to him, and this time his little witch is going to know it.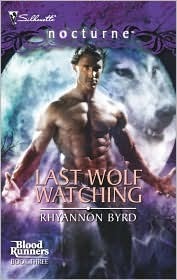 There was nothing simple about what Brody Carter had to do...With any other woman, it would be. But not with Michaela Doucet. He barely knew the provocative Cajun, but already her beautiful face haunted his dreams. True, women like Michaela never took an interest in guys like him--ones who were scared and bitter enough not to care what the world thought about them. But that had no bearing now that he had to protect Michaela from the Lycans who wanted her dead. Even if this decision would change his entire life. Even if it was pure madness.

Brody had no other choice. He never had....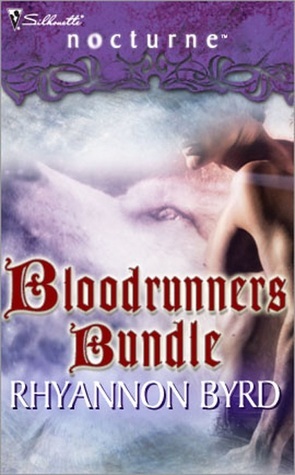 Welcome to the world of the Bloodrunners, a fierce band of hunters and protectors, half-human, half-Lycan. Only through the act of Bloodrunning, the hunting and assassination of rogue werewolves, may these extraordinary warriors gain full acceptance within their respective packs. Caught between two worlds--and yet, belonging to neither, these half-breed protectors will stop at nothing in pursuit of justice...and love. Bundle includes Last Wolf Standing, Last Wolf Hunting and Last Wolf Watching.
*Read Book Monster's
Review HERE (Coming later today)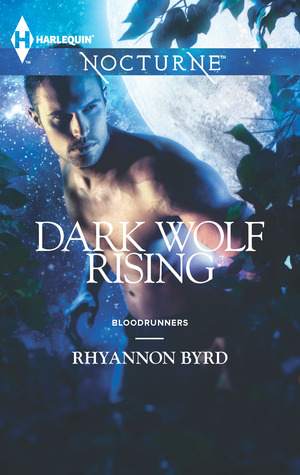 Eric Drake, a powerful Dark Wolf, has never trusted himself around human females-preferring to mate only within his pack. That is, until he encounters Chelsea Smart snooping around Silvercrest pack land in search of her missing sister. Secretly, Chelsea thinks Eric is the sexiest man she's ever seen, though she is wary of his potent Alpha energy. Then it's discovered that Chelsea's sister is being held by a pack of vicious Lycans, and Eric heroically leaps into action. Now, Chelsea will risk everything-her body and soul-to surrender to the passion that will mark her as Eric's woman for all eternity...if they survive.
How incredible do those sound!? We can tell you first had that they absolutely are and you will be hooked immediately! Make sure to add them to your TBR and find them from YOUR favorite bookseller as soon as you can. For now though, let's see what Rhyannon had to say when we let her take over the sites for the day…
I'm not sure why, but I seem to be saying these two particular words more and more with each year that goes by. One second it's the first of January and I'm putting together my resolutions...and the next thing I know the holidays are starting all over again. And the more I wish I could slow down the passage of time, the quicker it seems to zoom by. In so many ways, it feels as if I only just finished writing Last Wolf Watching a few weeks ago, when in reality it's been nearly five years since I completed the book that would wrap up the first trilogy in my Bloodrunners series at Harlequin Nocturne. When I wrote the last line of Brody and Michaela's story, I never imagined that so much time would pass before the fourth book in the series was released. A lot has happened in those five years—my family and I moved to England, I wrote the entire Primal Instinct series, and...well, just imagine a lot of chaos and you'll have the right idea—but I never dreamed it would be so long before I was able to get back to the Bloodrunners and write more books for the cast of characters who are so near and dear to my heart. And when the time finally did come, delving back into their world was an exciting, but daunting adventure. I have so much affection for this rugged, lovable bunch—but I'd be lying if I said I wasn't terrified of screwing the whole thing up when I started Dark Wolf Rising. I'm not sure if other authors feel this way, but I certainly did. After so many years, I was truly afraid that the fourth book wouldn't fit or turn out the way I wanted it to—the way I had been envisioning Eric's journey for so long. But when I planted myself at my desk to get the words down, I was able to settle into that particular place in my head where this world lives and it thankfully all came rushing back to me. I could see Jeremy's crooked smiles and hear Cian's dry laughter as if I was hovering above the scenes, watching them play out below me. I felt so wonderfully at home there, and I just want to take this opportunity to thank my readers for giving this series so much support. Without it, these new adventures in the Bloodrunners world would never have the chance to make their way onto your shelves... and too many stories would be left untold. But because of you, the Drake siblings...and that sexy Irishman himself...will finally have their time in the light, and I'm beyond grateful for this wonderful opportunity. I'll do everything I can to make these next books in the Bloodrunners series worth the wait, and I'm so looking forward to sharing them with you!
Many, many thanks to Michelle and Carla for inviting me here today, and I hope you all had an incredible holiday season! :)
Happy New Year and best wishes for an amazing 2013!!!
Rhyannon is offering up 2 amazing BLOODRUNNERS prize bundles on EACH site – a SIGNED copy of "Dark Wolf Rising" and copies of "Last Wolf Hunting" and "Last Wolf Watching" to 2 winners on each site (4 prizes total).
Fill out the Rafflecopter widget for today's Event, follow the directions, take action, and mark as 'Done'.
For another chance to win, go to LITERAL ADDICTION and enter
a Rafflecopter giveaway