Book Monster Reviews and LITERAL ADDICTION are proud to welcome Terry Spear back to our sites today!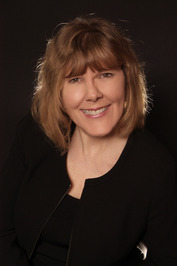 Terry is an award-winning author of urban fantasy and medieval historical romantic suspense. Her HEART OF THE WOLF series was named in Publishers Weekly's "Best Books of the Year" and received the NOR Reader Choice for Best Paranormal Romance.
She also writes true stories for adult and young adult audiences, and is a retired lieutenant colonel in the U.S. Army Reserves. She has an MBA from Monmouth University and a Bachelors in Business, and is a Distinguished Military Graduate of West Texas A & M.
When she's not writing, she also creates award-winning teddy bears! Her Wilde & Woolly Bears have an array of personalized bears designed to commemorate authors' books.
When she's not writing or making bears, she's teaching online writing courses.
As we stated above, Terry is the proud creator of the HEART OF THE WOLF series which currently consists of 9 available books ("Heart of the Wolf", "Destiny of the Wolf", "To Tempt the Wolf", "Legend of the White Wolf", "Seduced by the Wolf", "Wolf Fever", "Heart of the Highland Wolf", "Dreaming of the Wolf" and "A SEAL in Wolf's Clothing").
She also has a YA series called THE WORLD OF THE FAE, which has 3 books – "The Dark Fae", "The Deadly Fae", and "The Winged Fae".
Her new series, HEART OF THE JAGUAR, has 1 book right now - "Savage Hunger". It was just released on 10/1/12 and we're here today to help Terry promote and celebrate.
For those of you not yet familiar with Terry's work, we highly suggest that you check out her entire backlist, but today we're going to concentrate on the new release, "Savage Hunger":
HEART OF THE JAGUAR #1: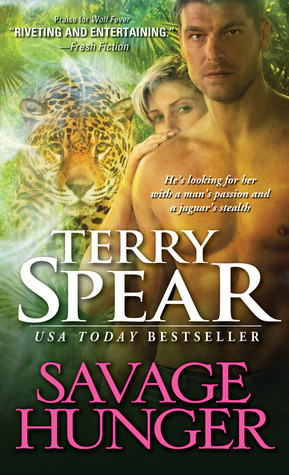 In the heat of the jungle, jaguars are clawed, dangerous, and hungry for love. With hopes of overcoming night terrors and thanking the man who saved her life, Kathleen McKnight returns to the Amazon. A jaguar at heart, Connor Anderson doesn't just protect her, but wants to claim her for his own.
Book #2, "Jaguar Fever" will be
c
oming in the Spring of 2013
.
Make sure that you add it to your TBR lists and check it out from your favorite bookseller. For now though, let's see what Terry had to say when we let her take over the site for the day.
By Terry Spear
You've probably heard of the man who took a flying leap into the tiger's exhibit to reach out and pet the big kitty and become one with the cat.
I say often that my jaguar shifters go to the jungle to be one with their jaguar shifter half. I just wanted to make it clear—you know like how labels tell you on packages not to eat printer ink and stuff like that because it might be hazardous to your health—as if you didn't know that—so I want to state here that hugging any wild animal can be hazardous to your health.
Unless it's a shifter. And then their human half rules their more feral side.
I've written about 40 blogs this tour, and I wanted to say something different from anything else I've said, besides the above warning label on hugging wild animals.
I once was loved by a huge chimpanzee. He wanted to become one with ME.
There. I said it. I didn't have PTSD—from a large primate who was taller than me who wanted to be my pal—from the experience, but I probably should have.
So here's the story—I was on a trip with my parents and I was about ten or so, and we stopped somewhere along the way at a petting zoo where all the animals had been brought there for their final resting place. It was a really small town kind of place. Hardly any people visiting, if any. Hardly any animals.
You could buy those bags of food to feed them and so my dad bought a bag and when we came to the chimpanzee exhibit, he gave some of the food to my sister, who was smaller than me, and to me.
First, you have probably see the cute "little" chimpanzees. These were not little. They can grow to 5 and half feet tall and weigh up to 130 pounds. Although a woman was attacked by one weighing 200 pounds, so you know who won that fight, right?
He was taller than me. I'm 5, 4 now, so when I was about 10, maybe a foot smaller?
I was reluctant. I know, I know. Alpha me, reluctant. But the one was watching me with lust in his eyes. Okay, maybe not. But he was watching me. Seeing my hesitation. Probably good bride prospect. He'd be in charge.
My mom and dad and sister were feeding them. And my dad kept telling me, "Go ahead, he won't bite. It's a petting zoo. It's safe."
I watched a film a couple of years ago about chimps that figured out a way to get out of their cage and killed one of the owners, and was just reading about a 26-old Texas graduate student who was in critical condition this past July when two chimps pulled him under an electric fence at a chimp reserve and severely mauled him. He had gone between two fences where it was a restricted zone, and the chimps were being territorial and he didn't have the authority to go in that area.
They have extremely long arms and are very strong.
I know, because I finally got up the nerve to feed the BIG chimp. He watched me, waited until I dropped the food in his outstretched hand. I was watching his black leathery palm and his long fingers and the long black nails. I was expecting him to do what he had done with everyone else. Take the food, curl his hand into a fist, pull his arm back in through the fence, and eat the food. And then stick his hand back out for more.
So when he twisted his wrist and dropped the food on the ground, I looked up at him, surprised he didn't want the food.
Dad was watching me—because I had been so reluctant to feed the nice chimps.
In a lightning fast movement…the chimp seized my arm and pulled me toward the fence.
He didn't want the food. He wanted me!
My dad reached for him to break his arm if he had to, to break his grip on my arm, but I screamed and jerked away so fast, I was free in the next instant.
Chimps go after fingers and toes, anything that you can use to protect yourself with. They also go for the head. And they go for other parts on guys I don't want to mention here. Why? Because they want to incapacitate their victim quickly.
My dad teased me that the chimp liked blondes and tried to make light of it so I wouldn't be terrified of them. It wasn't until much later that I learned just how dangerous they could be.
So why have them at a petting zoo? Where kids can reach out and feed the nice monkeys?
It was not a restricted area. They were within arm's reach, obviously, of the human visitors.
Moral of the story—even if they look sweet and innocent, and even if it says you can feed the nice monkeys—my advice?
Keep far away and stick to shifters!!! They're protective, loyal, and one-hundred percent hunky!
Thanks so much for dropping by today! Have you ever felt the call of the wild???
Thanks so much to Literal Addiction & Book Monster Reviews for having me today, and one lucky person that answers my question will have a chance to win a copy of SAVAGE HUNGER. US/Canada Addresses Only please.
Terry is graciously offering up
a copy of SAVAGE HUNGER to (US/Canada Addresses Only)
to a winner from Book Monster Reviews.
To Enter:
Fill out the Rafflecopter widget for Terry's Event, follow the directions, take action, and mark as 'Done'.
a Rafflecopter giveaway