Happy Monday Book Monsters and Literal Addicts!
Today we have two amazing authors taking over our sites and participating in a LIVE Chat with us later tonight.
Please give a big welcome to Catherine Mann and Joanne Rock.
USA Today
bestseller Catherine Mann resides on a sunny Florida beach with her military flyboy husband and their four children. Although after nine moves in twenty years, she hasn't given away her winter gear! Now a RITA Award winner, Catherine writes action-packed military suspense for Berkley and Sourcebooks, and steamy romances for Harlequin Desire. With over two million books in print in more than twenty countries, she has also celebrated five RITA finals, three Maggie Award of Excellence finals and a Bookseller's Best win. A former theater school director and university teacher, she holds a Master's degree in Theater from UNC-Greensboro and a Bachelor's degree in Fine Arts (with minors in both English and Education) from the College of Charleston. Catherine enjoys hearing from readers and chatting on her message board – thanks to the wonders of the wireless internet that allows her to cyber-network with her laptop by the water! Catherine and her family are also active volunteers in animal rescue, having fostered more than fifty puppies and special needs dogs for their local shelter. FMI on the latest news, upcoming releases and contests, check out her facebook page.
Catherine is the creator of many incredible series including the popular romantic suspense series DARK OPS, ELITE FORCE and SPECIAL OPERATIONS. Here are a few of her latest releases in case you are not yet
familiar
with her books:
Under Fire
Publication Date: May 1, 2012



A decorated hero, pararescueman Liam McCabe lives to serve. Six months ago, he and Rachel Flores met in the horrific aftermath of an earthquake in the Bahamas. They were tempted by an explosive attraction, yet parted ways. Still, Liam has thought about Rachel every day—and night—since.
Now, after ignoring all his phone calls for six months, Rachel has turned up on base with a wild story about a high-ranking military traitor. She claims no one but Liam can help her—and she won't trust anyone else.
With nothing but her word and the testimony of a discharged military cop to go on, Liam would be insane to risk his career—even his life—to help this woman who left him in the dust.
Guardian
Publication Date: September 4, 2012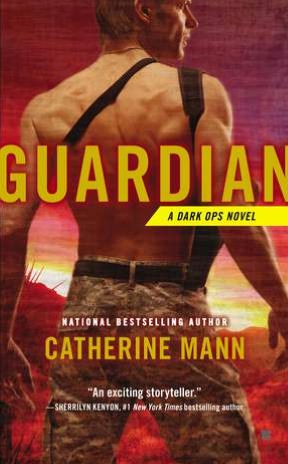 THEY'D DO ANYTHING FOR COUNTRY.
AND EVERYTHING FOR EACH OTHER.
After a dark ops malfunction, Major David Berg finds himself dead center in a military trial. It's a race against time to root out the truth, and Major Sophie Campbell isn't making that any easier. The hot JAG wants to bring down David's unit and fast. His testimony is crucial to winning a case that will make her career. All Sophie has to do is ignore this witness's unflappable charm, his unnerving good looks, and a strong, solid presence that commands her attention. It's not easy for David, either. His attraction to this take-charge beauty is turning him inside out. But these adversaries have more in common than secret, mutual desire. There's a traitor somewhere in the dark ops and now, to find him, David and Sophie must work together—relentlessly, tirelessly, and so intimately it could be damn near fatal.
An Inconvenient Affair
Publication Date: August 7, 2012



Sometimes wrong feels oh-so right

…
Hillary Wright has always been a magnet for Mr. Wrong. Her latest left her in trouble with the law, and to clear her name, she's agreed to an undercover sting—as the "date" for infamous Troy Donavan. The notorious hacker is now a government good guy…and a sexy billionaire playboy. Troy has a reputation as the sort of man she's vowed to avoid, and his secretiveness adds fuel to Hillary's distrust. But with his kisses like molten sin, her fierce resistance is melting. And being sensible in the face of such overpowering desire is just not an option.
The Alpha Brotherhood: Bound by an oath to make amends, these billionaires can conquer anything… but love.
To check out Catherine's entire library of literary excellence click

HERE.
Connect with Catherine:
Three-time RITA nominee Joanne Rock turned a passion for writing into a career when imaginary characters kept her awake at night, demanding she tell their stories. The author of over sixty romances in a variety of subgenres, she enjoys writing medieval historicals and contemporary romance and, coming soon, Young Adult books under the pseudonymn

JK Rock

with her writing partner, Karen Rock. Joanne traces her passion for all things medieval to an early brush with John Keats' poem

"The Eve of St. Agnes"

and a rapt fascination with the

Pre-Raphaelites'

depiction of medieval themes. As a writer, she enjoys supplementing her more research-intensive trips to the Middle Ages with faster-paced contemporary stories sparked by the characters she meets in real life. The move back and forth between very different story styles keeps her Muse singing happily. A former

Golden Heart

recipient, Joanne has won numerous awards for her stories. Her work has been reprinted in twenty-five countries and translated into nineteen languages. When she's not actively writing her own books, she enjoys teaching writing and literature at Plattsburgh State University (NY).
Joanne is the creator of some incredible Harlequin Balze series including DOUBLE OVERTIME, MURPHY BROTHERS, SINGLE IN SOUTH BEACH, CHANDLER BROTHERS and WEST SIDE CONFIDENTIAL. Here's a few of Joanne's latest releases to keep you up to date with her as well:


Her Man Advantage
Publication date: April 17, 2012
Full-body contact never felt
this good
By rights, they should hate each other.Filmmaker Jennifer Hunter doesn't want to make a hockey documentary any more than hockey defenseman Axel Rankin wants to star in one. But neither of them anticipates the molten rush of pure lust for each other, and they can't help but give in, on and off camera
.
The last thing Axel needs is a camera shoved in his face, probing into his life and his rocky past. Especially if the woman calling the shots is a mouthy, assertive, drop-dead sexy redhead—who makes him want to do things that definitely require an adults-only rating!His favorite game just got a whole new set of rules
.
Full Surrender
Publication Date: August 21, 2012
It's a heck of a risky shot. But five years after an ordeal in Iraq, camerawoman Stephanie Rosen's mojo has gone MIA. There's only one place she'll find it
and that's with the onetime fling who set her fantasies—and panties—ablaze five years ago!Lieutenant Daniel Murphy's nights at sea have been haunted by dreams of Stephanie and the brain-melting chemistry between them. Now he's on leave, and when Stephanie asks him to resurrect her long-lost libido, Danny doesn't think twice. Now he has twenty days to remind her what she needs. Twenty days to take his time and drive her to the edge.
Twenty days to find complete satisfaction
and full surrender.
To check out Joanne's entire library of literary excellence click

HERE.
Today Catherine and Joanne are sharing some of their favorite recipes and giving away some goodies. Check out the Guest Post and be sure to enter in the contest below.
LIVE CHAT:
Catherine and Joanne will be chatting with us LIVE over in the LITERAL ADDICTION Chatroom from 8:00pm-9:00pm EST (7-8pm CT, 6-7pm MDT & 5-6pm PDT). Everyone is welcome to join and we hope to see you there.
Critique partners
Joanne Rock
and
Catherine Mann
are enjoying a cyber party through their September blog tour since they live so far apart. Today, they're letting their heroes do all the work, rolling out some of Joanne and Catherine's favorite recipes. After all, there's truly nothing hotter than a hunky alpha male wearing an apron cooking and doing the dishes!
First up… let's visit the bar. Joanne likes to make a big batch of party cocktails each time she entertains, something to set the mood. Today's drink sounds stuffy— a French 75—but you'll see it's actually very down to earth and perfect for end of summer fare. If you've ever made homemade lemonade, you can make this tasty drink!
You'll need fresh lemons, simple syrup (boil sugar and water, just like you do for lemonade, then let it cool), dry champagne (cheap is fine… you're using it as a mixer!) and gin.
In cocktail shaker, combine 1.5 ounces gin, 3/4 ounces lemon juice, and ½ ounce simple syrup. Add ice and shake vigorously for 20 seconds. Pour into chilled glasses and top with 2 ounces champagne. Voila! Use your leftover lemons and simple syrup to make lemonade for the kids.


For appetizers… I vote we put the men to work on Cheese Twists!
1-1/4 cups
all-purpose flour
1-1/4 cups
shredded cheddar cheese
Combine flour, cornmeal and salt. Cut in shortening until mixture resembles coarse crumbs. Stir in cheddar cheese. Sprinkle with 1/3 cup water. Toss with a fork (if dough is dry, add a little water until dough forms a ball). Wrap in plastic wrap; refrigerate for 1 hour. Divide dough in half. On a lightly floured surface, roll out each portion. Cut into 5-in. x 1/2-in. strips. Twist strips and place on greased baking sheets, pressing ends down. Bake at 425° for 7-9 minutes. Sprinkle with Parmesan cheese.
Main Course: From the kitchen of Catherine Mann
Also known as Beaufort Stew or Frogmore Stew
(In honor of Major David Berg – GUARDIAN – since his home state is South Carolina.)
1 pound smoked sausage links – cut in large chunks
10-12 frozen small ears of corn
1 (3 ounce) package dry crab and shrimp seasoning
2-3 pounds large, unpeeled, fresh shrimp
Bring LARGE/HUGE pot of water to boil.

Dump sausage, corn, potatoes, and dry crab & shrimp seasoning into the pot filled w/enough boiling water to cover. Cook 10 minutes or until potatoes are done. Stir in shrimp, and cook until done (about 4 minutes). Drain water and serve warm. YUM!
DESSERT:
From the kitchen of Catherine Mann
1/4 cup butter, melted Use real butter for better taste.
J
Spread blueberries on the bottom of a 10 x 6 x 2 inch baking dish. Sprinkle w/lemon juice. Mix flour, sugar & beaten egg. (Mixture will be coarse.) Spread along the top of the blueberries. Drizzle butter on top. Bake at 375 degrees for 30 minutes. Serve warm with ice cream, preferably freshly churned by Major David Berg as he does for the heroine in GUARDIAN. (Any fruit can be substituted for blueberries, but blueberry is Cathy Mann's favorite so of course that's what her hero will cook!)
What's your favorite go-to recipe to take to a cookout? Share with us today and we'll give one lucky poster a copy of Catherine Mann's
GUARDIAN
and a copy of Joanne Rock's
FULL SURRENDER at each site
.
a Rafflecopter giveaway