Hello everyone! LITERAL ADDICTION and Book Monster Reviews are very happy to welcome Linda Poitevin to our sites today!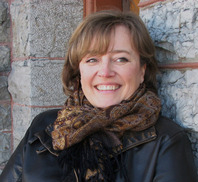 Linda lives just outside Canada's capital, Ottawa, with her husband, the youngest of three daughters, one very large husky/shepherd/Great Dane-cross dog, a cats, two rabbits, and a bearded dragon lizard. Turned down in her pursuit of a police career after a faulty height measurement, Linda vicariously lives out her dream of being a cop through her characters. When she isn't writing, she can usually be found in her garden in the summer, hugging the fireplace in the winter, or walking her dog along the river in any season.
She's the proud creator of the GRIGORI LEGACY series which currently consists of "Sins of the Angels" and "Sins of the Son".
For our readers who are new to Linda's work, we thought we'd give you the synopses for the available books of the series to pique your interests:
"Sins of the Angels",Book #1: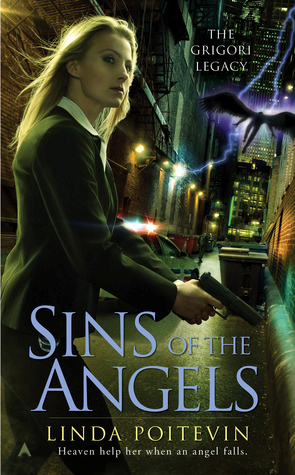 A detective with a secret lineage. An undercover Hunter with a bullet-proof soul. And a world made to pay for the sins of an angel…


Homicide detective Alexandra Jarvis answers to no one. Especially not to the new partner assigned to her in the middle of a gruesome serial killer case—a partner who is obstructive, irritatingly magnetic, and arrogant as hell.



Aramael is a Power—a hunter of the Fallen Angels. A millennium ago, he sentenced his own brother to eternal exile for crimes against humanity. Now his brother is back and wreaking murderous havoc in the mortal realm. To find him, Aramael must play second to a human police officer who wants nothing to do with him and whose very bloodline threatens both his mission and his soul.




Now, faced with a fallen angel hell-bent on triggering the apocalypse, Alex and Aramael have no choice but to join forces, because only together can they stop the end of days.
"Sins of the Son",Book #2: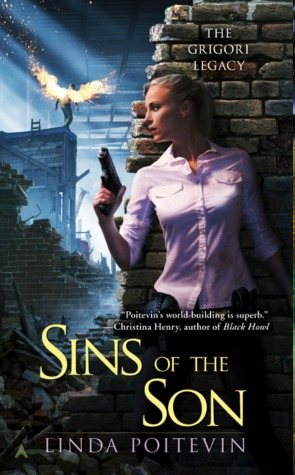 When homicide detective Alexandra Jarvis sees a photo of Seth Benjamin on a police bulletin, she knows that Heaven's plan to halt Armageddon has gone terribly wrong. As the only mortal who knows of Seth's true nature, only she can save him. Aramael was a hunter of Fallen Angels until a traitor forced him into earthly exile. Now, with no powers and only a faint memory of Alex, his mortal soulmate, he will stop at nothing to redeem himself-even if it means destroying Seth in the name of the Creator...
They sound great, right!? Make sure you get them added to your TBR and stake them out from your favorite bookseller, but for now, let's see what Linda had to say when we sat down to interview her.
LITERAL ADDICTION/Book Monster Reviews:
Hi Linda! We're very happy to have you here today. Thank you for taking time out of your busy schedule to chat with us.
LINDA: My schedule is absolutely insane at the moment, so trust me, the pleasure is all mine! It's nice to have a little break and chat with you.
J
LITERAL ADDICTION/Book Monster Reviews:
We always start by getting to know our guest author a little bit better.
Q1):
Can you tell us 3 things about yourself (no matter how random) that we couldn't find out easily on the Internet?
LINDA: I love the smell of line-dried laundry. I'm trying to talk my husband into retirement on Prince Edward Island. I don't own a lawnmower because my entire yard is made up of gardens and terraces…when I see grass growing somewhere, I yank it out.
Q2):
What are 3 things that always make you smile?
LINDA: An encounter with some of the wildlife I occasionally see on my walks. My giant dog going into "puppy mode" to talk me into playing with him. A hug.
Q3)
: If you could have any superpower, what would you want it to be and why?
LINDA: Supersonic speed…like Superman. I would love to be able to get absolutely everything on my to-do list DONE…all at the same time!
J
Q4):
If you could spend the day with anyone – alive, dead, fictional, etc – who would you want to spend it with and what would you want to do?
LINDA: My mom. She died 6 years ago quite suddenly and there are so many things I'd still like to ask her and talk to her about. I'd want to spend the day walking and talking and laughing and learning…
Q5):
What are some of your hobbies and/or things that you enjoy doing when you're not writing or taking care of other author business?
LINDA: I love to garden. I put in a small but extensive vegetable garden every year and plan to build a small greenhouse and some cold frames this year to extend my growing season. I do a lot of walking in the woods with my dog (snowshoeing in the winter). I read every chance I get. I'm a television addict. I love to try out new recipes. Occasionally I get onto a crochet/knitting binge and turn out afghans, scarves, and various other simple items. I meet friends for coffee and long chats. I love going for drives and discovering new-to-me places.
Q6):
Are there any specific authors and/or titles that you feel may have influenced you to become the writer you are today?
LINDA: Not specific, no. I've always read extensively and across many genres. If anything, I think my eclectic reading tastes have led me to blur my own genre lines. I'm more interested in telling a gripping story than I am in sticking to any one genre—which may be why some readers call the Grigori Legacy series a thriller, some think it's a paranormal romance, and others are drawn to its horror aspects. So I think I'd have to say that all the books and authors have subtly influenced me in one way or another.
Q7):
What is a typical writing day like for you? Do you have a routine that you follow? Are there specific things that you have to have with you to get the creative juices flowing, etc?
LINDA: I do have a routine, yes…and to be productive, I have to stick very closely to it. I generally get up at 5 or 5:30, feed the animals, walk the dog, have breakfast, and then sit down at the computer by 7:00. I write for a minimum of three hours, and up to five or six if it's going particularly well (or even longer if I'm under deadline!). The only thing I really need to have with me is my music…it blocks out the rest of the world and helps me to stay focused, and my playlist is filled with songs that fit my writing to a 't', so it's very inspiring, too.
Q8):
What type of scenes (dialogue, action, sex, etc) do you enjoy writing the most and why?
LINDA: I think I like the dialogue scenes most. I love how the characters can convey so much in a verbal exchange…information, tension, emotion, growth. A few words can move the story forward in an enormous leap, which is very exciting for me…and for the reader, I hope.
J
Q9):
Was there any specific inspiration behind the creation of the GRIGORI LEGACY series?
LINDA: "Angel," a song by Sarah McLachlan, was the tiny nugget that began the whole 'what if' process. The line "You're in the arms of the angel, may you find some comfort there" made me wonder:
but what if there is no comfort in the arms of an angel, but something different instead? What if you find danger and treachery and love on such an enormous scale that it doesn't stand a chance? What if…and so on. A very good friend of mine played a huge role in the initial brainstorming, providing me with a history of angels and Lucifer that I hadn't previously known, which led me to do extensive research that just kept adding to the list of 'what ifs'
Q10):
How many books do you have planned for the series?
LINDA: There are a total of four books planned to complete the current story arc in the series.
Q11):
Do you have an approximate timeframe that we might expect the next installment?
LINDA: While I'm working hard on the story now, I don't have anything more exact than spring-ish at this point.
Q12):
What were some of the challenges in bringing the GRIGORI LEGACY series to life?
LINDA: My own craft limitations were my biggest challenge, I think. I had a wonderful story, but I needed to build certain skills to bring it fully to life. After I signed with my agent, the first book went through four sets of revisions before it was ready for submission. Becca was utterly amazing at guiding me through the concept of world-building, the lack of which had been a serious flaw in my writing until then.
Q13):
What are the best and worst parts about writing for you?
LINDA: The best parts are the first third and the last third of a story: the first third because I'm excited about starting a new story; the last third because I'm caught up in the excitement of building up to the climax and finale. The worst part is that dreaded sagging middle, at which point I've usually written myself into at least four plot dead-ends, have identified six major inconsistencies, and am convinced that I'll never be able to straighten everything out and move forward. I really hate that part. My family isn't any too fond of it, either, lol!
Q14):
Do you have anything else outside of the GRIGORI LEGACY that you're working on that you can share with us?
LINDA: I do have another series in mind, but I'm very focused on finishing the Grigori Legacy first, so it's still at the subconscious, mulling-it-over stage.
Q15):
Is there anything special that you'd like to say to your readers while we have you here today?
LINDA: I would like to say a huge thank you to all the readers who have taken a chance on a debut author and read SINS OF THE ANGELS and/or SINS OF THE SON. Your support and enthusiasm have meant the world to me, and I am eternally grateful to each and every one of you…you're awesome!
J
LITERAL ADDICTION/Book Monster Reviews:
Linda, thank you so much again for being with us today. We're very happy to help you promote the GRIGORI LEGACY and hope that we can turn some new readers on to your work. We'd absolutely love to have you back to help celebrate your next big release if you're interested.
LINDA: Thank
you for the fabulous opportunity! I had a great time being here, and I would love to come back any time you'll have me. And if your readers have any questions or comments, I'd love to hear their thoughts!
J
If you want to keep up with Linda, you can find her here:
Linda is graciously offering up a signed copy of SINS OF THE SON to one winner from Book Monster Reviews and another winner over at LITERAL ADDICTION..
To Enter: Fill out the Rafflecopter widget below for Linda's Event, follow the directions, take action and mark as 'Done'.
a Rafflecopter giveaway