Alexis Morgan Interview Intro:
Hello everyone! LITERAL ADDICTION and Book Monster Reviews are very happy to welcome Alexis Morgan back to our sites today!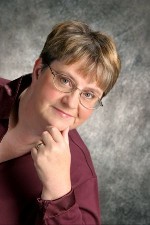 Alexis grew up near St. Louis and received a B.A. in English from the University of Missouri-St. Louis. She and her husband have made the Pacific Northwest their home for more than thirty years, and that is where she launched her career as a writer. Alexis is published in contemporary romance, and American West historicals under the name "Pat Pritchard", and paranormal romance under "Alexis Morgan".
While all of Alexis's books are fantastic and we highly suggest you check out her backlist, we're here today to help her promote and celebrate her new series, WARRIORS OF THE MIST. The first book of the new series, "My Lady Mage" was just released TODAY (7/3/12)! The second book, "Her Knight's Quest," will be out in March 2013. Also the second story in her vampire series from Harlequin Nocturne, "Savage Redemption" – Conlan Shea's story - is coming this September.
For those of you that haven't heard about Alexis's WARRIORS OF THE MIST series yet, here is the synopsis for "Lady Mage" to peak your interests: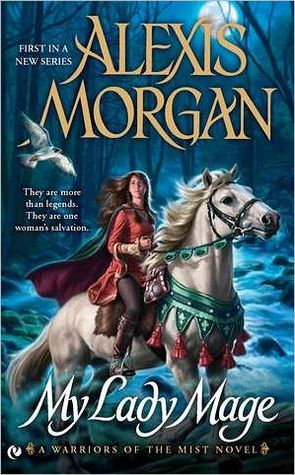 A cursed destiny. A band of warriors. And one troubled kingdom.


It is whispered in Agathia that the legendary warriors of the mist-cursed by the gods-can be summoned only when a champion is needed and the cause is just. Gideon, their captain, knows this to be the one path that will lead his men to redemption-lest they face an eternity of damnation.

Years have passed since anyone has journeyed to the river's edge, but times are desperate. Oppressed by a cruel guardian whose dark magic threatens to destroy her people, the beautiful and courageous Merewen calls upon the bespelled warriors. In Gideon she finds more than a champion, and in his arms, more than protection. However, their enemies are fighting with a power darker than anything than they imagined, and should Gideon fail, she will lose everything she holds dear -
It sounds fabulous right!? We're so excited for more, new Alexis Morgan we can hardly stand it! For now, however, how about we get to the interview to see what Alexis has been up to since we last spoke and learn a bit more about the series…
LITERAL ADDICTION/Book Monster Reviews:
Hi Alexis! We're very happy to have you back here today. Thank you again for taking time out of your busy schedule to chat with us.
ALEXIS: Thanks for having me back!
LITERAL ADDICTION/Book Monster Reviews:
As you know, w
e always start by getting to know our guest author a little bit better. Let's see if we can ask you a few new questions this go around…
Q1):
Last time we asked you what 3 things were that always make you smile. What are 3 things that never fail to piss you off?
ALEXIS: Installing new software on my computer when it doesn't go smoothly; finding out one of my favorite music groups is coming to town after they are already gone; and getting stuck for hours in slow traffic.
Q2):
If you were told the world was going to end in 24 hours, what would you do with your last day?
ALEXIS: Let my family and friends know how much they mean to me, and maybe have more than one mocha frappuccino without feeling guilty!
Q3)
: What's your favorite inspirational quote?
ALEXIS: This one is from a small sign I have on my office wall. It is actually supposed to be a bit of a joke, but it soooo describes how writing is for me:
MADNESS: Madness does not always howl. Sometimes it is the quiet voice at the end of the day saying, "Hey, is there room in your head for one more?"
Q4): What are the best and worst parts about writing for you
ALEXIS: The best part is when the story sort of clicks and the words pour out on the page. The writing might need polishing, but it's like the characters are whispering their story in my ear and I can barely type fast enough to get it all down. The worst part is when a scene isn't working and I haven't yet figured out why. That's when I find myself deciding the laundry needs to be folded immediately or that I need some little thing at the office supply store, anything to keep from sitting in front of the computer and watching that blinking cursor.
Q5):
Who were some of the authors or titles that inspired you and perhaps helped to mold you into the writer you are today?
ALEXIS: Definitely Janice Kay Johnson (Harlequin Superromance) because she was the one who dared me to try writing my own books. Zane Grey because I read all of his books when I was about twelve, and I fell in love with all those lawmen and gunslingers. Linda Howard because hers were some of the first romances I read. Three of her early titles (Midnight Rainbow, Diamond Bay, McKenzie's Mountain) have the type of heroes I still love to read about today. They would still make my top ten list for favorite heroes!
Q6):
What are some of your favorite TV Shows and Movies?
ALEXIS: On television, I like NCIS, NCIS—LA, Grimm, Castle, and Seattle Mariners baseball games. For movies, I really liked The Avengers, I-Robot, Serenity, Tombstone, and Last of the Dogmen (starring Tom Berrenger).
Q7):
What are your favorite types of scenes to write (i.e dialogue, action, sex, etc) and why?
ALEXIS: I like writing the scenes where the heroine finally convinces the hero that it's as important that he be willing to live for her as he is willing to die for her.
Q8):
What do you find is the most challenging part about writing in different sub-genres and/or using a pseudonym?
ALEXIS: I have to work very hard to make sure my word choices for description, action, and dialogue fit the particular sub-genre. For example, My Lady Mage, is a fantasy romance set in a medieval type of a world. The warriors in that book have to think in different terms and use different language than the modern day soldiers do in the contemporary romance I'm writing right now.
Q9):
Was there any specific inspiration behind the creation of the WARRIORS OF THE MIST series?
ALEXIS: I've always loved the fantasy genre. For some reason, I could just SEE these warriors sleeping under the river as they wait for the gods to grant them another chance to redeem their honor. That image was incredibly powerful for me.
Q10):
How many books do you have planned for the new series?
ALEXIS: Right now I have three books under contract in this series, but I'd really love to do more set in the same world.
Q11):
What can we expect as the series progresses?
ALEXIS: These warriors have fought countless battles over the centuries, always holding themselves apart emotionally from those they are sworn to protect. But this time, learning to care about the people of Agathia changes everything for them.
Q12):
What were some of the challenges in bringing "My Lady Mage" to life?
ALEXIS: Anytime a story involves magic, you have to decide what the rules will be. There has to be limits and a price to be paid for wielding power or you have no story. Trying to set those rules and anticipate what the consequences will be over the course of three books was a definite challenge.
Q13):
What has been the proudest moment of your career thus far?
ALEXIS: In 2010, one of my Paladin books, Darkness Unknown, was a RITA finalist. For those not familiar with the RITA, it's the top award in the romance genre and is sponsored by the Romance Writers of America. Having one of my books chosen as one of the year's best by my peers was an amazing moment in my career. I didn't win, but seeing my name up there with all those fabulous writers was one of the best moments in my life.
Q14):
Aside from the release of Savage Redemption in September, do you have anything else going on that your readers and fans should be aware of?
ALEXIS: The second Warriors of the Mist novel, Her Knight's Quest, will be released in March 2013. Then in August next year, I will have e-novella out that will introduce my new contemporary series, Snowberry Creek. The first book will follow in September 2013.
Q15):
Is there anything special that you'd like to say about the new book or series while we have you here today?
ALEXIS: Getting the chance to write a fantasy romance is a real dream come true for me. The very first manuscript I ever completed was a fantasy romance. That story never sold, but I feel as if I have come full circle in finally getting to write a fantasy series.
LITERAL ADDICTION/Book Monster Reviews:
Alexis, thank you so much again for being with us today. Having you with us is always a pleasure. We're very happy to help you promote your new release and series and hope to turn some new readers on to your work as well! We're excited to talk with you more later in the live chat and we'd LOVE to have you back for an Author Ambush guest post and promotion for Savage Redemption if you're interested.
ALEXIS: I'd love to stop by again! I'm really fond of the hero in Savage Redemption, and I'm excited that he's about to get his own story.
If you want to keep up with Alexis, you can find her here:
Alexis is graciously offering up an autographed copy of My Lady Mage to a winner from Book Monster Reviews and another winner over at
Fill out the Rafflecopter widget for Alexis's Event, read the directions, take action, and mark as 'Done'.
Make sure that your Rafflecopter email address is correct!
a Rafflecopter giveaway