Laurell K. Hamilton Promo Post:
Hello everyone! LITERAL ADDICTION and Book Monster Reviews are incredibly proud to promote for the incredibly talented Laurell K. Hamilton today!
Laurell has a wonderful media bio on her website and we thought we'd borrow it for today's Event: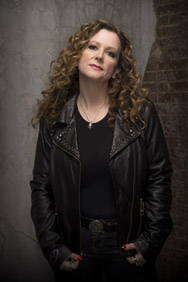 "Laurell K. Hamilton's is a paranormal thriller writer and is a regular on the New York Times Bestseller List through titles in her two series Anita Blake: Vampire Hunter and Meredith Gentry: Fairy Princess/Private Eye. The Anita Blake: Vampire Hunter series, published by Penguin Group under the Berkley Books imprint, spans 20 novels, and has most recently been topped by an eSpecial Novella, "Beauty", just released 5/8/12. With over 6 million copies in print worldwide and available in over 16 languages; there is no end in sight for Anita, the professional necromancer and licensed vampire executioner.
Marvel Comics has worked closely with Hamilton to adapt her books in the Anita Blake series into comic book medium with a stunning amount of success. The first installment of the graphic novel, Guilty Pleasures, was released in July 2007 and was the number one best selling graphic novel for that month.
The Meredith Gentry series published by Ballantine Books features Meredith Gentry as a part-human, part-fey private investigator. Under orders from her aunt Andias, Queen of the Unseelie Court, Meredith is in a race to become pregnant and ascend the throne before her cousin Cel does. The cost of failure will be her own life and that of those who follow her. The next Merry book, Divine Misdemeanors, will debut December 8th, 2009.
Laurell Hamilton resides in St. Louis County, Missouri, with her husband and partner Jonathon Green, her daughter, and their pug.
Her education includes degrees in English and biology from Marion (now Indiana Wesleyan University)."
Now that we've told you a little bit about Laurell and her books, let's get a little bit more familiar with her 2 wonderful series by giving you the reading order and synopses of a handful of the titles in each.
ANITA BLAKE, VAMPIRE HUNTER Reading Order:
20a. Beauty (an eSpecial)
21.
Kiss the Dead (JUST RELEASED 6/5/12)
MEREDITH GENTRY Reading Order:
ANITA BLAKE, VAMPIRE HUNTER #1:
Ever since the Supreme Court granted the undead equal rights, most people think vampires are just ordinary folks with fangs. I know better. I've seen their victims. I carry the scars…
But now a serial killer is murdering vampires—and the most powerful bloodsucker in town wants me to find the killer… "
"In a world where vampires, zombies and werewolves have been declared legal citizens of the United States, Anita Blake is an "animator" – a profession that involves raising the dead for mourning relatives. But Anita is also known as a fearsome hunter of criminal vampires, and she's often employed to investigate cases that are far too much for conventional police. But as Anita gains the attention of the vampire masters of her hometown of St Louis, she also risks revealing an intriguing secret about herself – the source of her unusual strength and power."
ANITA BLAKE, VAMPIRE HUNTER #5: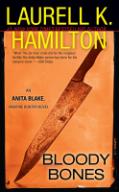 "When Anita Blake's boss at Animators, Inc., informs her that she's expected to raise 300-year-old zombies from a field of jumbled bones just to settle a land dispute, she's understandably annoyed. But as soon as she arrives in Branson, Missouri, to do the deed, the job gets more interesting. A psychotic sword-wielding vampire starts committing multiple murders in the area, and Anita must call on Jean-Claude, her powerful fanged suitor, for help. As always, Anita prevails over the undead, keeping Jean-Claude at arm's length, clearing the cemetery land of an ancient enchantment, and nailing the vampiric killer in one fell swoop."
"First, there were the dead in the graveyard – two-hundred years dead. I'd been hired to raise them to settle a dispute over who owned the land they were buried in.
Then there were the three dead teenagers in the woods, slaughtered in a way I had never seen before.
And then they found the dead girl, drained of blood and left in her bed.
I knew what that meant, all right. It didn't take a degree in preternatural studies to figure out that something was very wrong in and around Branson, Missouri. My name is Anita Blake. Welcome to my life…"
ANITA BLAKE, VAMPIRE HUNTER #11: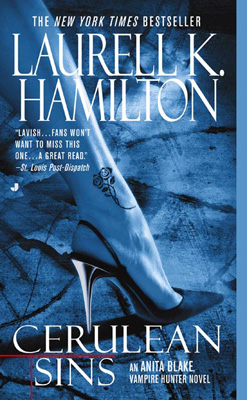 Anita Blake is trying to get her life back to "normal" after a break-up with her werewolf lover. She has settled into a pattern of domesticity, which means that the new man in her life, the leopard shapeshifter Micah, has no problem sharing her with Jean-Claude, Master Vampire of the City. Things are as peaceful as they ever get for someone who raises the dead, when Jean-Claude receives an unexpected and unwelcome visitor: Musette, the very beautiful, very twisted representative of the European Council of Vampires. Anita soon finds herself caught up in a dangerous game of vampire power politics.
To add to her troubles, she is asked to consult on a series of brutal killings, which seem to be the work of something un-human. The investigation leads her to Cerulean Sins, a vampire-run establishment that deals in erotic videos, videos that cater to very specific tastes. Anita knows one creature of the night who has such interests — Jean-Claude's visitor. But if Anita brings Musette down, the repercussions could cost her everything she holds dear.
Once a sworn enemy of all monsters, Anita is now the human consort of both Master Vampire Jean Claude and leopard shapeshifter Micah. When a centuries-old vampire hits St. Louis, Anita finds herself needing all the dark forces her passion can muster to save the ones she loves.
Anita Blake returns to find hell hath no fury like a vampire scorned.
ANITA BLAKE, VAMPIRE HUNTER #21: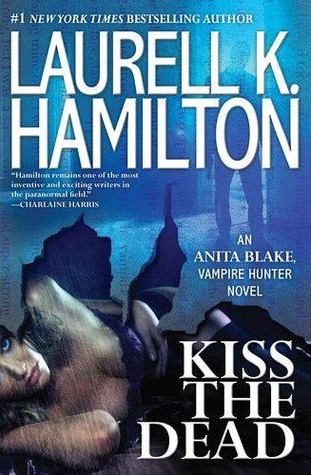 When a fifteen-year-old girl is abducted by vampires, it's up to U.S. Marshal Anita Blake to find her. And when she does, she's faced with something she's never seen before: a terrifyingly ordinary group of people—kids, grandparents, soccer moms—all recently turned and willing to die to avoid serving a master. And where there's one martyr, there will be more…
But even vampires have monsters that they're afraid of. And Anita is one of them…
MEREDITH GENTRY #1:
"My name is Meredith Gentry, but of course it's not my real name. I dare not even whisper my true name after dark for fear that one hushed word will travel over the night winds to the soft ear of my aunt, the Queen of the Air and Darkness. She wants me dead. I don't even know why."
Meredith Gentry, Princess of the high court of Faerie, is posing as a human in Los Angeles, living as a P.I. specializing in supernatural crime. But now the Queen's assassin has been dispatched to fetch her back–whether she likes it or not. Suddenly Meredith finds herself a pawn in her dreaded aunt's plans. The job that awaits her: enjoy the constant company of the most beautiful immortal men in the world. The reward: the crown–and the opportunity to continue to live. The penalty for failure: death.
MEREDITH GENTRY #4:
I am Meredith Gentry, P.I. and Princess Merry, heir to the throne of Fairie. Now there are those among me who whisper I am more. They fear me even as they protect me. And who can blame them? I've awakened the dazzling magic that's slumbered in them for thousands of years. But the thing is, I can't figure out why.
I am Meredith Gentry, P.I., solving cases in Los Angeles, far from the peril and deception of my real home–because I am also Princess Meredith, heir to the darkest throne faerie has to offer. The Unseelie Court infuses me with its power. But at what price does such magic come? How much of my human side will I have to give up, and how much of the sinister side of faerie will I have to embrace? To sit on a throne that has ruled through bloodshed and violence for centuries, I might have to become that which I dread the most.
Enemies watch my every move. My cousin Cel strives to have me killed even now from his prison cell. But not all the assassination attempts are his. Some Unseelie nobles have waited centuries for my aunt Andais, Queen of Air and Darkness, to become weak enough that she might be toppled from her throne. Enemies unforeseen move against us–enemies who would murder the least among us.
The threat will drive us to allow human police into faerie for the first time in our history. I need my allies now more than ever, especially since fate will lead me into the arm of Mistral, Master of Storms, the queen's new captain of her guard. Our passion will reawaken powers long forgotten among the warriors of the sidhe. Pain and pleasure await me–and danger, as well, for some at that court seek only death.
I will find new joys with the butterfly-winged demi-fey. My guards and I will show all of faerie that violence and sex are as popular among the sidhe as they are among the lesser fey of our court. The Darkness will weep, and Frost will comfort him. The gentlest of my guards will find new strength and break my heart. Passions undreamed of await us–and my enemies gather, for the future of both courts of faerie begins to unravel.
You may know me best as Meredith Nic Essus, princess of faerie. Or perhaps as Merry Gentry, Los Angeles private eye. In the fey and mortal realms alike, my life is the stuff of royal intrigue and celebrity drama. Among my own, I have confronted horrendous enemies, endured my noble kin's treachery and malevolence, and honored my duty to conceive a royal heir—all for the right to claim the throne. But I turned my back on court and crown, choosing exile in the human world—and in the arms of my beloved Frost and Darkness.
While I may have rejected the monarchy, I cannot abandon my people. Someone is killing the fey, which has left the LAPD baffled and my guardsmen and me deeply disturbed. My kind are not easily captured or killed. At least not by mortals. I must get to the bottom of these horrendous murders, even if that means going up against Gilda, the Fairy Godmother, my rival for fey loyalties in Los Angeles.
But even stranger things are happening. Mortals I once healed with magic are suddenly performing miracles, a shocking phenomenon wreaking havoc on human/faerie relations. Though I am innocent, dark suspicions of banned magical activities swirl around me.
I thought I'd left the blood and politics behind in my own turbulent realm. I had dreamed of an idyllic life in sunny L.A. with my beloved ones beside me. But it becomes time to wake up and realize that evil knows no borders, and that nobody lives forever—even if they're magical.
We know, it's not nearly enough. We STRONGLY suggest that all new readers check out the synopses for her entire backlist by going here: http://www.laurellkhamilton.org/works/ but for now, let's help Laurell promote and celebrate the release of "Kiss the Dead" by spreading the word online.
Two lucky promoters – 1 from Book Monster Reviews and 1 from LITERAL ADDICTION - will win SIGNED hardcover copies of "Hit List", ANITA BLAKE #20.
To enter, find the Rafflecopter widget below for Laurell's Promo Event, follow the directions, take action, and then mark as 'Done'.
Make sure that your Rafflecopter email address is correct.
For another chance to win go to LITERAL ADDICTION, follow their directions, and enter the contest over there as well.
a Rafflecopter giveaway