Terri Garay Interview Intro:
Hello everyone! Book Monster Reviews and LITERAL ADDICTION are happy to welcome author Terri Garey to our sites today.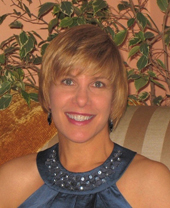 A Southern girl with an overactive imagination, Terri Garey grew up in Florida, always wondering why tropical prints and socks with sandals were considered a fashion statement. She survived the heat by reading in the shade, and watching cool shows like The Twilight Zone and the classic gothic soap opera, Dark Shadows. Balancing a career in computing with marriage and motherhood convinced her that life was too short to rely entirely on the left side of her brain, and quirky ideas about life among the undead began to replace the dry logic of computers. Deciding imagination was her best weapon in the war against reality, Terri dove even deeper into the world of the unexplained, and started writing her own devilishly delicious tales from the dark side.


"Dead Girls Are Easy", "A Match Made In Hell", "Weddings From Hell", "You're The One That I Haunt" and "Silent Night, Haunted Night" are part of an ongoing series about Nicki Styx, a former Goth girl who becomes an unwilling ghoulfriend to the dead.

"Devil Without a Cause" and "A Devil Named Desire" are Book #1 and Book #2 in her Devil's Bargain series.
Let's take a look at the books in both these great series……
NICKI STYX, Book 1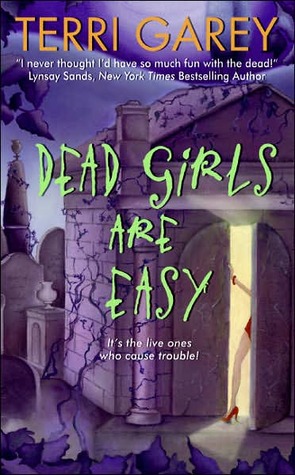 There's something about almost dying that makes a girl rethink her priorities. Take Nicki Styx—she was strictly goth and vintage, until a brush with the afterlife leaves her with the ability to see dead people.
Before you can say boo, Atlanta's ghosts are knocking at Nicki's door. Now her days consist of reluctantly cleaning up messes left by the dearly departed, leading ghouls to the Light . . . and one-on-one anatomy lessons with Dr. Joe Bascombe, the dreamy surgeon who saved her life. All this catering to the deceased is a real drag, especially for a girl who'd rather be playing hanky-panky with her hunky new boyfriend . . . who's beginning to think she's totally nuts.
But things get even more complicated when a friend foolishly sells her soul to the devil, and Nicki's new gift lands her in some deep voodoo.
As it turns out for Nicki Styx, death was just the beginning.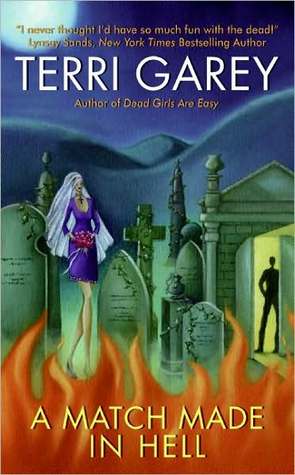 A brush with death and a brief trip to the hereafter left vintage clothing store owner Nicki Styx an unwilling ghoulfriend to the dead. She can see and hear spirits, and boy, do they want to be heard! Luckily, her new boyfriend, sexy doc Joe Bascombe, is there to help, especially when Nicki faces her latest ghost, a woman in pink sequins who holds the key to some family secrets.
Unfortunately for Nicki, it turns out that there are more skeletons in the family closet than she thought, including a twin sister and a mysterious house full of spirits and surprises. Things go from bad to worse when the devil himself shows up, determined to lure Nicki from Joe's side. Will she give in to temptation and sell her soul (or someone else's) for one incredible night?
Demons may be a ghoul's best friend, but with this particular hottie, it could be a match made in hell!
"You're The One That I Haunt"
he devil went down to Georgia . . .
Nicki Styx has always known that the devil's in the details—but does he have to move in next door, too? Worse, he won't take no for an answer. Nicki would never leave her beloved boyfriend, ER doc Joe Bascombe, but hell hath no fury like a devil scorned. He's determined to make Nicki's life a living hell—even if it means exposing Nicki as an unwilling ghoulfriend to the dead.
Now, just when she was getting used to being able to see and hear—and help—spirits, Nicki's got a whole new set of problems. With ghosts descending from all sides, the bereaved knocking down her door, and Joe trying to take things to the next level, Nicki may finally be in over her head. It would be so easy to dance with the devil . . . but if Nicki crosses over to the dark side, she may never leave.
"Silent Night, Haunted Night"
NICKI STYX, Book 4
Joe Bascombe is no stranger to desire, but when a sexy spirit begins haunting his dreams, he finds himself ensnared by dark passions. What he doesn't realize is that the devious demon and her two sisters, otherwise known as the Three Fates, are out to teach the woman he loves a lesson . .
Unwilling psychic Nicki Styx survived a near-death experience to find herself able to see and hear the dead, but she only has eyes for Joe. Together they've conquered evil spirits, saved lost souls, and beaten back the Devil himself, but they're about to learn that there are more things in Heaven and Hell than they ever imagined. As far as Nicki is concerned, Joe is the man of her dreams, but now they're at the mercy of the creature who's invaded his.
It'll be a Christmas to remember . . . and it could be Joe and Nicki's last

.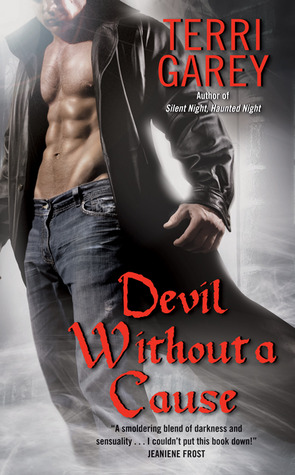 Idle hands are the Devil's workshop...


Temptation and seduction are the tricks of the Devil's trade, and when offered the chance to regain his wings by playing guardian angel, he's hell-bent on doing things his way...


Faith McFarland is in need of a miracle. So desperate to save her sick child, she's willing to make a deal with the Devil: steal a ring worn by Finn Payne, the bad-boy rockstar who long ago sold his soul for rock 'n roll. Temptation and seduction become necessary evils, yet Faith's salvation means Finn's damnation . . . because the ring is all that stands between him and Hell. Falling in love was never part of the bargain, but now that they've tasted heaven in each other's arms, can they convince the Devil to give up his due?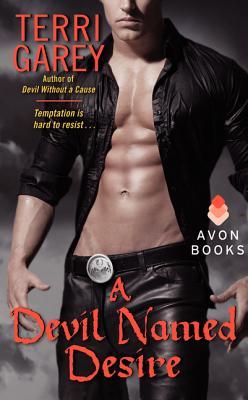 Forbidden fruit is always the sweetest...

...and no one knows that better than Sammy Divine, High Prince of Darkness.
Once an angel, now cast down, Sammy's out to prove he's not the only angel who can be led into temptation...
Hope Henderson's sister has disappeared without a trace, and Hope will do anything to find her--even make a deal with the Devil. An ancient text holds the key to unspeakable power, and it's the Archangel Gabriel's job to make sure it stays hidden, even if he has to become human to do it. Lives, love and the fate of the world hang in the balance, as Hope and Gabriel learn that when passion's involved, it may be impossible to withstand a devil named desire.
They all sound great, don't they? Before you run off to start buying them or adding them all to your TBR list, let's get to the interview so we can learn more about these great series and the amazing author behind them…….
Book Monster Reviews/LITERAL ADDICTION: Hi Terri! Welcome to Book Monster and LITERAL ADDICTION! Thank you so much for taking the time out of your busy schedule to sit down and talk to us.
Terri: Lovely to meet all you monsters/addicts! (Hmm…there's a sentence I never thought I'd type!) :)
Book Monster Reviews/LITERAL ADDICTION: We always like to start out by getting to know you a little bit better.
Q1): Can you tell us 3 things about yourself that we can't find out on the internet, in your bio, etc?
Terri: I love to laugh, don't eat red meat, and seem to have an addiction to Cranberry Raspberry Diet Snapple.
Q2) What are some hobbies or other interests you like to do when you're not busy writing?
Terri: I love to garden, and I'm an avid walker, averaging 15 miles a week. I got in the habit when my mother was diagnosed with ALS, and lost her mobility – I decided that it was a good idea to keep moving while I was still young and healthy, because you never know what life has in store!
Q3) When did you decide you wanted to become a writer? How long have you been writing?
Terri: I've always been an extremely avid reader, but didn't start putting fingers to keyboard until 12 years ago. I'd never taken any courses, and had no knowledge of the business, but I didn't let that stop me. It took me five years and five manuscripts before I sold my first book, DEAD GIRLS ARE EASY, to Avon HarperCollins, and have published six novels and a novella with them since.
Q4) Do you have any interesting writing quirks or something you must have with you to start the process?
Terri: Did I mention my Snapple addiction? :) Seriously, though, my process is pretty simple. I need quiet (can't listen to music while I write), and I'm most productive in the morning. I generally write from 9-12, take a break for lunch, then am back at it until about 3p. By mid-afternoon, my creative mind needs a break, and that's when I garden, run errands, clean house, etc.
Q5) Who are some of your favorite authors and series?
Terri: Depends on what I'm in the mood for, really, as I read almost all genres. For paranormals, it's Jeaniene Frost and Lynsay Sands. For contemporaries, it's Kristan Higgins and Susan Elizabeth Phillips. Historicals are Anna Campbell, Teresa Medeiros and Georgette Heyer, horror is Dean Koontz and Jeff Strand, fantasy is Sara Douglass and Helen Lowe.
Q6) For those who have not read the series yet, can you please tell us what NICKI STYX is about?
Terri: Nicki Styx is a young woman who died, quite suddenly, but was sent back from the afterlife with a newfound ability to see and hear the dead. She's not too thrilled about it, honestly, but she's a good person and does what she can to help the restless dead find peace, even if it gets her into some deep voodoo. :) I like to use a variety of supernatural elements in each of the Nicki books: haunted houses, tarot cards, voodoo, possession, witches, demons, and even that old Deceiver, the Devil himself. I mix it all up with some wit and humor, put it in the untraditional setting of my native South, and somehow it all seems to work.
Q7) What do you have coming up next for the NICKI STYX series?
Terri: There will be a Nicki Styx novella coming out before the end of the year, and I have a story in an upcoming Halloween anthology (along with NYT best-selling author Jocelynn Drake and Caris Roane).
Q8) Can you please tell us what your DEVIL'S BARGAIN series is all about?
Terri: It's a spin-off of the Nicki Styx series, much darker and more erotic, featuring the recurring character of Sammy (Satan) Divine. In it
, the world's most diabolical bad boy (a/k/a the Devil) takes on the job for which he was originally created... that of a guardian angel. Once divine, now cast down, forever blamed for the seduction of Eve and the destruction of Paradise, the angel once known as Samael has his own version of mankind's fall from grace, believing temptation goes both ways. For centuries he's made it his business to lurk the shadows, wreaking havoc in the lives of humans.
Having always been fascinated by legends and stories surrounding Satan's biblical fall from grace, I was really excited to be able to tell it from a whole new perspective, from the side of the arrogant fallen angel whose lust for the flesh led him to defy his creator. In The Devil's Bargain series, I get to delve more deeply into Sammy's world: Where does he go when he's not tempting or tormenting Nicki Styx? Who (and what) are the creatures that surround him in his kingdom of darkness?

Even more intriguing, how do they feel when their Dark Prince is the one being tempted?


Q9) What's coming up next in the DEVIL'S BARGAIN series?
Terri: DEVIL WITHOUT A CAUSE was followed by A DEVIL NAMED DESIRE (in bookstores now). The third and final book in the DEVIL'S BARGAIN isn't finished yet, but I hope to release it next year.
Q10) Is there anything specific you'd like to say to the readers out there today?
Terri: Enjoy your life, live in the now, and read, read, read! The whole reason I got into writing is because of the joy and pleasure that a good book has always brought me – I wanted to give that same joy and pleasure to others.
Book Monster Reviews/LITERAL ADDICTION
: Thank you again Terri for sitting down to talk with us. We would love to have you join us again when you're ready to promote your next release.
Terri: Thanks so much for having me!
If you would like to learn more about Terri and keep up with her latest news, you can visit her at the following sites:
Terri is giving away a "Reader's Choice" of one of her books (and a selection of bookmarks) to a winner from Book Monster and another winner over at the LITERAL ADDICTION Website.
Fill out the Rafflecopter form below to enter
a Rafflecopter giveaway