Kelly Gay Interview Intro:
Hello everyone! LITERAL ADDICTION and Book Monster Reviews are very happy to welcome Kelly Gay to our sites today!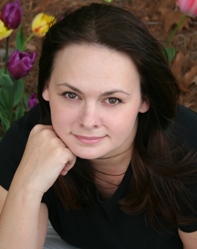 Kelly is just your average bookworm who likes to spend an embarrassing amount of time in make-believe places.
She's had many jobs, ranging from construction (she can drive a backhoe, tar and shingle a roof, and frame out a house), to waiting on tables, threading film through a projector, managing a horse farm, and selling men's underwear (you wouldn't believe the talent that takes).
In the writing world she's a 2010 double RITA finalist, a three-time RWA Golden Heart finalist, and a recipient of an NC Arts Council Fellowship grant in Literature.
She's also the proud creator of the CHARLIE MADIGAN series.
CHARLIE MADIGAN currently has 3 available titles, and 1 upcoming shortly – "The Better Part of Darkness", "The Darkest Edge of Dawn", and "The Hour of Dust and Ashes" are currently available. "Shadows Before the Sun" will be released on 7/31/12.
For those of you that haven't heard about Kelly's CHARLIE MADIGAN series yet, here are the blurbs to get you up to speed:
"The Better Part of Darkness"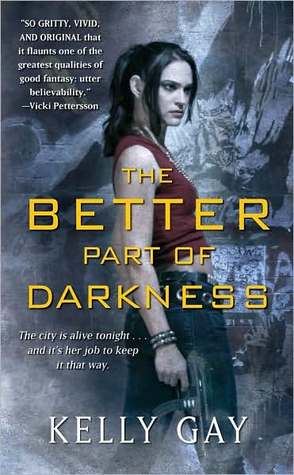 Charlie Madigan is a divorced mother of one, and a kick-ass cop trained to take down the toughest human and off-world criminals. She's recently returned from the dead after a brutal attack, an unexplained revival that has left her plagued by nightmares and random outbursts of strength that make doing her job for Atlanta P.D.'s Integration Task Force even harder. Since the Revelation, the criminal element in Underground Atlanta has grown, leaving Charlie and her partner Hank to keep the chaos to a dull roar. But now an insidious new danger is descending on her city with terrifying speed, threatening innocent lives: a deadly, off-world narcotic known as ash. Charlie is determined to uncover the source of ash before it targets another victim. But can she protect those she loves from a force more powerful than heaven and hell combined?
"The Darkest Edge of Dawn"
Deep beneath Underground, a cunning bid for power and revenge has begun—one that threatens to make Atlanta the new battleground in the ultimate confrontation between good and evil. The powers of hellish Charbydon have the upper hand after plunging the city into primordial night. And under the cover of darkness, a serial killer targets the most powerful Elysians in the city, the angelic Adonai. For Detective Charlie Madigan and her siren partner Hank, tracking deadly predators is all in a day's work . . . but this case will test the limits of their strength and friendship as it draws them into a deadly world of power plays, ancient myths, explosive secrets, and a race against time that risks all that Charlie holds dear.
"The Hour of Dust and Ashes"
Protecting Atlanta from the off-world criminals of Underground is tough enough, but now Detective Charlie Madigan and her siren partner, Hank, learn that the addicts of the offworld drug ash have begun taking their own lives. Ash makes humans the perfect vessels for possession, and something or someone is leading them to their deaths. Charlie is desperate to save her addicted sister, Bryn, from a similar fate. As New Year's Eve approaches, Charlie makes a deadly bargain with an ancient race of beings and embarks on a dangerous journey into hellish Charbydon with Hank and the Revenant Rex to save Bryn and make it back before time runs out. Only, for one of them, coming home means facing a fate worse
Elysia may be a heavenly off-world destination, but beyond it, in the siren city of Fiallan, the Circe have punished Charlie Madigan's partner, Hank, into a tortuous state between life and death. With all the proper legal channels cleared, Charlie heads to Elysia, not knowing what she'll find, or if she'll ever see the siren again . . . while at home, jinn crime boss Grigori Tennin has begun an all-out hunt for the divine being Ahkneri. Tennin's tactics set off a chain reaction that puts Charlie in the crosshairs of the shadowy creature known as Death, and stirs Ahkneri from her long sleep—and if Vengeance wakes, Atlanta will never be the same.
They sound wonderful, right!!? Before you go and hunt them down from your favorite bookseller, let's learn some more about Kelly and her books.
LITERAL ADDICTION/Book Monster Reviews:
Hi Kelly! We're very happy to have you here today and are thrilled to let the world know about your CHARLIE MADIGAN series. Thank you for taking time out of your busy schedule to chat with us.
KELLY: Thanks for asking me. Very happy to be here! :)
LITERAL ADDICTION/Book Monster Reviews:
We always start by getting to know our guest author a little bit better.
Q1):
Can you tell us 3 things about yourself (no matter how random) that we couldn't find out easily on the Internet?
KELLY: Hmm, okay. Well… 1) I can't go to sleep if I know there's a cabinet or closet door open in the house. 2) I love socks, but hate wearing socks and shoes together. I like wearing socks alone. And shoes without socks—like flip flops and sandals. That sounds weird, LOL. And 3) I have a crush on the Geek Squad guys—something about those uniforms…
Q2):
What are 3 things that always make you smile?
KELLY: I always smile when peeking in on my kids asleep – so cute! Sitting down with a bag of Doritos definitely puts a smile on my face. And my animals.
Q3)
: If you could spend the day with anyone – alive, dead, fictional, etc – who would you want to spend it with and why?
KELLY: My grandparents. Because I miss them.
Q4): What do you enjoy doing when you're not writing or taking care of other author business?
KELLY: Spending time with my family, especially outdoors since I'm always in the house working. Reading! There never seems to be enough time for that these days. And I love going out to the barn, tooling around, grooming my horse, bathing her, sweeping the aisle, cleaning stalls – the barn is my zen place.
Q5):
How has your road to publication been so far?
KELLY: My initial road was about 15 years worth of writing, submitting, and getting rejected. Long and full of ups and downs. But the road since selling has been great so far, still full of ups and downs as any career... It's also been an adjustment and a huge learning curve. I'm my own boss, my own business person, assistant, publicist, webmaster, writer, etc… So I had to learn to wear a lot of hats and manage my time so that I could tend to the business side of things yet still keep the majority of my time for writing.
Q6):
Are there any specific authors or titles that you feel have inspired you to become the writer you are today?
KELLY: Oh yes. Growing up, I was a huge fan of Walter Farley and Time Life Book Series about ancient cultures and mythology. Then as a teen: Anne Rice, Marion Zimmer Bradley (MISTS OF AVALON), Mary Stewart (THE MERLIN TRILOGY), Tolkien, Lewis… All of them wrote about the things I was naturally into. They showed me how limitless one can be in terms of imagination, how it's okay to push boundaries and write what you really want to write about and be as big or as subtle as you want to be. It's all about the storytelling.
Q7):
What are the best and worst parts of writing for you?
KELLY: The best things are having an avenue to get my work to readers, to have the support of an agent, editor, and publisher. Being my own boss and setting my own hours. The very best thing, though, is my readers and fans. It's so cool when others 'get' my work, understand and feel deeply for my characters and support the books. That's always been my dream—to share the crazy ideas in my head, to entertain people and hold them captive with my tales. Yep, coolest thing ever.
Worst things are the mental monkeys, the pressure and stress to deliver on deadlines and to deliver on books already bought and paid for, to not disappoint people, to make each book better than the next... Oh, those mental monkeys!
Q8):
What is a typical writing day like for you? Do you have a routine that you follow, specific things that you have to have with you to get the creative juices flowing, unique writing quirks you must adhere to, etc?
KELLY: Movies always inspire me, so does art, and being outdoors for some reason. But no quirks per se that I must adhere to. Thing is, when I have a deadline to meet, that deadline doesn't care about those things, so I have learned to write without any must-haves (as long as I have a writing apparatus, I'm good to go). I tend to move around in my house. Sometimes I write in the living room, my bedroom, outside on the deck. I'm still trying to figure out a way to write in the hammock, but that never seems to work!
My writing day is fairly set. I drop my kids off at school, workout for 30 minutes (before I come home, because if I come home I will never get back out and do it), then home and shower and sitting down to write by 9 am. I usually write from then until 3-3:30. If I'm behind, I will write at night as well.
Q9):
What type of scenes (dialogue, action, sex, etc) do you enjoy writing the most and why?
KELLY: I cycle through favorites. And it tends to depend on the characters and what's happening. I love writing gritty action scenes—the kind of stuff where the main character gets her ass kicked, but keeps on fighting anyway. I have a lot of fun writing fun/flirty dialogue. The dialogue between Charlie and Hank is always something I end up smiling about while writing. And the hotter scenes… Yeah, I like those too! :D
Q10):
Was there any specific inspiration behind the creation of the CHARLIE MADIGAN series?
KELLY: I really lean toward the first person POV, the grit and action, and the strong female archetype of the genre, so I was really inspired by the genre itself. I knew from the very beginning, back in 2005, that I wanted to write about a divorced single mom in a UF world. That idea was a big inspiration to me because it was in the genre I love, but it was also very different at the time. I was inspired by my own children. I'd think how awesome it'd be to have this kick-ass heroine who has a child to protect. You think she's badass now? Just wait until you threaten her kid. That always got me revved up to write and not give up on the story. I wanted Charlie to be grounded and without a traumatic past. Charlie is 31 years old. She knows who she is and what she wants out of life. Her journey is really about this new stage: Mothering a pre-teen, keeping her city safe from dangerous supernatural creatures, moving on from divorce, and hopefully finding something better at the end of her personal and professional struggles.
Q11):
How many books do you have planned for the series?
KELLY: Originally, I only had three planned. And besides the first book, none of the others went in any direction I foresaw when I first sold. Glad about that! It's hard to answer this question. A lot depends on sales figures and such. I know I'd really like to write some companion novels featuring other characters in the Charlie Madigan world -- The Druid King being one of those. In this 4th Charlie book, several threads are resolved, but others left open. There is room to continue… if my publisher wants me to!
Q12):
What were some of the challenges in bringing the series to life?
KELLY: This goes back to Q10 and writing about an older, divorced heroine with a pre-teen daughter. I was going to do it; I was already committed to Charlie, but I did wonder if it would appeal to the urban fantasy audience at the time. I got rejected quite often by agents who didn't think it was right for the genre. So it was a challenge to keep faith with what I'd written, and not start changing things.
Q13):
What are you the most proud of with regards to your career thus far?
KELLY: Hmm. This is a question I've never been asked before. I'm the kind of person who isn't comfortable talking about my own stuff in this regard. I was very happy to have that first Charlie book make Best First Book and Best Novel with Romantic Elements in the 2010 RITAs. I never thought an urban fantasy would have a chance in hell, so that was really cool and I was thrilled for not only the book but for the genre as well. Plus, I'd been an RWA member for years and started my path to publication writing contemporary and paranormal romance. To be recognized by the organization was just awesome. But really I'm just proud to have books on the shelf and people who like to read them.
Q14):
What's up next for Kelly Gay? What do you have going on in the next couple months that your readers might be interested in?
KELLY: The 4th Charlie book, SHADOWS BEFORE THE SUN, comes out at the end of July. And I'm currently writing the third novel in my Young Adult series, Gods & Monsters, which I write as Kelly Keaton.
I'm also venturing down a few new paths, so much more to come… ;-)
Q15):
Is there anything special that you'd like to say to your readers while we have you here today?
KELLY: Thank you! That doesn't even come close. I feel so lucky; my readers are some of the best, nicest, funniest people out there. Their support and friendship is humbling and very inspiring.
LITERAL ADDICTION/Book Monster Reviews:
Kelly, thank you so much again for being with us today. We're very happy to help you promote your backlist & the upcoming "Shadows Before the Sun". We'd love to have you back to promote your next big release if you'd be interested.
KELLY: You're welcome. And thank you!
If you want to keep up with Kelly, you can find her here:
Kelly is graciously offering up 2 Kellys in One: A signed Kelly Gay novel (SHADOWS BEFORE THE SUN/Charlie Madigan #4) and a signed Kelly Keaton novel (DARKNESS BECOMES HER/Gods & Monsters #1) + swag to 1 winner from Book Monster Reviews the same two books + swag to 1 winner from LITERAL ADDICTION.
(Winners may specify a personalized signature or a generic signature).
Fill out the Rafflecopter widget for Kelly's Event, follow the directions, take action,
and mark as 'Done'.
a Rafflecopter giveaway