Jess Macallan Interview Intro:
Hello everyone! LITERAL ADDICTION and Book Monster Reviews are very happy to welcome Jess Macallan to our sites today!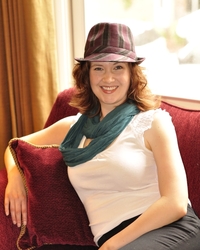 Jess lives in the Inland Northwest with her husband and three children. She thrives on creative chaos. Curiosity drives her to try new things as often as possible. When she's not writing or chasing trouble she teaches yoga, reads, runs a mini farm, watches MMA and gardens. The only things she takes seriously are chocolate, tea, and world domination. But mostly chocolate.
The proud creator of the SET IN STONE series, Jess has given us "Stone Cold Seduction".
For those of you that haven't heard about "Stone Cold Seduction" or the SET IN STONE series yet, here is the blurb to get you up to speed: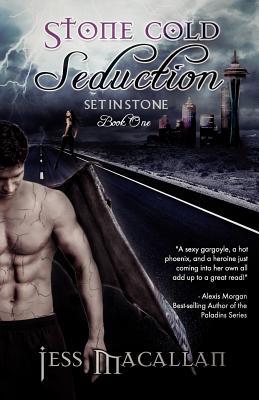 When a regular night of Robin Hood-ery results in the manifestation of some, um, unusual paranormal abilities, perfume-maker Elleodora Fredricks realizes the normal world she lives in isn't quite... normal. And neither is she, thanks to her father, king of the shadow elves. Not only is he evil incarnate and the reason Elle moonlights as a burglar-someone has to take care of all his victims-he's stolen her memories. And only reading her fate can fix that. Good thing she's got a trio of hotties willing to help her find said fate, but only if she gives them something in return. Saving her oracle BFF's fiancé, falling in love with the gargoyle, and making up for breaking the phoenix's heart ought to be a piece of cake for the princess of the shadow elves.
If only the king didn't want his daughter dead...
Sounds wonderful, right!!? Before you go and hunt it down from your favorite bookseller, let's learn some more about Jess and her new series.
LITERAL ADDICTION/Book Monster Reviews:
Hi Jess! We're very happy to have you here today and are thrilled to let the world know about "Stone Cold Seduction" and the SET IN STONE series. Thank you for taking time out of your busy schedule to chat with us.
JESS: Thanks for having me! I'm usually the one following the reviews, so it's an honor to be here as an author.
LITERAL ADDICTION/Book Monster Reviews:
We always start by getting to know our guest author a little bit better.
Q1):
Can you tell us 3 things about yourself (no matter how random) that we couldn't find out easily on the Internet?
JESS: I'm a speed reader, and if I have a day to myself, I can finish 3 or 4 books. I have an addiction to trying new craft projects (Pintrest is a wonderful/horrible place for me to waste time). I *really* want a mini donkey because they're so stinking cute!
Q2):
What are 3 things that always make you smile?
JESS: Will Ferrell movies, my children's belly laughs, and a box of dark chocolate caramels with sea salt I don't have to share with anyone.
Q3)
: If you could spend the day with anyone – alive, dead, fictional, etc. – who would you want to spend it with and why?
JESS: Definitely Mark Twain. He was a witty, brilliant writer, with strong opinions. I think if I plied him with a bottle of good whiskey, we'd have one helluva conversation.
Q4): Your bio listed some of the things you enjoy doing when you're not writing or taking care of other author business so we have to elaborate – who's your favorite MMA fighter, what's your favorite chocolate, what's the last great book you read, and what's your favorite thing to grow in the garden?
JESS: George St. Pierre is my favorite MMA fighter. If you Google a picture of him, you'll know why. *winks* Seriously though, he's a supremely talented athlete and a class act. I love watching him fight.
As for my favorite chocolate, I'd have to say dark. There's an incredible chocolate shop not far from me, and they have samples of the most decadent imported chocolate you could imagine. It's my version of nirvana. Second only to a bookstore.
The last great book…boy, that's a hard one. I've read some incredible books this year. The one I've recommended most to friends is The Scorpio Races by Maggie Stiefvater. Her writing style sucks me in and holds me there until I read the last page. I love all of her books, but that one's my favorite.
And I'm a sucker for roses. I grow just about everything—veggies, herbs, berries, and a gorgeous hummingbird garden—but I add new rose bushes every year.
Q5):
How has your road to publication been so far?
JESS: It's been great. The best part has been the truly incredible writing friends I've made along the way. The writing industry is full of talented people, who are also generous with their time and knowledge. I learn something new every week. I also love how the industry is constantly in motion. Trends come and go, and amazing writers are always being discovered.
Q6):
Are there any specific authors or titles that you feel have inspired you to become the writer you are today?
JESS: I won't go into details, but I did have an embarrassing fan girl moment with Sherrilyn Kenyon (okay, I'll admit I blubbered). Her story is so inspiring, and one I can relate to. I love ALL of her books. I'm a huge fan of Kim Harrison and Rick Riordan. Their series are on my auto-buy lists. I've also met authors who's books I hadn't read, but they were so gracious and awesome, I became a lifelong fan—Brenda Novak and Sarah Wendell (of Smart Bitches, Trashy Books) to name two.
Q7):
What are the best and worst parts of writing for you?
JESS: I love the magic of new ideas. They're so bright and sparkly! I'm a pantser, so starting a book appeals to my uninhibited creative side. The worst part is when I'm in the final stages of editing. By that time, I've spent so much time with those characters I need a break from them.
Q8):
What is a typical writing day like for you? Do you have a routine that you follow, specific things that you have to have with you to get the creative juices flowing, unique writing quirks you must adhere to, etc.?
JESS: One of my kids isn't in school yet, so I sneak writing in whenever she'll let me. I do like to have a hot drink (tea, coffee or hot chocolate), and I usually have the TV going for background noise—something really bad so I'm not tempted to watch. I can't listen to music because I start typing the lyrics. Sadly, I don't think Dude Looks Like a Lady with the Moves Like Jagger is going to be the next breakout novel. Other than that, I'm a pretty run-of-the-mill writer.
Q9):
What type of scenes (dialogue, action, sex, etc.) do you enjoy writing the most and why?
JESS: Oh, that's a great question. I'd have to say dialogue. I love talking with people, and am always interested in what people say, and how they say it. Inflection can make all the difference. It's a fun challenge to try to capture a character's personality in their conversations.
Q10):
Was there any specific inspiration behind the creation of the SET IN STONE series?
JESS: I love gargoyles, and wanted to give them their due (no offense to the sexy vamps and shifters out there!) I also love mythology, so I played around with a few of my favorite other-worldly creatures to see what I could come up with.
Q11):
How many books do you have planned for the series?
JESS: There are 3 books in the series" Stone Cold Seduction, Stone Cold Revenge (January 2013), and Stone Cold Destiny (July 2013).
Q12):
What were some of the challenges in bringing "Stone Cold Seduction" to life?
JESS: Making a gargoyle sexy was probably my biggest challenge. And Elle, my heroine, is not a typical urban fantasy, kick butt kind of gal. I initially wanted her to be, but every time I tried to take her in that direction, it didn't work out.
Q13):
What are you the most proud of with regards to your career thus far?
JESS: You know, I've never thought about that. I guess I'd have to say the reaction my kids have had. I've gone to their classrooms to talk about writing, and why it's so important to start at an early age. My oldest has started writing a lot this year, and has won awards for it. I also volunteer at their library, and I have kids ages 5 to 13 asking for book recommendations. Knowing I've had a hand in encouraging them to read is pretty cool. I'm out to recruit any reader I can.
Q14):
What's up next for Jess Macallan? What do you have going on in the next couple months that your readers might be interested in?
JESS: I'm shifting my focus to ghosts for a bit. I'm self-publishing a paranormal romance called Time Will Tell, and plan to release it by the end of June. It's a ghost story based on a real mansion turned bed and breakfast not far from where I live. A tragic love story gets a second chance for a happy ending. Then I'll be working on a few twisted fairy tales. I have way too many ideas to get through!
Q15):
Is there anything special that you'd like to say to your readers while we have you here today?
JESS: Yes, I love you all. *grins* If it weren't for readers and book bloggers, I wouldn't be here today. I love how supportive, smart and awesome readers are. I can't emphasize that enough. And I always love to connect with new readers!
LITERAL ADDICTION/Book Monster Reviews:
Jess, thank you so much again for being with us today. We're very happy to help you promote the SET IN STONE series and "Stone Cold Seduction". We'd love to have you back to promote your next big release if you'd be interested.
JESS: Thank you SO much! I loved chatting with you, and would love to come back!
If you want to keep up with Jess, you can find her here:
Jess is graciously offering up an eBook of Stone Cold Seduction to a winner from Book Monster Reviews and another winner from
Fill out the Rafflecopter Form below to enter
a Rafflecopter giveaway