Ashlyn Chase Interview Into:
Hello Book Monsters and Literal Addicts! Book Monster Reviews and LITERAL ADDICTION are very pleased to welcome author Ashlyn Chase to our sites today.
Ashlyn Chase compares herself to an Almond Joy bar. A little nutty, a little flaky, but basically sweet. She was a registered nurse for 20 years. During those years, she wrote articles for professional journals and a thesis, but eventually, thank goodness, discovered the joy and freedom of writing fiction.
Ashlyn considers herself lucky. Her degree in behavioral sciences is a combination of psychology and sociology, so she has worked with and studied people most of her life. She never has to write out exhaustive character sketches to understand her characters or predict how they will behave. That doesn't mean they don't surprise her. Sometimes they take her on grand unexpected journeys. For her, it gives "character driven novels" a whole new meaning.
Ashlyn has learned to go with the flow. To enjoy the journey is not only one of her writing goals, but also a challenge in life so she tries to follow where the story takes her. As such, she has lived in 17 different places over the years. At last, she's all settled down and comfy in New England.
Is there a grand design or do we decide our own fates? Perhaps if the powers-that-be have a plot, then they also give us the right to revise it. Ashlyn has certainly made detours on her path, but she thinks she's better for it. She's having fun at any rate and hopes that if she enjoys the journey, so will those around her—including her readers.
Ashlyn is the creator of the STRANGE NEIGHBORS series as well as a numerous amount of erotic romance novels. To check out Ashlyn's entire backlist of erotic romance book click
HERE.
The STRANGE NEIGHBORS series currently consists of three books, "Strange Neighbors", "The Werewolf Upstairs" and "The Vampire Next Door". Let's take a look at all three books in the series.
"Strange Neighbors", Book 1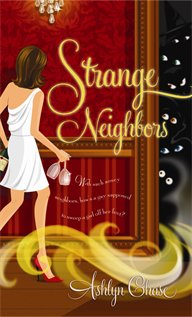 He's looking for peace, quiet, and a little romance...

There's never a dull moment when hunky all-star pitcher and shapeshifter Jason Falco invests in an old Boston brownstone apartment building full of supernatural creatures. But when Merry MacKenzie moves into the ground floor apartment, the playboy pitcher decides he might just be done playing the field...

A girl just wants to have fun...

Sexy Jason seems like the perfect fling, but newly independent nurse Merry's not sure she's ready to trust him with her heart...especially when the tabloids start trumpeting his playboy lifestyle.

Then pandemonium breaks loose and Merry and Jason will never get it together without a little help from the vampire who lives in the basement and the werewolf from upstairs.
"The Werewolf Upstairs", Book 2
Alpha werewolf Konrad Wolfensen sees it as his duty to protect the citizens of Boston, even if it means breaking into their businesses just to prove their security systems don't work. But when his unsolicited services land him in trouble with the law, he'll have to turn to his sexy new neighbor for help.
She should know better...
Attorney Roz Wells is bored. She used to have such a knack for attracting the weird and unexpected, but ever since she took a job as a Boston public defender, the quirky quotient in her life has taken a serious hit. Until her sexy werewolf neighbor starts coming around...
"The Vampire Next Door", Book 3
Room for Rent: Normal need not apply
This old Boston brownstone is not known for quiet living...first the shapeshifter meets his nurse, then the werewolf falls for his sassy lawyer, but now the vampire is looking for love with a witch who'se afraid of the dark...and you thought your neighbors had issues!
Undead Sly is content playing vigilante vampire, keeping the neighborhood safe from human criminals, until Morgaine moves in upstairs. Suddenly he finds himself weak with desire, which isn't a good place for a vampire to be. And Morgaine isn't exactly without her own issues — will the two of them be able to get past their deepest fears before their chance at "normal" slips away...
Now that your totally hooked on the series and we have you adding this awesome series to your TBR list, let's get to the interview so we can find out more about the amazing woman behind the books….
Book Monster Reviews/LITERAL ADDICTION:
Hi Ashlyn! Thank you for taking the time out of your busy schedule to stop by and chat with us. We're so happy to have you with us!
Book Monster Reviews/LITERAL ADDICTION:
We always like to start out by getting to know our guest authors a little bit better.
Q1):
Can you tell us 3 things about yourself that we can't find out on the internet, in your bio, etc?
Ashlyn: You know how they say "every family has one?" Meaning…the slightly crazy aunt/uncle or cousin or nephew/niece? All my relatives are normal, so when I look around and think 'if every family has one,' I realize I must be it.
Since my honesty (and my mouth) knows no bounds, there isn't much the Internet doesn't know about me. Somewhere there's an interview that took place while my filter was off. If I'm not embarrassing myself, you're not asking the right questions.
Q2)
What are some of your hobbies, or things that you each enjoy when you're not writing or taking care of other author business?
Ashlyn: I make jewelry, although I have a neck issue that interferes with my spending long periods of time slouching over anything. There goes half of my interests…reading, jewelry making, internet surfing. Thank goodness I can still watch TV and listen to audiobooks!
Q3)
Do you have any interesting writing quirks, or things that you must have with you to begin the writing process?
Ashlyn: I guess so. I need a computer keyboard and my brain—which may or may not be available right away. It usually shows up with my second cup of coffee.
Q4)
What are some of the books you have in your TBR pile right now?
Ashlyn: Which TBR pile? The paperback pile? The Nook pile? The netbook pile, or the iPod pile? If my husband keeps giving me electronic devices, I'll just keep loading them up with books. I have no idea how many I have in total. Let's just say, if she who dies with the most unread books wins, I'm in the lead.
Q5)
What are some of your favorite TV shows and movies?
Ashlyn: I love paranormal shows and sit-coms. Is that any surprise? I also love HGTV and design competitions. I just get mad when the judges don't listen to me.
Q6)
If you could have one super power, which would you want it to be and why that one?
Ashlyn: I used to think I'd like to be invisible. Now that I'm fairly sure I'm a jack-ass, I don't want to know what people think of me anymore. Maybe I should glow when I come into a room. Then if anyone is talking about me, they'll see me coming and shut the hell up.
Q7)
For readers who have not yet read your STRANGE NEIGHBORS series, can you please tell us a little about it?
Ashlyn: I had a kernel of an idea for a series when I was in NJ at a writer's conference but had nothing written. Not a word. Just a title. Strange Neighbors. A woman gathered some authors together and asked if any of us were working on a series that an editor friend of hers might be interested in. I'll talk to anybody about anything, so I tossed out the itty bitty concept I was 'working on' for like five seconds. Hey, she asked…
As it turned out, I was talking to somebody important and (as usual) had no idea. She was a buyer for Borders (a book store chain that used to exist.) She told me to write up a proposal and send it to her. I didn't know what a proposal consisted of, so I just wrote one page, outlining the basic idea and characters. A few days later she asked for my last published book, so I sent it to her. A few days after that her editor friend called and asked for the first 3 chapters. I had just finished chapter 3 that morning.
How the hell that turned into my first mass market trilogy is anybody's guess. *Warning* If any of you know someone who's been trying to sell their brain child for 10 or 15 years, unsuccessfully, do NOT tell them my story. You might have to talk them off a ledge.
Q8)
What was your inspiration behind the STRANGE NEIGHBORS series?
Ashlyn: I'd heard that hottie quarterback Tom Brady owned a condo in my old Boston Neighborhood. I casually wondered what it would be like to live in that building. Then my twisted imagination ran with it and turned the building's tenants into vampires, werewolves, witches and ghosts. You know, the usual.
9)
How many books do you have planned for this series and when can we expect book 4?
Ashlyn: Nope. No 4. I was offered 4, but I didn't know if I could deliver. For some reason I thought failing to deliver 3 would be less of a disaster than failing to deliver 4, so I signed for 3. Now, the next question is pertinent to this one, so keep reading and pay attention. This is important stuff.
Q10)
What other projects in the works that you can share with us? Any upcoming erotic romance releases?
Ashlyn: Funny you should ask. I have a spin-off series coming out in Spring of 2013. The series is called Flirting with Fangs and is directly related to the Strange Neighbors series. Book 1, is about the bad-boy twin brother of werewolf Konrad Wolfensen in The Werewolf Upstairs. So, in a way, the series didn't end up being 4 books, but 6! I'm as shocked as you are.
Book Monster Reviews/LITERAL ADDICTION:
Thank you again Ashlyn for taking time out of your busy schedule to chat with us. We'd love to have you back again with us when you're ready to promote your next release. Anything you'd like to say to the readers before your go?
Ashlyn: Yes. You are getting sleepy…(buy my books.) Your eyelids are growing heavy…(buy my books.) You are completely relaxed…(buy my books, please!)
If you would like to find out more about Ashlyn and keep up with her latest news, you can check out her
Website
or follow her on
Facebook
, or
Twitter
.
Ashlyn is graciously giving away any one of her books (reader's choice) in any format
to one winner from Book Monster and one winner from LITERAL ADDICTION (over on their site).
Fill out the Rafflecopter Form below to enter.
a Rafflecopter giveaway