Lisa Shearin Interview Intro:
Hello everyone! LITERAL ADDICTION and Book Monster Reviews are happy to welcome Lisa Shearin to our sites today!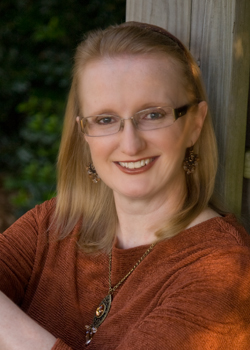 Lisa works a day job at an advertising agency as an editor and quality control manager. She's also been a magazine editor, an advertising copywriter, and a writer of corporate marketing material of every facet.
She's a member of the Science Fiction & Fantasy Writers of America and lives with her husband, 2 retired racing greyhounds, and a Jack Russell terrier in North Carolina.
Lisa is the proud creator of the RAINE BENARES series.
For those of you not yet familiar with Lisa's work, we thought we'd give you the synopses for the available books in the RAINE BENARES series to get you up to speed:
"Magic Lost, Trouble Found"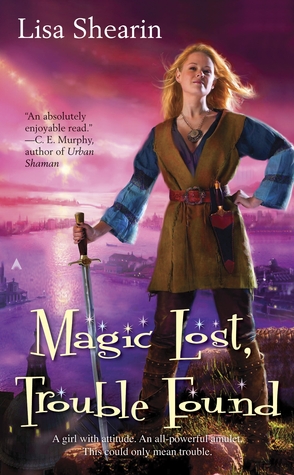 Raine Benares is a Sorceress Seeker of average ability until she comes
into possession of an amulet that amplifies her powers-and her enemies.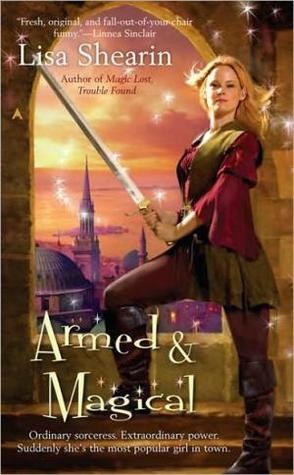 My name is Raine Benares. Until last week I was a seeker—a finder of things lost and people missing. Now I'm psychic roommates with the Saghred, an ancient stone with cataclysmic powers. Just me, the stone, and all the souls it's ingested over the centuries. Crowded doesn't even begin to describe it. All I want is my life back—which means getting rid of the stone and the power it possesses. To sort things out, I head for the Isle of Mid, home to the most prestigious sorcery school, as well as the Conclave, the governing body for all magic users. It's also home to power- grubbing mages who want me dead and goblins who see me as a thief. As if that's not enough, Mid's best student spellsingers are disappearing left and right, and I'm expected to find them. Lives are at stake, goblins are threatening to sue, mages are getting greedier, and the stone's power is getting stronger by the hour. This could get ugly.
"The Trouble with Demons"
For seeker Raine Benares, a demon infestation on the Isle of Mid couldn't come at a worse time. Already fighting the influence of the Saghred, a soul-stealing stone, Raine discovers she is also magically bonded to a dark mage and a white knight, two dangerous and powerful men on opposing sides.


Turns out, the demons want the key to unlock the Saghred. As a seeker, Raine should be able to find it first. As the axis of light and dark powers,
she's a magical cataclysm waiting to happen.
Raine Benares is a seeker. She finds lost things and missing people- usually alive. But now she's been bonde with the Saghred, a soul- stealing stone of unlimited power, and must hunt down its escapees. Especially since one of them is also hunting her...
Raine Benares is a seeker who finds lost things and people. Ever since the Saghred, a soul-stealing stone that's given her unlimited power, has bonded to her, the goblin king and the elves have wanted to possess its magic themselves. Which means a goblin thief and her ex-fiancé-an elven assassin-are after her. To survive, she'll need the help of her notorious
criminal family.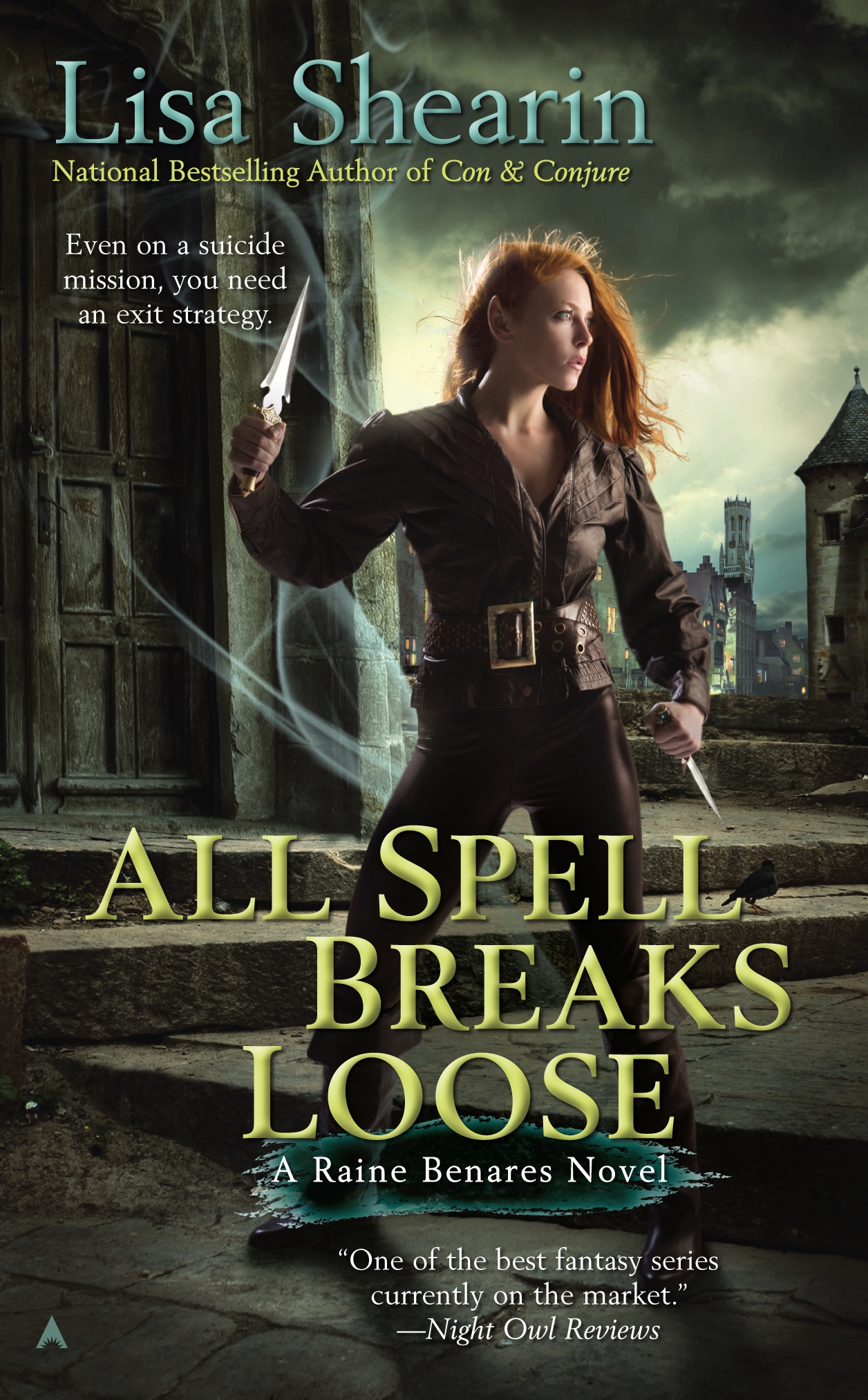 My name is Raine Benares—and it sucks to be me. The Saghred, a soul-stealing stone that has given me unlimited power, has been stolen by a goblin prince, and with it went my magic. The Saghred is in the goblin capital of Regor, in the hands of Sarad Nukpana, who's on the verge of becoming the most powerful mage ever...just as soon as I'm dead.

Because Sarad can't use the stone while I'm alive. Incentive enough to plan a little trip to Regor with a small band of good friends, not-so-good friends, and outright enemies. All we need to do is destroy the Saghred, kill Sarad, and put a renegade prince on the throne. Did I mention I'll be doing this without magic?
They sound amazing, right!? Now that we have you all adding them to your TBR lists and hunting them down from your favorite book-seller, what do you say we learn some more about the author behind these fabulous titles?
***********************************************
LITERAL ADDICTION/Book Monster Reviews:
Hi Lisa! Thank you so much for taking time out of your busy schedule to talk with us. We're excited to introduce some new readers to your work.
LISA
: Thank you so much for inviting me!
LITERAL ADDICTION/Book Monster Reviews:
We always start by getting to know our guest authors a little bit better.
Q1):
Can you tell us 3 things about yourself that we couldn't find out easily on the Internet?
LISA: (I can't think of anything)
Q2):
If you were told that the world was going to end tomorrow, what would you use your last 24 hours for?
LISA: (Wow, big question! It's beyond my writing-fried mind at the moment. Sorry.)
Q3)
: What are some of your hobbies and/or things that you enjoy doing when you're not working, writing or taking care of other author business?
LISA: When I'm not writing, I'm reading and reading and reading. Oh, and there's sleeping and eating in there somewhere. Human contact is important, so I try to fit some of that in there, too.
Q4):
What are 3 things that always make you smile?
LISA: Puppies! (I am a serious dog lover.) And kitties! (If you can't resist puppies, how could you possibly resist kitties?) When new books by my favorite authors come out.
Q5):
Who are some of the authors and/or titles that you feel have inspired your writing career?
LISA: I cut my fantasy-reading teeth in the 80s with David Eddings, Raymond Feist, and Terry Brooks. My fave urban fantasy author is Jim Butcher (I do love me some Harry Dresden). I really enjoy reading mysteries and thrillers, and if they have a touch of the funky or supernatural, all the better. I especially enjoy Douglas Preston & Lincoln Child's Agent Pendergast series.
Q6):
With Fantasy being such a popular genre these days, what made you choose it, and what about it fascinates you personally?
LISA: I love that there are absolutely no limits. If you can imagine it (and write it to be believable), there's nothing that you can't do. The sky's the limit. That's fun!
Q7):
When did you start writing fiction? Can you walk us through how your career began?
LISA: I've been writing since I could put words together to form a sentence, and I have made up stories in my head for as long as I can remember. I was bitten by the novel bug in college. I was in a local bookstore and couldn't find anything that I wanted to read. My roommate got tired of hearing me gripe about it, and asked why didn't I just write my own? That's what got me started, and I've been going ever since.
Q8):
Was there any specific inspiration behind the creation of the RAINE BENARES series?
LISA: I love reading thrillers. The more breakneck-speed the action is, the better. Since ALL SPELL BREAKS LOOSE is the culmination of the previous five books, there's plenty of action, and believe me, it moves fast. In fact, all of the books in the Raine Benares series hit the ground running, and barely slow down enough to let the characters catch their breath. Yep, I'm an evil author. ; )
Q9):
How many books do you have planned for the series?
LISA: ALL SPELL BREAKS LOOSE is the concluding book in the Saghred storyline—not necessarily the end of the series. I fully intend to come back to Raine and her friends in the future. There are quite a few characters who would love to have their own series. I know Tam or Phaelan wouldn't say no to starring in their own series. And those of you who are familiar with Talon know that kid isn't going to stay quiet for long.
Q10):
What can we expect as the series progresses?
LISA: (question doesn't apply. See above response.)
Q11):
What else do you have in the works outside of the world of RAINE BENARES that you can share with us?
LISA: I've just completed a proposal package for an urban fantasy/supernatural thriller/comedy series. You all know how I love to mix & match genres. I have the series premise written, as well as the synopses for the first three books, and I just finished the final sample chapter today (for a total of six). I promise that as soon as I get a contract for it, I'll tell you more—in fact, you probably won't be able to shut me up. I'm so excited about this project—it's just pure fun.
Q12):
What were the challenges (research, literary, psychological, logistical, etc) in bringing the RAINE BENARES series to life?
LISA:
Writing the end of ALL SPELL BREAKS LOOSE was made a lot easier by the fact that the series isn't really over, just the Saghred storyline. If I'd been truly ending the series, I'd have probably been blubbering like a baby. I absolutely love these characters, I've been with them a long time, and I couldn't bear the thought of never writing another book with them again.
That being said, I've always wanted to do multiple series. The Saghred storyline was all-consuming (hmm, kind of ironic that a series about a soul-sucking rock would consume my life). Actually, the six books of the Raine Benares series are one humongous book divided into six smaller books. The story arc begins with MAGIC LOST, TROUBLE FOUND and ends with ALL SPELL BREAKS LOOSE. So basically, for the past six years (actually a lot longer than that if you count the years I spent trying to get published) I've been writing ONE book. So while I adore Raine & Company, we need a little away time from each other—absence does make the heart grow fonder.
Q13):
What about the series are you the most proud of so far?
LISA: The sixth book of the Raine Benares series—All Spell Breaks Loose—is the culmination of a storyline that began in 2007 with Magic Lost, Trouble Found. The action contained in those six books cover a mere three-month period in the lives of Raine and her friends. Three months. It's hard to believe. When I look back over the entire series, I think one of the biggest surprises for me was that the Saghred storyline extended into six books. I had expected three books max. But the characters kept growing, and they and their stories took on a life of their own. There was no way I could stop after only three books. I had to find out what happened.
Q14):
Is there a question you thought it would be great to be asked in an interview but have never been asked? How would you answer that question?
LISA: (can't think of anything)
Q15):
Is there anything special you would to say to your readers while we have you here today?
LISA: Thank you all for sharing this journey with me. I have the best fans any author could ever hope for – you guys are simply amazing!
LITERAL ADDICTION/Book Monster Reviews:
Lisa, thank you so much again for being with us today. We'd love to have you back to promote your next big release if you'd be interested!
LISA: I'd love to visit with you and your readers again!
If you would like to keep up with LISA, you can find her online here:
Lisa's publisher is graciously offering up copies of "All Spell Breaks Loose" to a winner from Book Monster Reviews and another winner over at LITERAL ADDICTION.
1) Please become a member of the Book Monster Blog by clicking on the "JOIN THIS SITE" button at the top left hand corner of blog page.
2)
Fill out the Rafflecopter form, follow the directions, take action, and mark as 'Done'.
Make sure that your Rafflecopter email address is correct!
Don't forget to drop by the LITERAL ADDICTION website
(
http://www.literaladdiction.com/
)
and follow the directions and links to enter their contest for an extra chance to win!!!
a Rafflecopter giveaway