P.G Forte Interview Intro:
Welcome to the weekend everyone!

LITERAL ADDICTION and Book Monster Reviews are very happy to welcome P.G Forte to our sites today!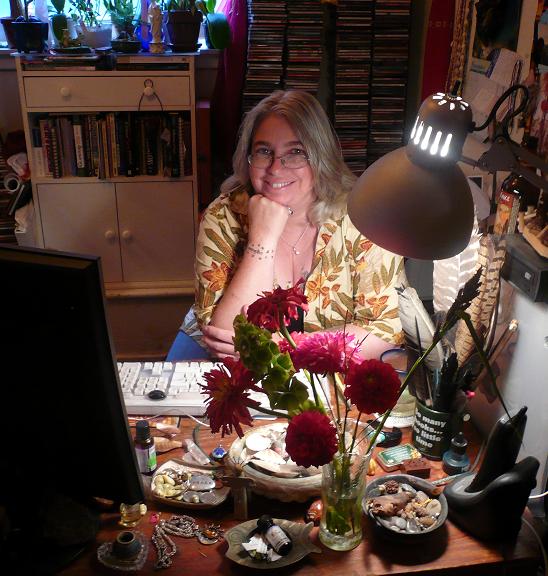 P.G wrote her first serialized story when she was still in her teens.

It was a sexy, adventure tale that was very popular at her all girl's Catholic High School.

Her tales were used widely to liven up the dreariness of what was hum-drum high school proper, and while her friends adored it, her teachers didn't always think it was the best idea.
J
Originally a Jersey Girl, she currently resides in California with her husband and soulmate, their two young adult children, and a random assortment of furry friends.
P.G weaves magickal tales of yesterday, today and tomorrow in her OBERON, L.A LOVE LESSONS, and CHILDREN OF NIGHT series.
OBERON has 9 titles – "Scent of the Roses", "A Sight to Dream", "Sound of a Voice That is Still", "A Taste of Honey", "Touch of a Vanished Hand", "The Spirit of the Place", "Visions Before Midnight", "Dream Under the Hill", and "And Shadows Have Their Ending".
L.A LOVE LESSIONS currently consists of "Waiting for the Big One", "Love from A to Z" and "Let me Count the Ways".
CHILDREN OF NIGHT is just getting started with "In the Dark" and "Old Sins, Long Shadows".
She also has a number of single titles and anthology contributions.

You can check out her entire backlist

HERE

.
For our readers not yet familiar with P.G's work, we'll give you the synopses of the 1st and most recent in each of the series to peak your interests…
"Scent of the Roses", Book #1
In most ways, Oberon is typical of many of the small towns that dot California's central coast. Clinging to sheer, corrugated cliffs above a windswept strand of pale, golden sand, it is wreathed in fog for most of the summer months. But what Oberon lacks in glitz, glamour, and the endless sunshine boasted by its neighbors to the
south, it more than makes up for with magick, mystery, and murder.
Bounded on the west by the brilliant blue crescent of San Bartolo Bay and to the east by the majestic bulk of Mt. Totawka, the Sacred Mountain of local lore, the town is isolated amid a tangled network of canyons and creeks. It can be a hard place to get to, and an even harder place to leave behind.
For years, Scout Patterson has tried to run from the mistakes in her past. Now, she's finally come home to face the ghosts she has never laid to rest and the love she thought she'd lost forever. Reawakening that love would be a dream come true. Unfortunately, love is not the only emotion that can rise from the ashes of an old flame.
Memories and dreams. For twenty years, that's all Nick Greco has been living for. Memories of the girl he loved and lost. Dreams of what his life would be like if he could only find her again, and if he can bring himself to believe that anything she tells him is true.
When Scout's homecoming is followed by a reoccurrence of deadly attacks and mysterious disappearances, Nick must find a way to solve a twenty-year-old mystery or risk losing her forever.
"And Shadows Have Their Ending", Book #9
Midsummer: The last two years have not been kind to Seth Cavanaugh. But, he's suffered and grown and he finally feels ready to put his troubled past behind him. So, doesn't it just figure that the girl who caused all the trouble in the first place should pick now to return and cause him even more torment? Deirdre Delaney Shelton-Cooper has spent the past two years trying to forget the events that marked her first visit to Oberon, but can you ever really forget the memory of your first love, no matter how painful those memories are? It's just her luck the boy she put herself through hell for has turned out to be such a loser. After a disastrous reunion, they'd both be content to have nothing more to do with each other, if only fate--and one very determined angel--were not conspiring against them. There are some wounds that time can't heal. There are some dreams that won't come true. But, sometimes, if you're lucky, shadows have their ending. And the love you'd just about given up on returns.
"Waiting for the Big One", Book #1
Like everyone else in LA, Gabby is waiting for The Big One. The big break that will make her a star. The big quake that will rock the city to its knees. Or, in this case, the Big O—the elusive, G-spot, ultra orgasm. She thinks she's found the guy who'll give it to her when she meets Zach, the super hot musician who's just moved into her building. But Gabby's quest to find true love and ultimate pleasure with the rock guitarist of her dreams is complicated by her friendship with Derek, the martial arts instructor with whom she's co-writing a screenplay.

Up until now, Gabby has refused to even consider Derek for the role of soul mate because she fears sex will ruin their friendship. But, Derek has ideas of his own about that, and they don't include sharing Gabby with anybody.

When an early morning earthquake precipitates a crisis at her day job—dog-walking the pampered pets of Hollywood's elite, off leash in Runyon Canyon Park—Gabby is going to turn to Derek for help. His actions will force her to re-evaluate her feelings about mixing sex and friendship.
"Let Me Count The Ways", Book #3
As the owner of The Body Electric, LA's hottest new exercise studio, sexy, former film star Claire Calhoun has her pick of studly young men eager to do her bidding. Small wonder she's used to calling the shots, both in and out of bed. But everything changes the night the actress-turned-entrepreneur has one mojito too many at a party and decides it would be fun to pick up her accountant, Mike Sherman.

She's thinking fling. He's thinking forever.

Claire has been Mike's fantasy since the first time he saw her bare it all for the camera. Now, she's in his bed and he'll do whatever's necessary to keep her there. But he's not a stalker, right? He's just a devoted fan.
CHILDREN OF NIGHT series:
"In the Dark", Book #1
1969 San Francisco. World-weary Conrad Quintano should have known better than to fall in love with a human—much less Suzanne Fischer, the barely legal, adventure-seeking hippie beauty known as Desert Rose. And the very last thing he should have agreed to do was to raise her babies and protect them with his life. But even twelve-hundred-year-old master vampires can find it hard to reject a deathbed request—especially when issues of love, guilt and blood are involved.

Present day. Raised in virtual isolation, twins Marc and Julie Fischer have always known they are vampires. But they never knew their parentage—or their unique status in the vampire world—until their "uncle" Damian comes to fetch them home. The family reunion, however, isn't what they expect. They're thrust into a world for which they're totally unprepared. And the father they expected to see, Conrad, is missing.

How to find him…and whom to trust? Solving the mystery of betrayal and vampire family values will prove the Beatles had it right. All you need is love…and an occasional side of blood.
"Old Sins, Long Shadows", Book #2
1856, New York City. Moments after Conrad Quintano drives his life-mate away, heartache and guilt descend around his heart like a pall. Convinced that Damian's hatred is as permanent as the scars Conrad has inflicted on him, Conrad steels himself for an eternity of emotional torture.
Present day, San Francisco. For the sake of vampire twins Marc and Julie Fischer, Conrad and Damian present a united parental front. In reality, their truce is a sham. Conrad, weakened by his recent ordeal, struggles against the urge to bring his mate back to his bed. And Damian misinterprets Conrad's explosive temper as proof their relationship is irreparably broken.
When an old enemy's quest to create a dangerous new breed of vampire threatens the twins' lives—and the precarious state of vampire peace—it's imperative the estranged lovers put the past behind them. Or the shadows of the past will tear apart everything they hold dear.
Warning: This book may not be suitable for readers with an aversion to emotionally damaged vampire heroes. Caution is advised if you have experienced prior sensitivity to any of the following: costume parties, fencing lessons, interspecies, inter-generational or intra-gender dating, occasional mild violence, and/or recreational blood-drinking.
We know, they sound awesome!

Make sure to make a note to add them to your TBR and find them at your favorite bookseller, but for now, let's get to the interview and learn some more about P.G and her books.
*************************************************
LITERAL ADDICTION/Book Monster Reviews:
Hi P.G!

We're so happy to have you here today.

We hope that we're able to turn some new readers on to your work.
P.G: Thanks so much for the warm welcome. I'm thrilled to be here. You ladies rock!
LITERAL ADDICTION/Book Monster Reviews:
We always start out by getting to know our guest authors a little bit better…
Q1):
Can you tell us 3 things about yourself that we couldn't find out easily on the Internet?
P.G: Hmm. That might be tough. I don't think there's much about me that you can't find online. I don't like makeup, but I do like nail polish, even though I have the world's most breakable nails. I go through phases where I wear a lot of silver jewelry—then I get bored and take it all off, except for the piercings (nose, naval and tongue). Although I have something of a reputation for being a wine snob, I don't just drink red wine. I also like Moscato and White Zinfandel. Shh. Don't tell.
Q2):
What are 2 things that always make you smile, and 2 things that never fail to piss you off?
P.G: Two things that make me smile…uh, my dog and hearing from readers. Intolerance is one thing that definitely pisses me off. I'm totally intolerant of intolerance…which is a major contradiction in terms, I know. lol! Daylight savings time is something else I can't stand. Worst idea Ben Franklin ever had. It doesn't make the day any longer, I don't know why people think it changes anything. All it does is screw things up for you when you're trying to arrange an online chat and you can't sort out which time zones have changed and which haven't.
Q3)
:

What are some of your hobbies and/or things that you enjoy doing when you're not writing or taking care of other author business?
P.G: I've been getting a lot more creative with cooking lately. In part that's because my husband and I have adopted a mostly gluten-free diet and in part it's because my MIL (who's a vegetarian) has moved in with us. Coming up with high protein, gluten-free vegetarian dishes that everyone will eat? Very challenging!
Q4):
What are some of your favorite TV Shows and Movies?
P.G: Not surprisingly, I lean toward paranormal and law enforcement themed shows. Eureka, Warehouse 13, Sanctuary, Being Human, Alphas. Also, NCIS, Castle, The Mentalist, Rizzoli and Isles. Movies are a different story, however. There it's all romantic comedies.
Q5):
Are there any particular authors and/or titles that you feel inspired you to become the writer you are today?
P.G: Oh, so many. Let's see, I think I have to mention Georgette Heyer first as her books were my gateway into romance. These Old Shades is still one of my all-time favorites. Then there's Jayne Ann Krentz; her Eclipse Bay series and books like Deep Waters and Absolutely, Positively were a big influence on me while I was creating Oberon. Likewise, Elizabeth Peters' Amelia Peabody series. These were all some of the books that made me think, "Yeah. That's what I want to do!"
Q6):
If you could spend the day with any of your characters, with whom would you want to spend it and what would you like to do?
P.G: Lucy from the Oberon series. See how I didn't even have to think about that one? lol!

As for what we'd do, I think we'd just hang out and do what she normally does. Because, honestly, if I couldn't have my life, I'd want hers.
Q7):
What are the best and worst parts of writing for you?
P.G: The worst is easy. Other than writer's block—which is horrible—the only real bad part is when I have to split a long book up into shorter books. I had to do that recently and it just about killed me. Other than that, I pretty much love it all. Oh…except for waiting to hear back on a submission. I have no patience when it comes to that!

Which probably won't surprise anyone who's read Waiting for the Big One. Like Gabby, I'm also a Pisces. ;)
Q8):
What is a typical writing day like for you?

Do you have a routine that you follow?

Are there specific things that you have to have with you to get the creative juices flowing, etc?
P.G: Typical? Wow, that's kind of a relative term. My mother-in-law moved in with us recently, so a lot of my time these days is spent in my capacity as care-giver. I try to take advantage of whatever blocks of time I can find during the day. Plus first thing in the morning and late at night. And, yes, finding time to sleep has become kind of an issue.
Specific things I have to have? Well, coffee is a must—see the lack of sleep thing. I used to really depend on having exactly the right music, but not so much anymore. I also find aromatherapy helpful. Again, finding the right scented candles/incense/room sprays is very useful to help put me in the proper mood. Also desktop photos of whatever setting I'm trying to imagine.
Q9):
Was there any specific inspiration behind the creation of the OBERON series?
P.G: Oh, yeah. When my kids were in elementary school I used to meet with a group of friends for coffee at an outdoor café not unlike Marsha's (I also volunteered as a docent at a nature center not unlike Siobhan's). One morning, the conversation turned into a discussion of all the weird and spooky experiences we'd all had and the plot bunnies started bounding around in my imagination. Also, I was inspired just by living in California, which is not always like Oberon, but it's close.
Q10):
What about CHILDREN OF NIGHT?
P.G: That was totally different. That came as the result of a discussion with my daughter about all of the various vampire myths and legends. I thought books were better when they offered a "scientific" explanation for whatever vampire characteristics they used. For example, not having a reflection in a mirror makes absolutely no sense to me. Likewise having no pulse. If you're walking around without a pulse, you're a zombie, not a vampire and you're not gonna stay "fresh" for very long. Certainly not centuries.
Children of Night was my attempt to create "believable" vampires and imagine what your life might be like if you'd grown up in a family of vampires.
Q11):
Is OBERON really finished?

Do you plan to write any future books within the same world as a spinoff, etc?
P.G: It's pretty much finished, yeah. Although I've learned never to say never. But really, I could only torment those poor women and their families for so long. They needed a break. I am planning several novellas or short stories that feature some of the same characters. Actually, Sea Change, which is out now, is a sequel of sorts and the continuation of Cara and Liam's story. I also have ideas for a couple of Christmas stories set in Oberon.
Q12):
How many books do you have planned for your other series – CHILDREN OF NIGHT and L.A LOVE LESSONS?
P.G: LA Love Lessons was supposed to have one or two more stories, but those are on hold, at the moment. Children of Night is kind of dominating my thoughts these days and that series just keeps getting longer. I originally wanted it to be a trilogy, but the current plan is for seven books. I just finished the as-yet-untitled third book and am working on the fourth.
Q13):
What challenges (research, literary, psychological, logistical, etc) have you encountered while bringing your tales to life?
P.G:

Trying to come up with a rational, believable, reasonable-sounding explanation for why a 1200 year old vampire is still so damn dense when it comes to his relationships—that was a huge challenge. Also, moving every 2 to 3 years as I've been doing (I swear my husband was a nomad in his last life) really tends to slow the writing down.
L
Q14):
Do you have anything else (or new) in the works that you can share with us outside of the 3 series that we highlighted from your Backlist?
P.G: I've recently been writing some steampunk stories. The first of them, This Winter Heart, was published last December by Carina Press as part of their A Clockwork Christmas anthology. I have four more stories in the works for that series, but they've had to compete with the vampires for my time and the fanged ones are pretty good at getting their way.
I have several other stories in the works as well. So many books, so little time…
Q15):
Would you like to say anything special to your readers while we have you here today?
P.G: Readers are awesome! Receiving an email from someone who's read my books or who has questions or comments about them, totally makes my day (see question two
J
). So, thanks for reading and I'd love to hear from you at
pgforte@pgforte.com
LITERAL ADDICTION/Book Monster Reviews:
P.G, thank you so much for being with us today.

We'd love to have you back to promote your next big release if you're interested.
J
P.G:

I'd love to come back! Thanks for the invite, I'll definitely take you up on it. And thank you for having me here today.
***********************************************************
P.G is graciously offering up

readers' choice of any download from my backlist

to a winner from Book Monster Reviews.
1)

Please become a member of the Book Monster Blog by clicking on the "JOIN THIS SITE" button at the top left hand corner of blog page.
2) Leave a comment on this post with your email address.
*Any comments without an email address will not be entered into drawing.
Don't forget to drop by the LITERAL ADDICTION website
(
http://www.literaladdiction.com/
)
and follow the directions and links to enter their contest for an extra chance to win!!!