Lynda Hilburn Interview Intro
:
Hello everyone! LITERAL ADDICTION and Book Monster Reviews are happy to welcome Lynda Hilburn to our sites today!
Lynda has a wonderful bio online, so we thought we'd borrow it for today's Event:
"I sometimes feel as if I've already lived several lifetimes in the years I've inhabited this body. I've been able to create outlets for all my varied interests and abilities. So far, I've been a rock-and-roll singer/musician, a typesetter/copy editor for various newspapers and magazines, a professional psychic/tarot reader, a licensed psychotherapist, a certified clinical hypnotherapist, a newspaper columnist, a university instructor, a workshop presenter and a fiction writer.
During many of those years, I was also a single mom.
After a childhood filled with invisible friends, sightings of dead relatives and a fascination with the occult, turning to the paranormal was a no-brainer.
Since switching from writing nonfiction to fiction in 2004, I've had a wonderful time creating stories about my favorite paranormal characters. I've been a rabid fan of all things paranormal – especially vampires – since I first got my hands on Bram Stoker's
Dracula
. To me, there's just something fascinating about those extraordinary nightwalkers.
My son and I live in Boulder, Colorado, in the beautiful foothills of the Rocky Mountains. (Affectionately known as "The Republic of Boulder.")
The Vampire Shrink was my first completed full-length fiction manuscript. And, like all my stories, it crosses genres. It's an urban fantasy romance w/mystery elements, sex, dark humor, and a contemporary vibe.
"
As stated above, Lynda is the proud creator of the KISMET KNIGHT, Ph.D, VAMPIRE PSYCHOLOGIST series.

Book #1 of the series, "The Vampire Shrink", was originally released in 2007 and has been re-released TODAY in a rewritten/expanded version.
The new 2nd book of the series, "Blood Therapy" will be released in the Fall with the 3rd, unknown title, following soon after.
Lynda also has some noteworthy single titles out there:

"Undead in the City", an erotic Paranormal Romance, and "Diary of a Narcissistic Bloodsucker", a Vampire Satire.

And there's a new, tiny humorous story in Kismet Knight's professional world, "Until Death Do Us Part." It's currently free at Smashwords.com and hopefully free soon at Amazon.com
For those of you not yet familiar with Lynda's work, we wanted to give you the synopses for "The Vampire Shrink" as well as the blurbs for her other 2 books to peak your interests a bit:
KISMET KNIGHT Ph.D, VAMPIRE PSYCHOLOGIST Book #1:
RE-RELEASED 4/3/12
Kismet Knight, PhD, doesn't believe in the paranormal. She especially doesn't believe in vampires, but she begins to wise up when she is introduced to a handsome man named Devereux who claims to be 800 years old. Kismet doesn't buy his vampire story, but she also can't explain why she has such odd reactions and feelings when he is near. Then a client almost completely drained of blood staggers into her waiting room and two angry men force their way into her office, causing her to consider the possibility that she has run afoul of a vampire underworld. Enter FBI profiler Alan Stevens, who warns her that vampires are very real, and one is a murderer—a murderer who is after her.
"Undead in the City"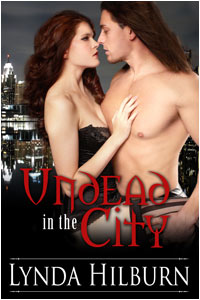 Musician Tempest Moon knew the world was a rough place. Raised in the inner city of Detroit, the only way she knew to succeed was to be smarter, and tougher, than the next guy. No problem. Vampire Malveaux had ducked into the bar that night to avoid having to kill anymore trackers set upon him by the local vampire boss. Now, together they would take on the human underworld and the undead.
"Diary of a Narcisisstic Bloodsucker"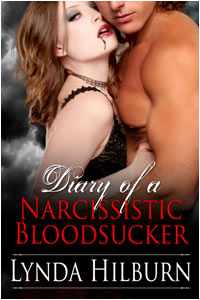 Told in first person by the vampire herself (Zara), this is the diary of an ancient, self-absorbed, yet-amusing nightwalker. She lusts for both sex and blood. Unfortunately, something has gone awry and her normal habits now create new problems to solve. In the midst of sorting things out, she meets an intriguing human named Niven, a musician who lives in the magical kingdom of contemporary Boulder, CO, and discovers that he is much more than he appears to be. Then, if things weren't interesting enough, Zara encounters her old mentor/lover, the vampire who originally turned her, and things get downright supernatural.
They sound great don't they!? We can tell you first hand that Lynda's work is fantastic, as we had the pleasure of devouring "The Vampire Shrink" back when it was originally released and before it was pulled for revamping (pun intended).
J
You really should check out her other books as well and get "Blood Therapy" on your preorder list for the Fall.
For now though, let's get to the interview and learn some more about this incredible author and her work…
*****************************************************
LITER
AL ADDICTION/Book Monster Reviews:
Hi Lynda! We're very happy to have you here today and are excited to introduce some new readers to your incredible books.
LYNDA: Thank you so much! I'm so happy to be here, connecting with all your wonderful readers!
LITERAL ADDICTION/Book Monster Reviews:
We always like to start out learning more about our guest authors.
Q1):
What are 3 things about yourself that we couldn't find out easily on the Internet?
LYNDA: 1) I'm painfully shy in situations where I don't know anyone. I'm told I don't come off that way, so people are often surprised when they find me cowering in a corner at a conference. 2) I still have fantasies of being a rock star.

3) I'm a carbohydrate addict, constantly struggling with the addiction!
Q2):
What are 2 things that always make you smile, and 2 things that never fail to piss you off?
LYNDA: Puppy faces and all-you-can-eat buffets (see addiction above) make me smile. Rude people and liars never fail to piss me off!
Q3):
What are some things that you enjoy doing when you're not writing or taking care of other author business?
LYNDA: I enjoy my counseling/psychotherapy work, singing, walking, reading, meeting good friends for meals, traveling, dancing and learning something new.
Q4):
If you were to write an autobiography, what do you think it would be titled?
LYNDA: "What a Long, Strange Trip It's Been" (but I think the Grateful Dead own those words!)
Q5):
Do you have a favorite inspirational quote?
LYNDA: "Each person, all the events of your life, are there because you have drawn them there. What you choose to do with them is up to you." – Richard Bach
Q6):
Were there any authors or titles that you feel inspired you to become the author that you are today?
LYNDA: I was most influenced by Bram Stoker's Dracula, the weird fiction of Tom Robbins and Anne Rice's vampire novels.
Q7):
What have been some of the surprises that you've encountered in your career thus far?
LYNDA: The biggest surprise is that publishing is the most ego-denting, neurosis-causing, ulcer-triggering industry I've ever worked in, and that includes all my years as a singer/musician. Turns out performing in front of huge crowds is much easier than birthing a book.
Q8):
Was there any specific inspiration behind the creation of the KISMET KNIGHT Ph.D series?
LYNDA: The idea came from the combination of an actual client session and a telephone call from the mother of a young girl who wanted to become a vampire. I thought it would be fun to create an idealized version of myself and let her have fun in the dark world of the vampires.
Q9):
How many books do you have planned for the series?
LYNDA: That's a good question, and the answer is I don't know. I had no idea I'd still be promoting and talking about the first book in the series after all these years (I wrote The Vampire Shrink in 2005, so I've been living with it daily for 7 years). Theoretically, there's no limit to the number of books in the series. As long as I can think up situations Kismet can find herself in, I can write about them. I hope it can continue on for a long time.
Q9):
What were some of the challenges that you encountered while bringing KISMET KNIGHT to life?
LYNDA: My publishing journey was a long and winding road (to quote yet another band's lyrics). The Vampire Shrink was sold to a small pub in 2006, and published in 2007. After that publisher and I (and my agent at that time) parted ways, I put the e-versions of my two novels up on Amazon/Smashwords, where they became best sellers. That got me a new agent and a new 3-book deal with a joint publishing agreement between Quercus UK and Sterling Publishing USA to bring out The Vampire Shrink (yet again) and 2 other books in the series. I'd say Kismet's path was bumpier than expected!
Q10):
What led you to wanting to re-write and re-release "The Vampire Shrink"?
LYNDA: The offer from the joint book deal between Quercus UK and Sterling Publishing USA was just too good to pass up! They wanted me to rewrite/expand, so I said yes!
Q11):
We absolutely love your wit!

Does it come easily for you in your writing?

Are you like that normally outside of the page?
LYNDA: Thank you for saying that! I'm glad you love my wit. Not everyone does, LOL. Actually, I'm much weirder than my various editors will let me share in my writing. I often have to scale things back because my humor is too "out there" for general consumption! I love to laugh and am always saying things that strike me as funny. One of the groups I facilitate at the mental health center I work at is so filled with laughter, that people in the hallway sometimes stick their heads into the room to see what we're up to. I think if we don't laugh at life, we take everything way too seriously.
Q12):
What else do you have in the works or in mind outside of KISMET KNIGHT Ph.D that your fans can look forward to in the future?
LYNDA: Right now I'm under contract to finish the edits on the new book 2, Blood Therapy and I'll probably rewrite/expand and re-title what used to be Dark Harvest and it will be a future book. Maybe not book 3. That will be up to my editors. I'd love to have time to write another series, and that's my plan, but it will have to wait until I have more hours to write. As soon as I win the lottery, I'll quit my day job and write full time! I'll keep trying to write short things in Kismet's world that I put up myself on Amazon, B&N, etc.
Q13):
Do you foresee any follow-ups to "Undead in the City" and or "Diary of a Narcissistic Bloodsucker"?
LYNDA: I hope so! But it's a matter of having the time to write them. I do intend to expand Undead into a novel (it's a novella now), and readers have asked for more of the Zara character from Diary. Once again, I'm waiting to win the lottery . . .
Q14):
What question have you always thought it would be great to be asked in an interview but have never been asked, and how would you answer that question?
LYNDA: I'd ask me what I'd really do with the money I won from the lottery, since I talk about wanting to win so often. I fantasize about starting a program to support single moms (I was one and it's not a job for sissies!) in various ways: child care, career development, psychotherapy, housing assistance, scholarships to school for both mom and the kids – so many things! I'd spend my days writing books and giving away my money. What a glorious dream!
Q15):
Is there anything special you'd like to say to your readers while we have you here today?
LYNDA: First I want to thank you for reading my interview and for entering the contest! And, since good reviews are so important to all authors, I'd ask that you consider posting a review of one (or all!!) of my books and to post reviews for the other authors you enjoy. It really makes all the difference for us. Hugs in advance!
LITERAL ADDICTION/Book Monster Reviews:
Lynda, thank you so much for being with us today.

We're excited to chat with you some more in the Live chat later tonight and would love to have you back to celebrate and promote "Blood Therapy" if you're interested.
LYNDA: I'm really looking forward to the chat, and to coming back anytime in the future that you'll have me!
***********************************************
Lynda is offering up either a t-shirt, mug or tote bag (winner chooses which one) with the image of The Vampire Shrink AND a copy of the USA trade paperback version of the book to a winner from LITERAL ADDICTION and a winner from Book Monster Reviews.
Make sure you are a member of the Book Monster Blog (by clicking on the "JOIN THIS SITE" button at the top left hand corner of blog page), and then post a comment on the interview with your email address.
*Any comments without an email address will NOT be entered into drawing.
Don't forget to drop by the LITERAL ADDICTION website
(
http://www.literaladdiction.com/
)
and follow the directions and links to enter their contest for an extra chance to win!!!