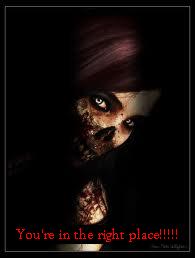 Lara Adrian Interview Intro:
Hello everyone! Book Monster Reviews and LITERAL ADDICTION are very proud to welcome the incredibly talented Lara Adrian to our sites today!
Lara has an ancestry that goes back to the Mayflower and the court of King Henry VIII, but currently lives in New England with her husband, surrounded by centuries-old graveyards, hip urban comforts, and the endless inspiration of the Atlantic Ocean.
As a child, she used to sleep with the covers up to her chin, afraid she'd become the midnight snack of a deadly vampire. After discovering Bram Stoker and Anne Rice, she started to wonder if her fear wasn't actually a secret desire to walk in a darker world, to live dangerously and live out her fantasies with a man of seductive, preternatural power!? The twining of the two – her fear and desire – are what fuel her fantasies today and what we see come alive in her writing.
Lara is the proud creator of the bestselling MIDNIGHT BREED series. The series currently consists of 10 installments and 1 novella:
"Kiss of Midnight"
"Kiss of Crimson"
"Midnight Awakening"
"Midnight Rising"
"Veil of Midnight"
"Ashes of Midnight"
"Shades of Midnight"
"Taken by Midnight"
"Deeper than Midnight"
"A Taste of Midnight" (the novella, story #9.5 of the series)

"Darker After Midnight

" - just released yesterday, 1/24/12.
For those of you not yet familiar with Lara's MIDNIGHT BREED series, we thought we'd give you some information about the series and the synopses of a few of the books to peak your interest. We highly recommend bumping them to the top of your TBR list ASAP if you haven't started them yet.
Part human, part otherworldly, the Breed has lived among humankind for thousands of years, maintaining a tentative peace built on secrecy, power, and the dark justice carried out by the formidable warriors of The Order.
A blood war within the race is set to ignite, however, and vampires are going Rogue in startling numbers, feeding without discretion and killing humans in the streets. It is up to the Order to stop the spreading threat of Rogue domination—and in so doing, each of the warriors will be forced to confront private demons, darkest secrets, deepest fears. Some will know triumph, some will know loss, but each warrior can count on one thing: Love, when it finds him, will often come at the worst possible moment, with the least likely woman… and it will bring each of these powerful males to his knees.
He watches her from across the crowded dance club, a sensual black-haired stranger who stirs Gabrielle Maxwell's deepest fantasies. But nothing about this night—or this man—is what it seems. For when Gabrielle witnesses a murder outside the club, reality shifts into something dark and deadly. In that shattering instant she is thrust into a realm she never knew existed—a realm where vampires stalk the shadows and a blood war is set to ignite.