Hey there Book Monsters and Literal Addicts! Book Monster Reviews and LITERAL ADDICTION are very pleased to welcome author Diana Duncan to our sites today.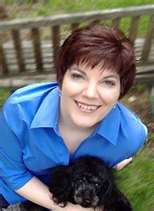 When her dreams of becoming a ballerina were quashed by early-onset klutziness, Diana Duncan took up the safer vocation of writing. Her first thrilling masterpiece—written in orange crayon—was titled "Perky the Kitten," and became an instant bestseller with her grandparents.
Her childhood growing up as a military brat gave her ability to leap into a conversation with anyone, anywhere, anytime…and she always discovers a new friend in the process. This gift of gab perfectly equipped her for a career that involves making stuff up.
Diana is famous for using seven words when one will do. She wields smart-assery like a samurai sword, and will be the first to volunteer in a catastrophe. Of course, she was probably the one who caused the catastrophe.
She's fiercely loyal to her friends and family…but in the event of the upcoming zombie apocalypse, she won't hesitate to use them as human shields.
She loves her job as an author, and claims writing is the most fun she's ever had while wearing her sock monkey pajamas. She also enjoys gardening, cooking, and adopting abandoned curbside furniture to refurbish into treasures.
Diana is the author of two really great series,
Morrigan's Legacy ~ Warriors of the Light
and
Devilish Devlins,
as well as some stand-alone books.

Both series currently have one book to each and you can check out the synopsis to each book below.
Morrigan's Legacy ~ Warriors of the Light - Book 1
Delaney Morgan's ho-hum life begins to fray around the edges when her cop brother is framed and imprisoned. Determined to exonerate him, she starts poking her nose where it doesn't belong. Things go from extra-ordinary to extraordinary when she finds Mr. Tall, Dark, and Naked washed up on a deserted Oregon beach.
Rowan MacLachlan is no ordinary man. He's a semi-immortal Highlander. A Water Mage, Supernatural Enforcer...and since the slaughter of his entire family, Chieftain of his Clan. Recently escaped from the clutches of the Sorceress Cearde, he's drawn to Delaney's newly awakening Powers. She learns her brother possessed similar Powers, and his "situation" is entangled with the magical forces he tried to shield her from.
Pulled into an epic battle of light and dark...with a kick-ass pair of boots and a Bon Jovi inspired battle cry...Delaney vows to help Rowan avenge his family, and free her brother from the dark forces holding him captive. First, Rowan must teach her to control and wield her new magic.
When passion flares between mentor and student, so do their Powers. With Delaney's help, Rowan plans to vanquish the evil bitch who killed his family. Even if it means betraying the woman he's come to love.
One of them may be required to make the ultimate sacrifice.
Can love really conquer all? Betrayal. Evil. Even death?
Delaney is about to find out. Because she's destined to be the Sword of the Raven.
Devilish Devlins ~ Book 1
When Irish eyes are smilin'…beware! Because trouble—and love—isn't far behind!
Paradise for software designer Cynthia Wagner means uninterrupted solitude to invent a brilliant video game, and save her job. But renovations on her city apartment force her to seek refuge in a temporary rental in the 'burbs.
The promised Paradise morphs into Purgatory when she meets her new neighbor, a deliciously tempting Irish rogue sporting a wicked grin and to-die-for body. Worse, the handsome bachelor has noisy, drooly, havoc-creating baggage on his hands for the summer… rambunctious five-year-old twin nephews, a baby niece, and the kids' yappy dog.
Rory Devlin is a dangerous distraction—and he's hiding a naughty secret.
Jackhammers and contractors would have provided more peace and quiet.
Stuck in the Suburbs of the Damned with Mr. Uncle-Turned-Mom and his wild menagerie, Cynthia struggles to meet her deadline. But she struggles more with her undeniable attraction to her devlish-ous neighbor.
Could it be that what Cyn has mistaken for hell is actually the heaven she's been searching for?
So now that you know more about these amazing books and you're adding them to your TBR list, let's go talk to Diana to learn more about her and see what she has coming up next…
Book Monster Reviews/LITERAL ADDICTION:
Hi Diana!

Welcome to Book Monster and LITERAL ADDICTION!

We're so happy to have you with us today!
Diana: Hi, and thanks so much for having me. I'm so happy to be here. There's nothing I like better than hanging out with people who love reading books as much as I do!
Book Monster Reviews/LITERAL ADDICTION:
We always like to start out by getting to know you a little bit better.
Q1):
Can you tell us 3 things about yourself that we can't find out on the internet, in your bio, etc?
Diana: Hmmm…three things that can't be used for blackmail…let me think.
1.
I'm totally directionally-impaired. Take me to the same grocery store where I've been shopping for 30 years, turn me around, and I won't be able to find the exit. My family teases me unmercifully about the fact that I need specific, written instructions using fast-food restaurants as landmarks, and I once "navigated" my driving Hubby through downtown Seattle by reading the map upside down. I don't get to be the navigator anymore. *G* A GPS doesn't help. Especially when that snotty GPS lady tells me to turn onto a one-way street going the wrong way! (Yes, she *did,*

Argh!)
2.
A real-life bank robbery was the inspiration for my very first book: Bulletproof Bride. I was working as a bank teller, and got robbed by a guy who was handsome, witty, and charming. Oddly enough, the FBI agents who debriefed me afterward were not amused by my description. But my imagination took wing, and I thought, "What if…" And "Bulletproof Bride" was born!
3.
My dog, Cyrus, is my favorite family member. Shhh…you are now sworn to secrecy not to tell my Hubby or kids.
Q2):
What are some other hobbies and interests you like to do when you're not writing?
Diana: I'm infamous for my fondness (okay, obsession) for interior decorating. Whenever my family sees paint chips taped to the walls, they start to whimper – the cowards. *G* But since I have to decorate on a shoestring budget, I love the challenge of being creative and "upcycling" what other people see as junk into beautiful, useable, one-of-a-kind items. I'm thinking about publishing a DIY book showcasing my salvaged projects one of these days.
I also find peace and joy in my garden, and I get a kick out of watching the birds – and enterprising squirrels – who visit my birdfeeder. I have a gorgeous garden outside. However, I can't grow a houseplant to save my life. Go figure. The fact that my 3 cats think houseplants are their own personal salad bars probably doesn't help. ;)
Cooking is another fun, relaxing activity. The fam isn't so keen on some of my invented recipes though – the cowards. *G*
Oh, and Facebook Scrabble. I need my Scrabble fix several times a day.
Q3):
When did you first realize you wanted to be a writer?
Diana: I was read to, and started reading on my own, at a very young age (Grannie was a librarian and took me to work with her for the first three years of my life). Writing was the natural expression of my love affair with fictional characters and their stories. There was no single "aha" moment…I've loved writing as long as I can remember.
Q4):
Do you have any interesting writing quirks or certain things you MUST have with you to start the writing process?
Diana: Coffee. Coffee. And more coffee. (Did I mention how much I love my coffee?) I also create a music soundtrack for each book. I recorded a long list of magical, ethereal Celtic music for "Sword of the Raven"…until Delaney, my heroine, kept busting out with 80's tunes. I was forced to change my soundtrack to accommodate her. My strong-willed characters insist on having their own way!
And before I begin any project, I have intense discussions with my Muse – who, to my delight, looks and sounds just like Vin Diesel. I do rather enjoy hanging out with my Muse. ; )
Q5):
What books do you have in your TBR pile right now?
Diana: Writing full-time and taking care of my family (my youngest daughter has health issues that require frequent medical appointments) takes up so much of my time that I am always behind in my reading! I just finished J.D. Robb's fantastic "New York to Dallas." I will read anything Nora writes, as either herself or J.D. Robb.
Right now, waiting in my queue are J.R. Ward's "Crave" and "Envy."

And when her new BDB book comes out in March, it'll be jumped to the head of the line! Then I want to dive into Eve Silver's "Sins of the Heart, Sins of the Soul & Sins of the Flesh." I love the way she writes! I also have to finish the final book in Roxanne St. Clair's newest romantic suspense trilogy, and several romantic comedies by Susan Mallery and Julie Ortolon.
I devour a wide variety of stories in every genre of Romance, which is why I'm so excited about ebooks. Now as a reader, I have so many more choices than just what the big NY publishing houses think I should like!
Q6):
What are some of your favorite TV shows and movies?
Diana: I don't get to watch TV as much as I'd like either, but I DVR my favorites and watch them when I'm too exhausted to write or read. On TV I never miss Nate Berkus' show (I'd adopt him if I could! *G*). Other favs are Burn Notice, White Collar, Justified, Leverage (which is filmed right here in Portland where I live), Bones, and almost anything on HGTV or the FOOD Network.
As for movies, well, anything starring Vin Diesel gets my immediate attention. *G* I adore rom-coms, because I love to laugh. Like reading, I enjoy nearly every genre of movies, except those that have tear-jerker endings! But I have a serious weakness for smart-assed heroes & heroines in kick-ass action movies. Which is very likely why I write smart-assed heroes and heroines in kick-ass action stories.
Book Monster Reviews/LITERAL ADDICTION:
Now we'd like to ask you some questions about your series...
Q7):
For those who are not yet familiar with the Morrigan's Legacy ~ Warriors of the Light and
Devilish Devlins
series, can you please tell us a little about each?
Diana: I knew I was meant to write "Sword of the Raven" when I was given an unmistakable sign. The new senior editor of my line at my former publishing house had rejected 12 complete, new proposals in 18 months, and I finally got a clue and decided it was way past time to cut my losses. My confidence and creativity were at an all-time low, and I was angsting over what to do, and what to write next. I'd had the basic premise for Raven running around in my head for years and years, but I was terrified that I didn't have the writing chops to pull off such a complicated, intensely emotional story.
A good writer friend of mine was out walking and she was praying for me and my uncertain future. She had headphones on and wasn't paying attention to where she was going. She looked down and saw a rattlesnake curled directly in her path! Then out of nowhere, a raven swooped down out of the sky and scared the snake away!
When she called me to tell me what had happened, we discovered that unbeknownst to either of us, her maiden name was Morgan, the same as my heroine's last name! Okay, really, after that, how could I *not* write the book?
Delaney Morgan and I share a lot in common, including a background of abuse. I've never cried more writing any story, ever, and it truly is the book of my heart.
I wrote "Deal with the Devil" because after the intensity of "Sword of the Raven," I needed a comedic break! Rory Devlin is smart and funny and smoking hot, and exactly the hero I needed to lighten up my life a wee bit! I've never laughed more writing any story, ever, and it's now one of my favorites!
Q8):
What's coming up next for both of these series?

How many books do you have planned for each series?
Diana: Planning? What is this planning of which you speak?*G* I'm such a seat-of-the pants writer (a Pantzer) all the way. But yes, I will admit, I do actually have lots more books planned in both series. I love these Celtic heroes and the worlds I've created in each – both so different, and both so fun and challenging in their own ways.
Without giving away spoilers, I will say there are many characters in "Sword of the Raven" who absolutely require their own stories to be told. And Rowan and Delaney's adventure isn't finished yet, either. They still have a lot of obstacles to overcome, and some big-time evil to vanquish. Delaney is really going to need her demon ass-kicking boots before she and Rowan can finally be together!
Since the Devilish Devlin clan still has five unmarried brothers, and a male cousin who will soon be heading over from Ireland to join them, there are

also plenty of hot stories coming up for those sexy, naughty boyos. Brody, the cop, likes to bring his handcuffs home with him. ; ) And I'm especially looking forward to writing about Ryan, the LifeFlight paramedic who moonlights as a male stripper. You don't see many of those. *G*And Morgan has some troublemaking ghosts to deal with!
Hopefully, I will have Flynn Devlin's book: "Devil May Care," out by the end of February. My Hubby had unexpected surgery in November that set my writing schedule back somewhat, but I'm working hard to catch up. I have a newsletter sign-up on my website for all the latest news, and please do pop over and Friend me at Facebook. Writing is a solitary endeavor, and Facebook is one way I get to socialize with a whole bunch of witty, interesting people!
Q9):
What's next for Diana Duncan?

What do you have planned in the upcoming months outside of these two series?
Diana: I'm attempting to hit the writing hard and fast! I have *so* many stories clamoring to be told. Now, riding the ebook wave, I can write them all! Exactly the way *I* want to, with nobody telling me, "You can't write in three different sub-genres. Your heroine can't be so snarky. Your hero can't be so funny. Your love scenes can't be so scorching."
I have the first book in a super hot time travel series nearly done – starring some super hot Highlanders from the 14th century. I also have two contemporary romantic suspenses almost finished, and I have the complete outline of a military romantic adventure series starring brothers who form an elite Covert Ops squad with a Marine,

a Navy Seal, an Army Ranger, and a British NSA Agent and a daredevil Aussie pilot to round out the group. Then I have a mercenary romance/adventure series…and then…
My goal is to keel over at my desk when I'm 90 years old, still pounding away at the keyboard.
Q10):
Is there anything specific you would like to say to the readers out there?
Diana: Don't let *anybody* tell you that "you can't." It took me five years of butt-busting work and eight finished manuscripts to get published the first time. Then after six award-winning, top-selling novels, I unexpectedly smashed into a wall at my former publisher.

I spent another two years trying to break out with something different – only to receive rejection after rejection from agents and editors. The print market is so tight now that only "sure things" are being purchased by the big NY houses.
I thought my lifelong dream of being an author was dead. My self-esteem went into the crapper, I lost my creativity, and I

felt like a complete failure.
Thanks to my wonderful critique partners, Susan Gable and Jennifer August, I battled my way out of a serious depression, looked at my options, changed course and, to quote Sinatra, decided to "do it my way."
My battered dream awoke off life support, and was revived in an entirely different form from what I'd ever envisioned.
All I've ever wanted to do is reach out to readers and entertain them – and hopefully help them during difficult times in their lives—just like my favorite authors have helped me get through the hardest times in my own life by letting me escape into wonderful stories.
What's your dream? What have you been told is impossible? Look at it from another perspective. Try solutions you've never before attempted and just take that first, scary step. Be inventive. Be persistent. Be courageous.
Don't let anyone discourage you.
Book Monster Reviews/LITERAL ADDICTION:
Diana, Thank you so much for taking time out of your busy schedule to sit down and talk to us.

We wish you a very happy and prosperous New Year and we hope to have you back with us again in the future.
Diana: Thank you again for having me. It's been my pleasure, and I would love to come back! My best wishes to all of you for a joy-filled and healthy new year as well, and happy reading!

: )
REMINDER:

Diana will be chatting with us over in the LITERAL ADDICTION
Chatroom
from 2:00 - 3:00pm EST (1:00pm CT, 11:00am MDT & PDT).

Diana will also be giving away another eBook during the chat.

We hope you can join us.
**************************************************
CONTEST:
Diana is giving away an eBook of Sword of the Raven or Deal with the Devil (reader's choice) to a winner from Book Monster and a winner from LITERAL ADDICTION (over at their site).
To Enter:
Make sure you are a follower of the Book Monster Blog (by clicking on the "JOIN THIS SITE" button on the top left hand corner of blog page) and then post a comment on the interview with your email address.
*Any comments without an email address will NOT be entered into drawing.
Don't forget to drop by the LITERAL ADDICTION website
(http://www.literaladdiction.com/)
and follow the directions and links to enter their contest for an extra chance to win!!!