Hello everyone!

LITERAL ADDICTION and Book Monster Reviews are proud to welcome Terry Spear to our sites today!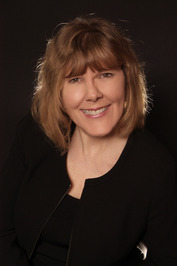 Terry is an award-winning author of urban fantasy and medieval historical romantic suspense.

Her HEART OF THE WOLF series was named in Publishers Weekly's "Best Books of the Year" and received the NOR Reader Choice for Best Paranormal Romance.
She

also writes true stories for adult and young adult audiences, and is a retired lieutenant colonel in the U.S. Army Reserves.

She has an MBA from Monmouth University and a Bachelors in Business, and is a Distinguished Military Graduate of West Texas A & M.
When she's not writing, she also creates award-winning teddy bears!

Her Wilde & Woolly Bears have an array of personalized bears designed to commemorate authors' books.
When she's not writing or making bears, she's teaching online writing courses.
As we stated above, Terry is the proud creator of the HEART OF THE WOLF series which currently consists of 7 previously available books ("Heart of the Wolf", "Destiny of the Wolf", "To Tempt the Wolf", "Legend of the White Wolf", "Seduced by the Wolf", "Wolf Fever", and "Heart of the Highland Wolf"), a brand new release, "Dreaming of the Wolf", which was just dropped yesterday and which we will be helping Terry promote and celebrate today, and a 9th installment, "A SEAL in Wolf's Clothing", which is set to be released on March 12, 2012.
She also has a YA series called THE WORLD OF THE FAE, which has 3 books – "The Dark Fae", "The Deadly Fae", and "The Winged Fae".
For those of you not yet familiar with Terry's work, we thought we'd give you the synopsis of a few of the books in each of the series, specifically the first 2 and 2 most current in the HEART OF THE WOLF series, and the first and most recent in THE WORLD OF THE FAE series.
"Heart of the Wolf", HEART OF THE WOLF series BOOK #1:
Their forbidden love may get them both killed.

Bella is a red werewolf, sole survivor of the fire that killed her entire pack.

Devlyn is a beta male werewolf in a pack of grays.

Forced to flee her adopted gray pack when the alpha male becomes a vicious threat, she struggles to live as a lone wolf, until Devlyn, the gray male who rescued her as a pup, comes to bring her home.

When a local red werewolf goes on a killing spree, Bella and Devlyn must flee the murderer, the police and their vengeful pack leader. With the full moon rising, and her heat upon her, Bella can't resist the pull to her destined mate, even if means Devlyn will have to face the wicked alpha male in a fight to the death...



"Destiny of the Wolf", HEART OF THE WOLF series BOOK #2:
Lelandi Wildhaven is determined to discover the truth about her beloved sister's mysterious death. But everyone thinks she's out to make a bid for her sister's widowed mate…
He's a pack leader tormented by memories…
Darien Silver blames himself for his mate's death. When her twin arrives in his town, he finds himself bewitched, and when someone attempts to silence her, he realizes that protecting the beautiful stranger might be the only way to protect his pack—and himself…
"Heart of the Highland Wolf", HEART OF THE WOLF series
BOOK #7:
Ian McNeill, laird of Argent Castle finds his capital squandered through unwise investments and the wolf clan's home that has been theirs for centuries is in danger of being forfeit for nonpayment of taxes. When a movie producer contacts him with the notion of using his castle to produce a movie, Ian abhores the idea, but it's his only salvation. Even worse, his people become extras in this epic Highland movie. But when one American werewolf romance author, Julia Wildthorn, slips into the castle under the guise of being with the movie company, except she is trying to jumpstart her muse with writing a book set in old-world Scotland--specifically about his castle and his people as the characters in her newest book venture--she and Ian tangle
"Dreaming of the Wolf", HEART OF THE WOLF series BOOK #8:
Werewolf pack leader Jake Silver is an acclaimed photographer. He sees a beautiful woman at the art gallery where his photos are on display, and his intrigue turns into wolfish protectiveness. Alicia Greiston has never met anyone like Jake-he's sexy, alpha, and totally irresistible, and he calls to something primal in her soul.
"The Dark Fae", THE WORLD OF THE FAE series Book #1:
Alicia has planned a vacation at South Padre Island with her girlfriend Cassie in forever. But just as they're enjoying a day on the beach, here comes a dark fae to spoil their holiday, except only she can see what he truly is. Alicia has no idea how upside down her world can turn with a chance meeting with one of the dark fae from the royal house of the Denkar.
Alicia's always known she's different--that she can recognize the mischievous fae when they show up to "play" with the humans. Only now she's faced with one highly annoyed dark fae and she's certain he knows the truth about her. She can see him, which means her life is forfeit.

Add to that, his sister arrives, who wants to play, too. And their mother, the queen of the Denkar, will want Alicia's head, once she learns what Alicia can do.

And all because Alicia was attempting to rescue her friend, Cassie, on their beach excursion at South Padre Island, from the wicked fae. Now, Alicia has really gone and done it--and she's thinking she should have let the fae have his fun. Her friend's broken heart would be a lot easier to deal with, than Alicia losing her life.

But it is too late for regrets. As soon as she threw the soda at the dark fae's chest, she had declared war on the fae. And he is happy to take up the challenge.
"The Winged Fae", THE WORLD OF THE FAE series Book #3:
Serena, a royal member of the Mabara winged fae, has one goal in mind. Stop an impending marriage with a dark fae. As the fae are known to do, she stirs up trouble that she hopes will make her point and get her off the hook. Only nothing goes as she plans.
Herlenkis, a royal member of the Denkar, aka the dark fae, is visiting South Padre Island when he catches a winged fae painting graffiti on a wall on the island claimed by his people. He is at once fascinated with the lovely girl and intrigued by her audacity, but as one of the Denkar, he must take her to task. Yet she's armed with a sleeping potion that makes his life intolerable. Between freeing her from his people's dungeon, her own tower, and fighting a knight in her honor, he wonders if he's lost his mind over one beautiful winged fae--when she's betrothed to his cousin!
Do we have you all clamoring to download and order the books?

Good, because we can tell you first hand that they are spectacular!!

Take a break for a minute though and join us as we learn a bit more about the author behind these amazing titles…
LITERAL ADDICTION/Book Monster Reviews:
Hi Terry!

We're very happy to have you here today, and are excited to help you promote the release of "Dreaming of the Wolf" and your entire backlist.
TERRY: Thanks so much for having me here today. It's truly an honor!
LITERAL ADDICTION/Book Monster Reviews:
We like to start out by finding out a bit more about our guest author, and then we'll dig into the book and series…
Q1):
Can you tell us 3 things about yourself that we couldn't find out easily on the Internet?
TERRY: I prefer chocolate to any other sweet. But I'm very particular—Hersheys, yum. Although I can't wait for the holidays when my favorite thin mints come out by Haviland, and ONLY for the Thanksgiving and Christmas Holidays. So you see this proves I'm not a wolf, right? Because canines can't handle chocolate. Well if I was all wolf, yes. But if I'm a shifter, then when in human form, I can handle human foods. That's how that works. Which means you still don't know for sure if I am or am not one of them. I LOVE turkey for Thanksgiving and Christmas, and sometimes I would make a turkey some other time of the year just to enjoy that holiday spirit. Turkey is fine for wolves. And even the bones, but the trick (and a wolf handler told me this—I don't know from personal, personal experience, except that I saw him feeding wolves the bones), that the bones are fine as long as they're not cooked.

Q2):
Did anyone or anything special inspire you to become an author?
TERRY: My dad. He always told us stories when I was a kid, and I loved to make up my own for my girlfriends. I think it's just in the blood. My mother even wrote a story of her own, and so did my dad. And to our surprise, my aunt had also! So it seems to be a genetic thing. :) I took creative writing in high school and loved English and of course was a real book worm.
Q3)
:

What are 3 things that never fail to make you smile?
TERRY: Seeing pups, wolf pups or puppies of all kinds. Kittens too. Hearing a child say something that mom wished she or he didn't. Listening to a Christmas choir singing their hearts out and bringing us joy.
Q4):
What are some of your hobbies or things that you enjoy doing when you're not writing or taking care of other author business?
TERRY: I love gardening, although I don't have enough time for it. And I love making bears. I'd love also to take up photography and learn more about graphic art. I think that's what keeps us youthful. To continue to learn about new things forever and ever.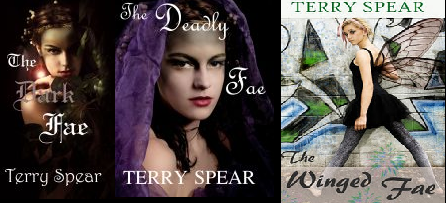 Q5):
What's your favorite inspirational quote?
TERRY: "Never give up! Never surrender!" ~~Galaxy Quest
To me it's the essence of what we need to do to make the most of our lives. To keep trying, to do the best we can do, and get the most out of life, no matter the seemingly insurmountable obstacles in our way.
Q6):
We know that this is a hard question, but who are some of your favorite authors, and what are a few titles in your TBR pile right now?
TERRY: LOL, it's hard because I have so many! I love Karen Moning's work, Leslie Lafoy, Laurens, Feehan, Coulter, Linda Mael Miller, Jayne Ann Krentz and all her aliases, Sandra Hill, Julie Garwood, to name just a few. I have Prince of Ravenscar to read right now, listening to a YA, Wolfsbane, but missed the early part of the story…I do that a lot, and just finished Feehan's Dark Predator and Julie Garwood's Ideal Man.
Q7):
If they were to make a movie of your life, what do you think it'd be called?
TERRY: The Bear Lady, well at least that's what I used to be called because of my teddy bear making awards. But then I dug up genealogy roots and learned we were supposed to be descendants of Lady Godiva, so another Bare Lady. Anyway, that's what came to mind. I probably need more sleep before I go much farther in this interview. LOL. :)
Q8):
What's it like writing across the different segments of the genre, and do you have a preference between your Paranormal Romance, Historical, or YA?
TERRY: I love writing in the various genres. It gives me a chance to take a break from one genre so that when I return to it, the stories are fresh in my mind.
Q9):
Was there any specific inspiration behind the creation of the HEART OF THE WOLF series?
TERRY: I love writing vampire romantic suspense, but so many authors were already writing in the field, I wanted to write something that was like that—where the characters were treated badly because of being what they were and to show that they needed loving too. I wanted to create a world that was as realistic as possible. Jack London's White Fang and Call of the Wild gave me a new perspective on wolves when I was a kid. I think that's probably why I wanted to show them not as beasts like in the old werewolf tales, but as real wolves with pack loyalty and the alpha pair mating for life.
Q10):
Some of us have read them and know we love them, others are now snared by the Synopses we provided earlier, but… can you give us your best author pitch of why you think that we should read the HEART OF THE WOLF series; maybe some of your favorite parts about it, etc?
TERRY: A realistically fantastical world of wolves where humor, adventure, suspense and ROMANCE fill the pages.
Q11):
What's a typical work day like for you?

Do you have a writing routine or things you absolutely cannot go through your day without?
TERRY: I work a full time job, so I write in the mornings early before work and after work and any time I'm off! :)
Q12):
How many books do you have planned for the HEART OF THE WOLF & THE WORLD OF THE FAE series?
TERRY: I don't have a specific number planned. In the beginning, I wrote Heart of the Wolf. And then I wrote Destiny of the Wolf, different wolf pack, different location. I figured if the one didn't sell, maybe the other would. Which is why they're stand-alone titles. But since then I've had so many requests from fans to see more of certain characters, the series has continued. The same with The World of Fae. I am also starting a new series, a jaguar shifter series, next year. Savage Hunger will be the first release.
Q13)
:

Can you share with us anything else that you might have in the works outside of these 2 series?
TERRY: I'm working on another Highland medieval story, and several other stories that I've started, Dangerous Liaisons the sequel to Deadly Liaisons (vampire romance), and The High Elf sequel to The Shadow Elf (YA). I may have to change the title. LOL
Q14)
:

Over the course of the series, were there any specific challenges to bringing the HEART OF THE WOLF to life?
TERRY: The challenge is in making each story unique. I've read authors' series where each book seems like the last one only the names have been changed. So with a series, we need to make sure the plot and storylines are really different from each of the previous titles.
Q15)
:

Are there any specific messages within the books (or the series in general) that you're hoping to get across to your readers?
TERRY: A lot of my books have the theme of forbidden love. And also that family matters, whether it's an adopted wolf pack or blood relations, that loving one another often means compromise, that life has its ups and downs, but that love and happiness will find a way.
Q16)
:

What has been the biggest surprise so far while creating the HEART OF THE WOLF world?
TERRY: Hearing from wolf-dog or wolf owners or even just dog owners who love the series and feel I've been talking about the behavior of their own pets. :) I think that's really great!
Q17)
:

If you could spend the day with any of your characters, who would you want it to be and what would you want to do?
TERRY: I want to go back to Scotland! So I'd be Julia, Heart of the Highland Wolf, writing her romance novel about werewolves and falling in love with Ian MacNeill, the wolf pack leader and laird who owns his very own castle.
Q18)
:

Is there a question that you have always wanted to be asked in an interview but have never been asked?

How would you answer that question?
TERRY: How do you come by your sense of humor?
It's all my dad's fault. He was the world's biggest tease. He used to say that others would try to "get our goats" if we weren't able to roll with the punches, as they say. My mother would admonish him and say that only men did stuff like that to each other. Not to women.
One day when I was a captain in the Army, my second in command, a specialist, rolled my chair down to the lowest point it would go. I didn't notice until I sat down in it and felt like I was about to hit the floor. Now, being my father's daughter, I couldn't let that stand. Did I chew him out for insubordination?
Absolutely not. As my dad always said, he didn't get mad, he got even.
The next day when the specialist was not at his desk, I went in there, tried not to act conspicuous as the other enlisted service members probably wondered what the captain was up to, and unhooked the specialist's phone so that when he lifted the receiver, the cord would just dangle in the air and he would be talking to dead space.
I made his day. And probably everyone else's in the office when they saw him holding up the receiver with no connection to the phone. And realized the captain had done it. I was very shy, by the way, so it wasn't in character for me. But still, there is that part of me that is directly related to my dad, and so, I couldn't help myself.
Some have said my sense of humor is subtle. One, who was a high school English teacher, said when she read my books that my humor snuck up behind her before she expected it.
And that's how I come by my sense of humor. It's all my dad's fault.
Q19)
:

What one thing do you hope to be inspiring or leaving behind with your work?
TERRY: Take the time to enjoy life. And never give up. Never surrender! If you truly want to accomplish something, you can. You just have to put your mind to it and you can do it. My dad used to always say that, and I so agree.
Q20)
:

Is there anything specific you would like to say to your readers (both new and old) while we have you here today?
TERRY: The holidays are always hectic and this is the second year I've had a big blog tour for a December release, so it's hard to get everything done. But most importantly, remember family and friends and what's really important this holiday season. Being a pack, sharing some fun, and joy, and special cheer. It can really go a long way. Happy Holidays, everyone!!!
LITERAL ADDICTION/Book Monster Reviews:
Terry, thank you so much for being with us today!

We're very happy to help introduce some new readers to your amazing work and help you celebrate and promote "Dreaming of the Wolf".

We would LOVE to have you back in 2012 for the release of "A SEAL in Wolf's Clothing" if you'd be interested!
TERRY: Thanks to YOU for having me! Good luck to everyone and enjoy the holidays!
*************************************************
Terry is graciously offering Dreaming of the Wolf to a winner from Book Monster Reviews, for US and Canadian addresses only (LITERAL ADDICTION will substitute a Gift Certificate to buy an eBook copy for anyone who is International).
To Enter: Make sure you are a member of the Book Monster Blog (by clicking on the "JOIN THIS SITE" button at the top left hand corner of blog page), and then post a comment on the interview and make sure you leave a valid email address. Any comments without an email address will NOT be entered into drawing.
Don't forget to drop by the LITERAL ADDICTION website
(
http://www.literaladdiction.com/
)
and follow the directions and links to enter their contest for an extra chance to win!!!