Book Monster Reviews and LITERAL ADDICTION Paranormal Book Club (http://www.literaladdiction.com/) have teamed up once again to bring you another amazing Guest Web Appearance with award winning author Lisa Hendrix.

Lisa will be doing a Q&A Interview and Giveaway Contest here on Book Monster Reviews (referenced, and transcript copied to LITERAL ADDICTION as well), and then she will be heading over to LITERAL ADDICTION this evening to do a Live Chat with Book Monster Followers, LITERAL ADDICTION Members, Fans, and guests.

We're very happy to have Lisa, and hope that you all enjoy the time we get to spend with her.
Lisa Hendrix Interview with Book Monster Reviews
Good afternoon Book Monsters and Literal Addicts, Book Monster Reviews is very pleased to welcome award-winning author Lisa Hendrix to our site today.
Lisa has published books spanning multiple subgenres of romance – contemporary romantic comedies, western historical romance, and her paranormal historical romance series The Immortal Brotherhood.

Let's take a look at Lisa's bio and get to learn more about her and her books, shall we?
Lisa Hendrix fell in love for the first time at age 10 (with

both

of the

Men from U.N.C.L.E.

, for those of you who remember that far back) and has been fascinated by the whole concept of love ever since. That interest led her naturally enough to reading romance novels, and then to writing them.
After years of daydreaming complex stories for familiar characters from film, TV, and books — nearly always involving a romance that hadn't been included by the original writer — Lisa borrowed a page from motivational speaker and author Marsha Sinetar and decided that it was time to start doing what she loved and hope that the money really would follow. She began writing the medieval romance from hell, a manuscript that taught her a lot, but which is now safely locked away where it can do no harm.
In April 1992, she carried a dot matrix printed synopsis into an appointment with a Genuine New York City Editor at a local conference and pitched an idea for a historical romance set in the American West. The editor was interested and requested a partial manuscript, along with assurances that Lisa would buy a better printer. Credit card in hand, Lisa set out to comply. She mailed the proposal a month later, and five months after that, received The Call. Western historical romances
HOSTAGE HEART
and
DRIFTER'S MOON
were soon on the shelves, followed by contemporary romantic comedies
RAZZLE DAZZLE, TO MARRY AN IRISH ROGU
E, and her first single-title lead,
RUNAWAY BAY
.
Now she's gone back to her medieval roots with The Immortal Brotherhood, a paranormal historical romance series featuring a crew of Viking warriors cursed to be immortal were-creatures. The series launched with
IMMORTAL WARRIOR
and
IMMORTAL OUTLAW
, followed by
IMMORTAL CHAMPION
in January of 2011.
IMMORTAL DEFENDER
will appear in 2012, with five more books to come.
Lisa is married, with two nearly grown children, the world's clumsiest cat, and a couple of fish that refuse to go to the big tank in the sky. Between books, Lisa reads, knits, and occasionally wanders out into the garden. And eats chocolate. With anything.
In past lives, she's been a soda jerk, an executive secretary, the rear chainman on a survey crew, an ESL teacher in Japan, a loan officer, a research assistant on a boat in the Bering Sea, a night school instructor, and a medical transcriptionist, not necessarily in that order.
Are you dying to find out more about Lisa and her hunky Viking Warriors?

I know I am, so let's get to our Q&A and find out more about the Immortal Brotherhood series and its incredible author.
Book Monster Reviews/LITERAL ADDICTION:
Hi Lisa!

We're so very happy to have you today!

Thank you for taking time out of your busy schedule to drop by and spend some time with us!
Lisa: Hi. It's lovely to be here.
Book Monster Reviews/LITERAL ADDICTION:
How about if we start out getting to know you a little bit better?
Q1):
Can you tell us 3 things that we don't know about you from what we can find out on the internet, in your bio, etc?
Lisa
:

Well, that's tough, because I've been sharing my life all over the Internet since the mid-90s. But I can at least give you things that might be tougher to find...
Back when I was skinny, I used to belly dance (come to think of it, maybe I was skinny because I belly danced. Hmm...). I performed with a troupe at area events, including the SE Alaska State Fair, and I even got paid a couple of times to dance solo at birthday parties.
I love pens and notebooks with the burning white heat of a thousand suns. I can spend hours in an office supply store picking just the right pen(s), and I own stacks of notebooks I may never get around to filling. In college, I owned pens in every color I could find, and took class notes in multiple colors. The colors made it easy for me to recall facts during tests—I could get to the answers in my head by picturing the page and the colors.
I used to be really good at marbles. Seriously. There were only a couple of boys who could beat me, and I still managed to take really good aggies from both of them at different times.
2)

Do you have a specific routine you follow when you write, or things that you must have with you or do to get the creative juices flowing?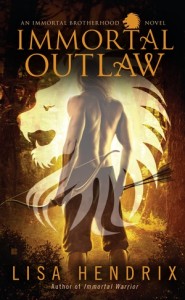 Lisa
:

I'm not particularly obsessive or ritualistic about writing—I don't need to have my desk oriented a certain direction, or feng shui my room, or wear a certain "lucky" sweater or anything like that. I do always have a drink at hand when I sit down, although the exact drink varies book to book, depending on season and what kind of jag I'm on. Sometimes I use a music play track, but for a couple of the Immortal Brotherhood books, I've played a rainstorm "relaxation" track that I have. It reminds me how miserable they must be stuck out in the English weather, and has the added benefit of working as pink noise to block extraneous chatter around me (I write in coffee shops a lot).
3)

When did you realize you wanted to be a writer?
Lisa
:

I've repeated this story a jillion times over the years...I told my mom I was going to write books when I was about eight. She laughed, because I didn't even write thank you notes without threats of violence, but my plan was to write kid's books because they didn't have too many words. Instead, I write 100,000-word books that are totally inappropriate for children. <g>
4)

What inspired you to start writing Paranormal Romance novels?
Lisa
:

I dreamed about Brand. I didn't know his name was Brand at the time, but one morning a few years back, I woke with this very clear image in my head of a tall blond man in a dinner jacket. I knew he was a bear by day and a man by night, and I was also certain that he was 1000 years old. So, I had the who, and all I had to figure out was the what, when, where, and most importantly, the why. Easy, huh? Anyway, with a were-bear as a hero, it was pretty clear it was going to be a paranormal, thus witch, curse, cursed friends, Norse gods, visions, and all the rest.
5)

You have written many books in multiple genres of romance.

Which is your favorite genre to write in and why?
Lisa
:

Actually, not "many" books — just eight, and I'm working on the ninth. Contemporaries are fun and much quicker, but my heart lies with historical romance—which is why this series is paranormal-historical instead of contemporary paranormal or urban fantasy.
6)
As a child, what did you want to be when you grew up?

Did you ever think that you would become a bestselling author?
Lisa
:
I guess I answered that above. And I haven't become a bestselling author. Yet.
7)
What is your favorite thing to do when you're not writing or taking care of other author business?
Lisa
: My family would probably tell you that I'm always taking care of author business. However, between books I read a lot—anything and everything, from cereal boxes to novels to research books and the encyclopedia. I also knit and make altered books. And I occasionally go out and whack around in the garden, although that's not as fun where we live now. It's too hot from mid-May to September to be enjoyable, and the rest of the year it pours rain.
8)

What question have you always wanted to be asked in an interview, but never have been? And could you answer that for us?
Lisa
:

I've done so many interviews that I think I've been asked most everything. I can't come up with anything. How about if people ask the questions they've always wanted to ask an author in the Comments (or over on the chat, later) and I'll answer them.
9) Who are some of your favorite authors and what is it that strikes you most about their work?
Lisa
:
My absolute favorite author is Laura Kinsale, for her masterful prose and for the way she writes a scene from an unexpected viewpoint. For instance, there's a scene in Flowers from the Storm when the rakish duke Jervaulx describes sensible, Quaker Maddy to her blind father. But the scene's not written from his VP, or even her father's, but from Maddy's, so you experience her extraordinary discomfort with the lush, sensual terms Jervaulx uses, along with her (to her) immodest pleasure and her reluctant patience with the whole situation because her father so much wants to know how she looks. The effect is extraordinary and touching and reveals much about both her and Jervaulx. And her father's reaction brought me to tears.
If I can someday write a romance as close to perfection as Flowers, I'll die a happy woman.
Other faves are Eloisa James's Regencies, my friends Sheila Roberts and Maisey Yates for contemporaries, and Delilah Marvelle's unique historicals.
LITERAL ADDICTION/Book Monster Reviews:
O.K, now we'll get to the slightly more 'bookish' questions…
10)

If you could spend the day with one of your Immortal Brotherhood Warriors, who would it be and why?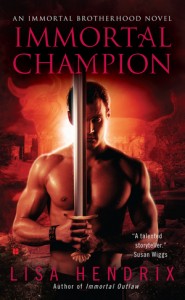 Lisa
: Technically speaking, I've only written one I could spend the day with: Steinarr. If I want to spend time with the others, it would have to be a night (oh, darn). However, being less literal-minded...Gunnar, from IMMORTAL CHAMPION. I totally and utterly fell in love with him while I was writing him. He's so honorable, so steadfast, so strong and tender and full of hope. I mean, I love all my heroes at the time I'm writing them, but Gunnar truly stole my heart. He's just a good, good man, and I'm a sucker for the good man.
That said...If I wanted to go drinking and snark the other folks in the bar? Ari. Definitely Ari.
11)

Can you please tell us a little bit about the Immortal Brotherhood Series and a little synopsis about each character of the first three books in the series?
Lisa: Back during the early days of the Viking raids in England, a group of
warriors was sent to find a rumored horde of gold. But the treasure was guarded by a great sorceress named Cwen, and when the raiders killed her son in the ensuing battle, she called up her darkest magic and cursed them. She condemned them to change from man to beast and back again at dawn and dusk, each man taking the form of his fylgja (spirit companion). And then, to ensure the torture went on and on, she made them all immortal.
The first book, IMMORTAL WARRIOR, tells the tale of Ivar Graycloak. As an eagle, Ivar has found it easier to move along the edges of human society than the others have. Now his services to the Crown have earned him the king's gratitude, which takes the form of land and the hand of the previous lord's granddaughter. Ivar grabs at the chance for a few days or weeks of normal life, though he knows it won't last and he'll have to ride on. But he wasn't counting on his gift-wife being a woman like Alaida of Alnwick—or on falling in love.
Set nearly 200 years later, IMMORTAL OUTLAW follows the story of Steinarr the Proud as he rescues two travelers who try to convince him their names are Marian and Robin. The fair and fiery Marian pressures him into escorting them on their quest to find Robin's inheritance without realizing the danger. You see, there's a reason Steinarr hides in the deep forests of Nottinghamshire—every night he becomes a lion. But Marian has a few secrets of her own, and one of them may be Steinarr's salvation...if it doesn't cost her life.
And then there's Gunnar. (Mmm...Gunnar.) He truly is Eleanor's IMMORTAL CHAMPION, rescuing her from a terrible fire when she's a young girl then reappearing years later when she's grown to unwittingly win her favor at a tourney. Eleanor has dreamed of her champion for all these years, but he barely remembers who she is. And with politics, duty, and a powerful and manipulative father standing between them—not to mention the fact that poor Gunnar spends every hour of sunlight as a bull—can love ever be enough to save them both?
12)

How much research time do you put into the Immortal Brotherhood series?
Lisa
: A lot. Each book is set in a different time period, which mean researching everything from language to clothes to politics to social mores—and that's after I've done enough research to figure out exactly when & where I'm going to set the story and which historical figures and/or events are going to feature in the story line. After I finish this series, I'm going to pick an era and settle in for a while.
13)

If you can tell us without completely spoiling the details for your 'future' readers who may be visiting, was there a part of Immortal Champion that you were the most proud of, or that touched you the most?
Lisa
:

The scene in the cave between Eleanor and Gunnar made me bawl when I wrote it, and again when I edited it. You'll know which one when you read it.
14)

What was the inspiration behind your series?
Lisa
: That dream with Brand, of course. And there's a strong LadyHawke influence (especially in Immortal Warrior). Additionally, once I started researching Vikings, I learned that the number nine had particular significance to the Norse gods, especially Odin. That's why there are nine members in my crew, just as there are nine members in Tolkien's Fellowship of the Rings.
15)

Can you give us any detail into some of the things we can expect as the series progresses?
Lisa
: Ari's path becomes clearer and more critical. I'll continue using real characters and other historical touchstones along with established myth and folk legends. You'll get to meet Rorik and Kjell in Immortal Defender. And if you've been wondering what sort of men these "missing" warriors are, their titles reveal a good deal: Immortal Rogue and Immortal Rake.
16)

Since we'll never get to read it, what was something that you had to cut from your latest manuscript?
Lisa
: Nothing. Of course, I occasionally (often? <g>) make false starts on scenes, and those get set aside or heavily revised as I'm working, but in the end, no scenes actually got cut from IMMORTAL CHAMPION, either by me or by my editor. (That's not the case with every manuscript, btw. I have a nice scene between Brand and Merewyn from IMMORTAL WARRIOR that I'll probably use or at least draw on when it's time for Brand's story at the end.)
17)

IMMORTAL CHAMPION, the third book in the Immortal Brotherhood series was released in January 2011.

When can we expect book four and can you tell us which Viking warrior it will be based on?
Lisa
: Originally, IMMORTAL DEFENDER was scheduled for late this year, but as I ran into problems with it, so it's been delayed and will have to be rescheduled. It should be out in 2012 sometime. I'll post the date everywhere I can think of as soon as I have it.
Part of the problem that's slowed me is the hero himself, Torvald.
Readers will know him as the silent, watchful "monkish" fellow from Outlaw and

Champion, and it's that unwillingness to talk that's made him a pain to write
.

You see, his silence comes from the dark past he's hiding from everyone, most especially the other men in the crew—but now voluble, lustful widow Josian Delamere has invited him into her bed. A straightforward romp is just what Torvald needs to loosen him up a bit, but things are never straightforward in Elizabethan England, especially not when the lady's father is one of the most infamous Catholic rebels in the land. You'll find out what sort of trouble Torvald lands along with Josian next year.
18)

Do you have any advice for fellow and aspiring writers?
Lisa
:

Butt in chair, hands on keyboard + persistence. There's no other way to do it.
19)

What's next for Lisa Hendrix?

What do you have planned in the upcoming months?
Lisa
:
Finish Defender, of course (I'm in the downhill stretch). Then I intend to write a short story or two about minor characters in the books to tide my readers over the gap before it comes out. Then it's a matter of finishing the entire series. That will keep me busy for several more years. After that, we'll see.
20)

Is there anything specific you would like to say to your readers?
Lisa
: I

love you. Readers are the reason I get to do this wonderful job, and I treasure every one of you and love the letters, notes, or emails you send.
I

hope you'll visit my website

(
http://lisahendrix.com
)
for excerpts and information about the books. And on the Extras page, you'll find out about some of the swag you can get, including

Romance Trading Cards, bookmarks, and signed bookplates (like a long-distance book signing!), along with fun stuff like maps of the locations in the books and a video of a fascinating interactive rune stone exhibit (rune stones play a part in the books). I add new stuff all the time—expect more just as soon as I finish torturing, er, writing about Torvald.
Lisa, thank you so much for taking the time out of your busy schedule to answer our questions! We wish you the best of luck with the Immortal Brotherhood series, and all of your future endeavors, and can't wait to talk to you more later over on LITERAL ADDICTION!
Lisa:

Thanks so much for the great interview, and for giving me this chance to introduce my nine hot, hunky Vikings to your readers. It's been wonderful.

I hope you'll all track me down on Twitter (
http://twitter.com/LisaHendrix
)

and Facebook

(
http://facebook.com/LisaHendrixBooks
).

In the meantime, I'll see all of you over on the chat!
CONTEST:

Lisa Hendrix is giving away a signed copy of IMMORTAL CHAMPION, along with a signed set of Romance Trading Cards (for the first three books).
Two (2) runners up will receive a SWAG Set - I set of SIGNED Trading Cards (3 cards in set) and 1 SIGNED Bookmark.
To Enter, Post a comment on the interview and make sure you leave a valid email address. Any comments without an email address will NOT be entered into drawing. You must also be a follower of the BMR blog. GOOD LUCK!!!!